We find ourselves in an extraordinary and unusual time with this worldwide global pandemic. At last check, every country (more than 180+) has been affected by the Coronavirus (also known as Covid-19). Not all countries have been affected equally. But the majority of them have used similar methods to help to combat the spread. Most have implemented some form of distancing or even lockdowns. This help to keep people from coming in close contact with infected people. A new term has been coined to help people to understand this, and it is called social distancing. It is being recommended that all people stay at least 6 feet apart and all times out in public. However, How all this apply for scuba diving ? Is it safe to go diving during the pandemic ?
Is it safe to go diving ?
One of the things that health experts are recommending that even though there are lockdown orders in place in place states and cities, most allow for people to be outside for exercise or other outdoor activities. So, does that mean that you should be able to scuba dive if you are in an area that you would have access to the water? The simple answer to that question would be yes. However, you would be responsible for following any and all protocols that have been established by the authorities in the area that you would be diving in.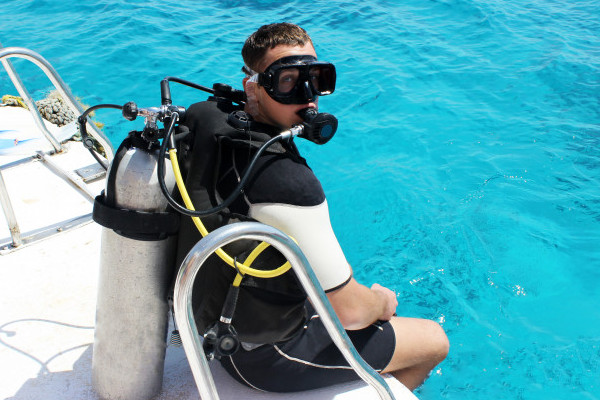 What safeguards need to be followed?
One of the biggest ways to combat and prevent the spread of an infectious virus, such as Coronavirus is to practice very good personal hygiene. This means washing your hands frequently and especially after touching any surface and before you touch any part of your face. Always cover your face when coughing, yawning, or sneezing. Also, do not share cups, utensils, or other objects. Also, keep at least 6 feet between yourself and other people who don't live in your house.
May interest you: PADI online diving courses
When it comes to the dive equipment that you are using, be sure that it is thoroughly cleaned and disinfected before you handle any of it. Even if you brought your own gear, you don't want to take any chances, be sure to wipe everything down.
Never put yours or your families safety at risk
While it is generally thought to be safe to scuba dive during a global pandemic, that you should throw caution to the wind and just rush out and go diving. You would never want to unnecessarily put anyone you care about in danger just do get your scuba diving fix. So, be sure to think everything out carefully and be sure to take all the necessary precautions.
Then, Is it safe to go diving during COVID-19 ?
So, you have thought everything through and you still want to get some diving in during the Coronavirus pandemic. The water does not add any extra element of concern during a pandemic. However, before you get into the water and after you get out of the water it is really important that you take care to keep your distance from people who are not living with you. You will also want to be sure that your gear is wiped down and disinfected all of the time. With all that said, is it safe to go diving during this time ? Well, as long as the area you live or are staying allows you to be in the water, by all means, enjoy yourself.
You can read additional recommendations in DAN Network homepage here.
Take a look at these cool articles!