Caño Island Snorkeling Tour
Discover the most beautiful Island in Costa Rica
Located about 40 miles offshore from Dominical, the Caño Island Biological Reserve, is home to a breathtaking amount of marine organisms. The perfect place for a Snorkeling Tour!
Snorkeling Tour Information
Video Snorkeling at Caño Island
The Caño Island Biological Reserve
The Caño Island Biological Reserve is considered a world-class diving destination, and the snorkeling is no less spectacular.
Set about 32 miles offshore from Uvita, the reserve is ideally situated within a huge Pacific Ocean current.
The island guide fish and marine mammals from near and far to this marine paradise. The gorgeous underwater geology of the island is reason enough for you to stay a while. You will enjoy the company of over 70 species of indigenous oceanic wildlife.
Multiple types of Coral are in abundance, as well as several types of Shellfish, Mollusks, and Arthropods complementing and completing an ecosystem that is as spectacular as the environment it exists within.
In addition to the diverse aquatic Costa Rica Marine Life that call Isla del Caño home, several species of Whales including Humpbacks, Bryde's and Pilot Whales.
There are also Turtles, such as Olive Ridley's and Hawksbills, which pass through the warded waters of the park during their seasonal migrations to spawn or lay eggs.
The jewel of the Costa Rican National Park system
Created in 1978, "La Reserva Biológica Isla del Caño", is part of the enormous Costa Rican National Park System and safeguards a little over a square mile of land on the island itself and over 21 square miles of the surrounding ocean.
More than a quarter of Costa Rica is protected by National Parks, Reserves and safeguarded Conservation Areas. Caño Island Biological Reserve is the jewel of the Costa Rican National Park System's marine sanctuary.


The island is a place where myriad creatures are protected from fishing, pollution and other dangers posed by resource exploitation and over-development.
Access to the island and the waters surrounding the park are strictly controlled so that the amount of tourism and human impact on the Reserve can be kept within limits that prevent damage to the beautiful yet fragile ecosystem.
Only a limited amount of divers and snorkelers are permitted entry to the Reserve each day so make sure you reserve as early as possible. Caño Island is without a doubt the best Costa Rica snorkeling available along the Pacific coast.
About the Caño Island Snorkeling Tour
Leaving early in the morning, much of the trip will be spent on the open ocean. You will enjoy breathtaking views of the beautiful coastline. This is the only place in Costa Rica where the mountains meet the ocean.
You will also likely see many dolphins, whales and turtles on the way.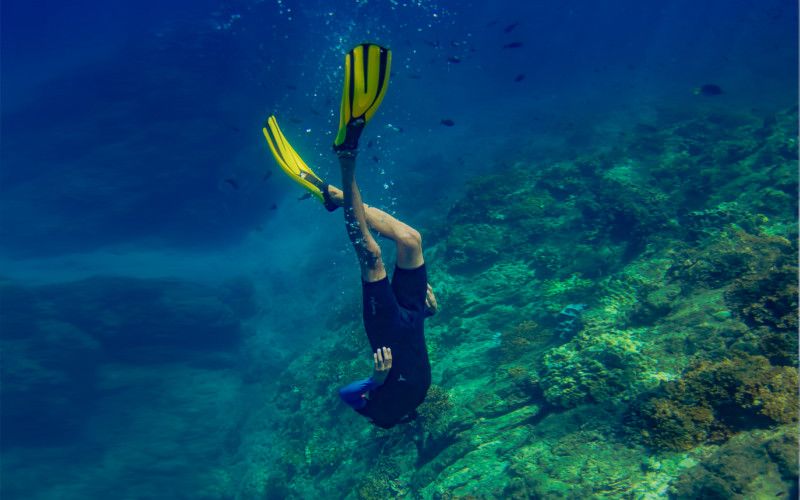 Once we arrive at the island, we snorkel at two different locations, depending on conditions at the island. Typical, the visibility usually exceeds 80 ft. The variety of maritime wildlife that will be seen during your Isla Del Caño Snorkeling Tour is just astounding.
Some species that we frequently encounter include Turtles, Manta Rays, Sting Rays, Devil Rays. Other species like Barracudas, Bottlenose Dolphins, Spotted Dolphins, Whitetip Reef Sharks, and Moray Eels are common in the island.
Rarely Humpback Whales or Whale Sharks may be seen. This provides a thrill that snorkelers will never forget. This only has a chance of happening somewhere like Caño Island Biological Reserve.
Encompassing 14,000+ acres of ocean, "La Reserva Biológica Isla del Caño" is exactly the kind of place that deserves not only protection but also to be experienced for its wonderful marine environment and wildlife. Learn more about this incredible place at our Caño Island Snorkeling Tour page or take the plunge with our Caño Island Discover Scuba Tour!
If you want to know more about this beautiful Island, more information can be found here.