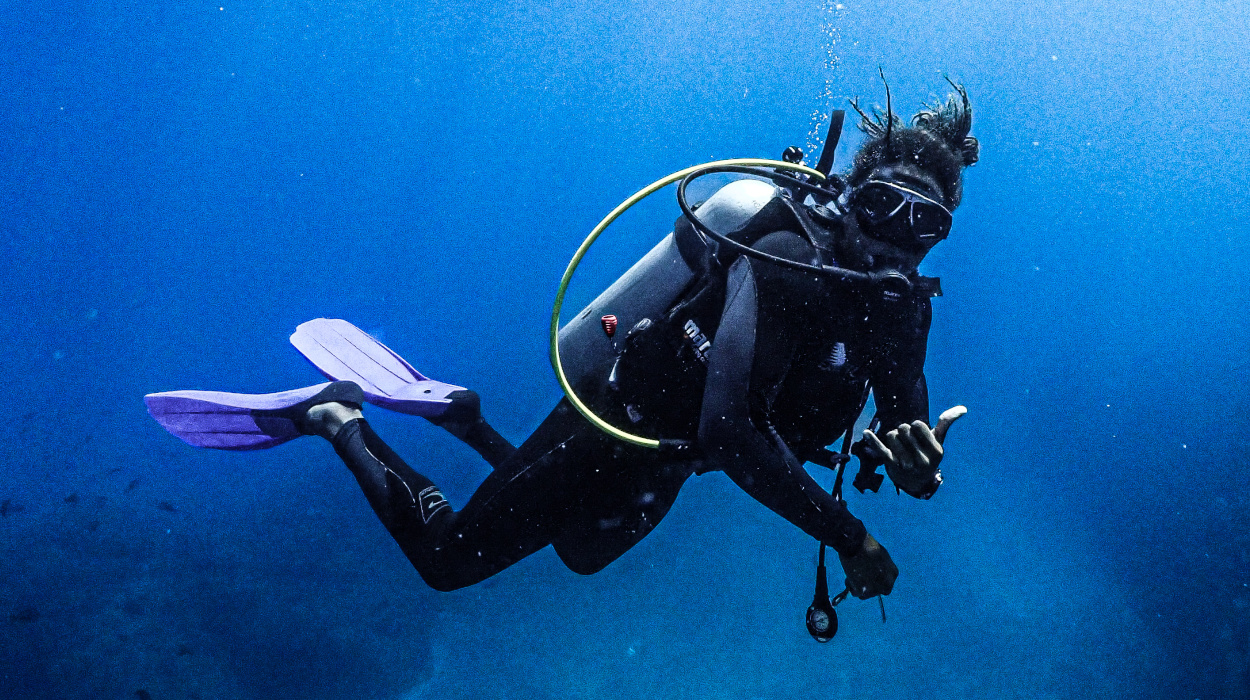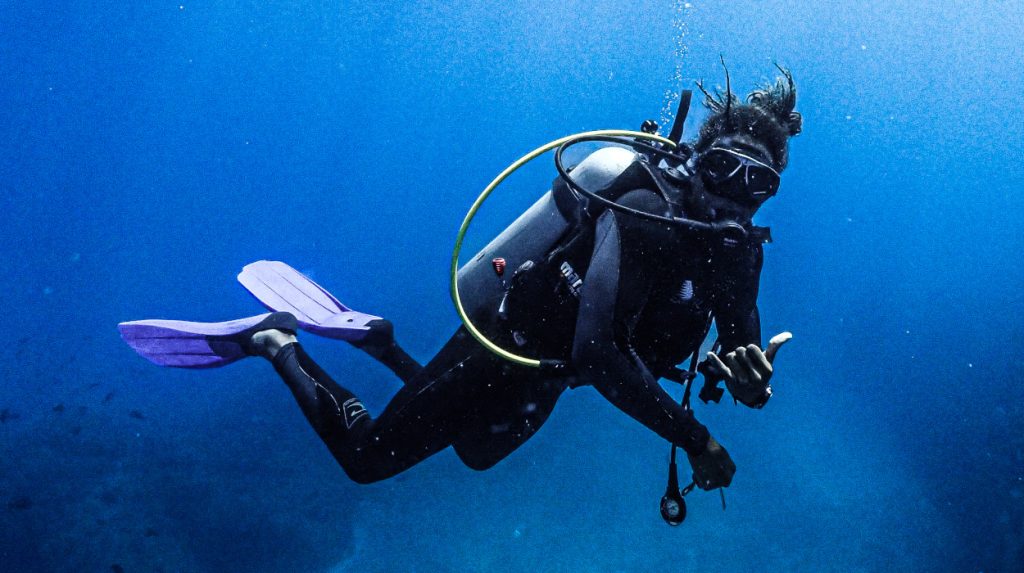 "During my first dive, I experienced an uncomfortable situation. I was okay with mask clearing during practice, but I don't know why that time, I just couldn't clear my mask, and I panicked. My body panicked, but I calmed myself down, telling myself, "Hey, breathe through the regulator, you are fine. You won't die. Just breathe." It still took a while for my breathing to become normal again. It felt like my lungs couldn't get enough oxygen, and I was suffocating, but it was just my panic. My instructor was very good as well; he held onto me tightly to reassure me that everything was okay, even though I couldn't see or hear, and being in that situation was pretty scary. Now, I'm going to keep practicing my mask clearing in the pool before I dive again."
These situations can happen to any diver, but they are more difficult to handle without the knowledge and practice necessary to address them.
Diving is a practice considered quite safe when done correctly. Having a diving certification is vital because it ensures that we acquire the knowledge and skills necessary to enjoy diving without risks.
Scuba Diving Certifications, How to choose the right one?
As you may have noticed, there are a large number of scuba certifications and certifying organizations.
Dive certifications are essential for acquiring the proper knowledge and skills needed for safe and enjoyable diving.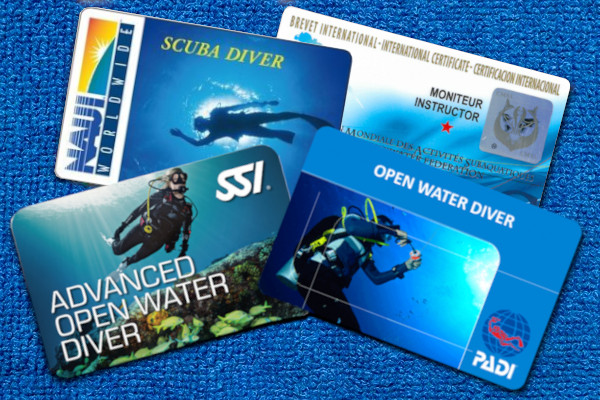 It's important to note that not all dive certifications are the same. A standardized set of skills is required for each certification level, which ensures that divers are trained to the same level.
Without a certification, it's difficult to know what level of skill and experience your diving partner possesses. That's why obtaining a diving certification is crucial. In this article, we will guide you on how to choose the best diving certification for you.
What will you learn in this article?
With so many options out there, choosing the right one can seem daunting. That's why we've put together this information to guide you through the process.
In this article, we'll discuss the different types of scuba diving certifications available, including those issued by well-known organizations such as PADI, SSI, CMAS, and NAUI, as well as others. We'll also explain what each certification means and what you can do with it.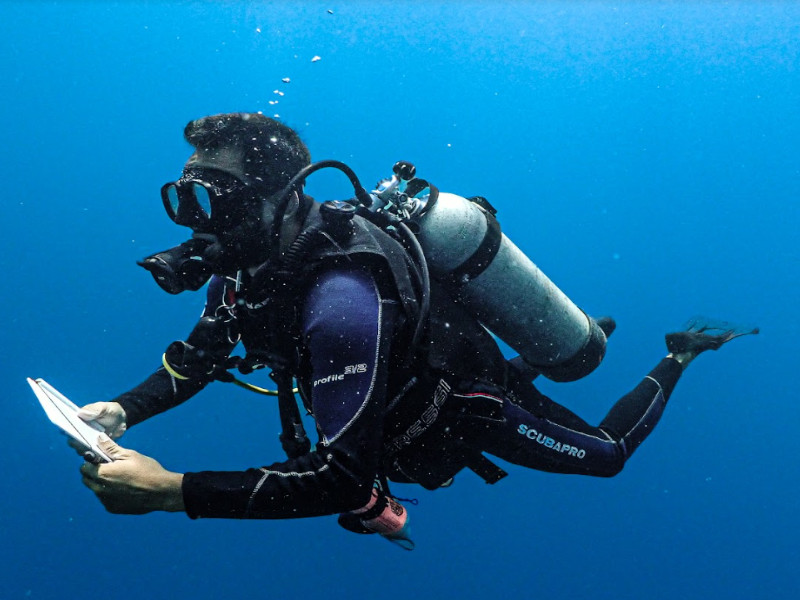 Factors such as availability in your area and your goals for diving will influence which certification is best for you.
That's why we'll also provide valuable tips to help you choose the most suitable certification for your needs.
Whether you're a beginner looking to get started in the world of scuba diving, or an experienced diver looking to advance your skills, this article has something for you.
So let's dive in and explore the world of scuba diving certifications together!
What is a diving certification?
A diving certification is a document or file created in the database of an accredited diving organization. In this file the instructors record the evidence of the training received by their students.
To make things easier, after completing the course, the student is given a card similar to a driver's license with which they can easily prove that they have been educated and what their level of knowledge is.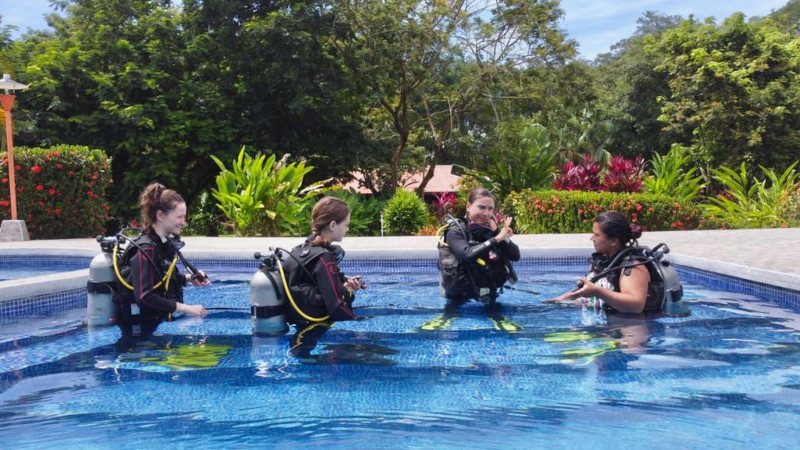 With the advancement of technology, many people do not use the cards but save their certifications digitally. It is also possible for most dive centers to directly consult the database of the certifying organization.
Diving licenses or certifications are similar to driver's licenses in some ways. Obtaining a diving license is very important if you have decided that you want to explore the underwater world.
In the same way a driver's license is necessary to undertake a trip by driving a vehicle.
Later we will compare some of the benefits and differences of obtaining your certification and explore the 5 most recognized diving organizations worldwide.
Why do you have to be certified to scuba dive? The importance of diving certifications
Scuba diving certifications are essential for any diver who wants to explore the underwater world safely and responsibly.
These dive certificates are not only a proof of completion of training, but they also provide divers with the necessary skills and knowledge to dive safely in different environments and conditions.
The importance of scuba diving certifications lies in the fact that they establish the maximum depth conditions to which the diver can submerge and the equipment that he or she is qualified to use.
This ensures that the diver is aware of the limitations of their abilities and equipment, and avoids putting themselves and others at risk.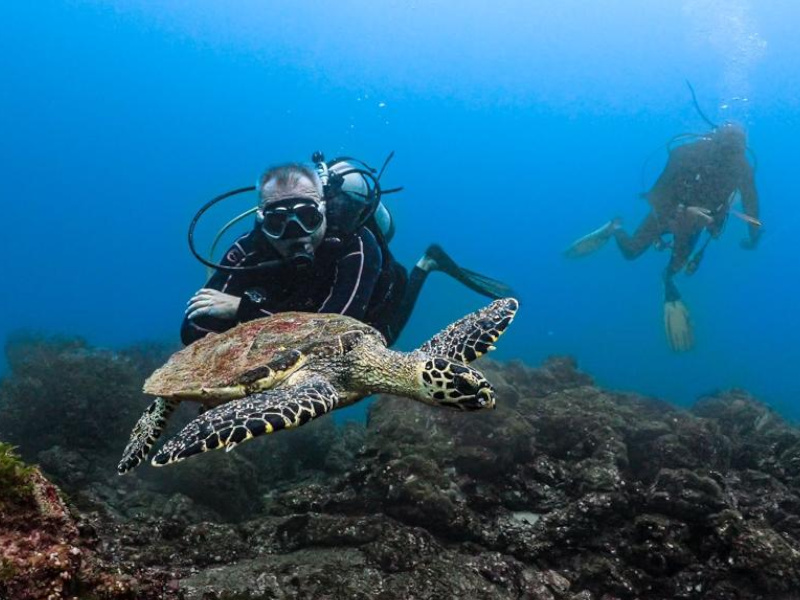 Thanks to the contributions from pioneers like the renowned Jacques Cousteau and Emile Gagnanse, scuba diving became a recreational activity, and for safety reasons had to be regulated.
For this reason recreational diving organizations were created and consequently the certifications.
Every day thousands of people are certified as divers.
Even though diving is a very safe activity, it requires proper training to be able to do it safely. Certifications establish a diver's level of training and allows dive centers and other divers to know in advance the capabilities and limitations of their fellow divers.
Obtaining a license or certification also allows a diver to rent equipment and refill tanks at authorized dive centers.
Can you dive with no certification?
Diving without a certification is not illegal, but it is highly risky!
In fact, no reputable dive center would allow to dive without first being certified.
Not that diving in the sea is too difficult. Rather, diving requires a series of specific knowledge and techniques, which you will learn during the course.
Having a certification is crucial when participating in a dive tour, purchasing equipment, and selecting air types.
If you have the proper certification, you can even work as a professional in a dive shop.
If you want to try scuba diving without committing to a longer certification course or if you just want to experience scuba diving on your vacations, this may be a good option.
The Origins of Diving Certifications
In 1959, the French underwater explorer Jacques Cousteau founded the Confédération Mondiale des Activités Subaquatiques (CMAS), which developed the first scuba diving certification program.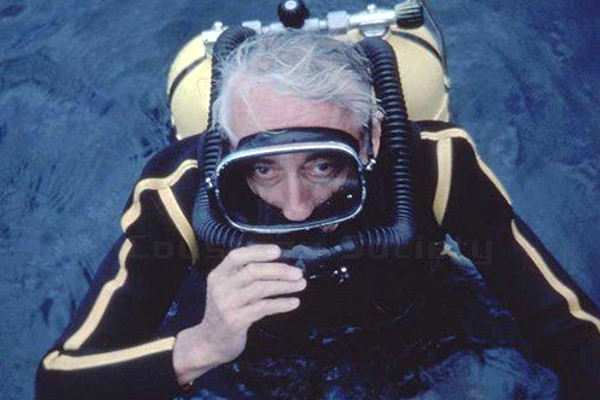 This program included classroom instruction, pool training, and open water dives. The certification process established minimum requirements for knowledge, skills, and experience, and it remains a widely recognized certification today.
As scuba diving grew in popularity, other organizations began developing their own certification programs.
The Professional Association of Diving Instructors (PADI) was established in 1966 and quickly became the largest certification agency in the world.
Other organizations followed suit, including Scuba Schools International (SSI) and the National Association of Underwater Instructors (NAUI).
In 2015, the ISO revised and updated the standards published in 1984, creating the ISO 24802 series, which sets even more rigorous standards for diver training and certification. These ISO standards ensure that certification agencies adhere to minimum standards for training and certification, and provide a framework for improving the safety and quality of recreational scuba diving worldwide.
This includes guidelines for instructor qualifications, course content, and assessment.
What are the main diving organizations and what are the certification levels?
Diving certifications are issued by Diving Organizations.
Although there are many certifying organizations, it is possible to identify 7 top diving organizations that currently issue the most accepted and recognized certifications in the world.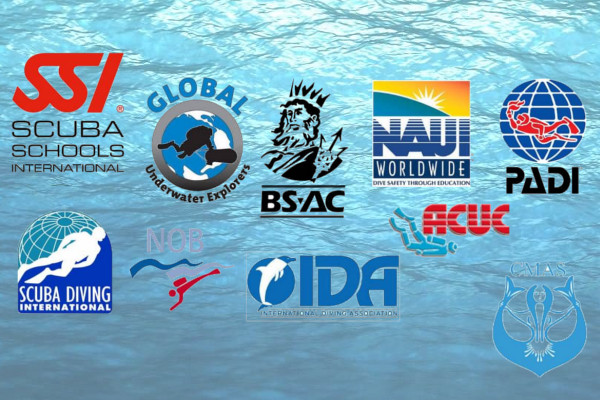 In this article we will talk about 5 of the most recognized:
Professional Association of Diving Instructors (PADI), the World Confederation of Underwater Activities (CMAS), the International Diving School (SSI). Scuba Diving International(SDI) and the National Association of Diving Instructors (NAUI).
What is the largest diving organization in the world ?
The Professional Association of Diving Instructors (PADI) is currently the largest diving organization in the world, with over 25 million certifications issued as of 2021. PADI offers a wide range of scuba diving courses and certifications, from beginner to professional levels, and operates in over 183 countries around the world.
However, PADI is not the only big one. According to the latest statistics available, as of 2019, SSI had issued over 8 million, NAUI had issued over 2.5 million, and SDI/TDI had issued over 1 million.
Comparative Table of Diving Certifications
Each organization has a structure of courses and certifications to teach diving to those who want to learn. Although there are some differences, most certifications have equivalencies between organizations.
This is positive. Let's say for example that you have obtained an Open Water license with CMAS and later you want to get the Advanced Open Water certification in PADI, you can apply without problem.
Below is a cross table with basic diving certifications. This comparative chart shows the main Diving Organizations and their certification programs.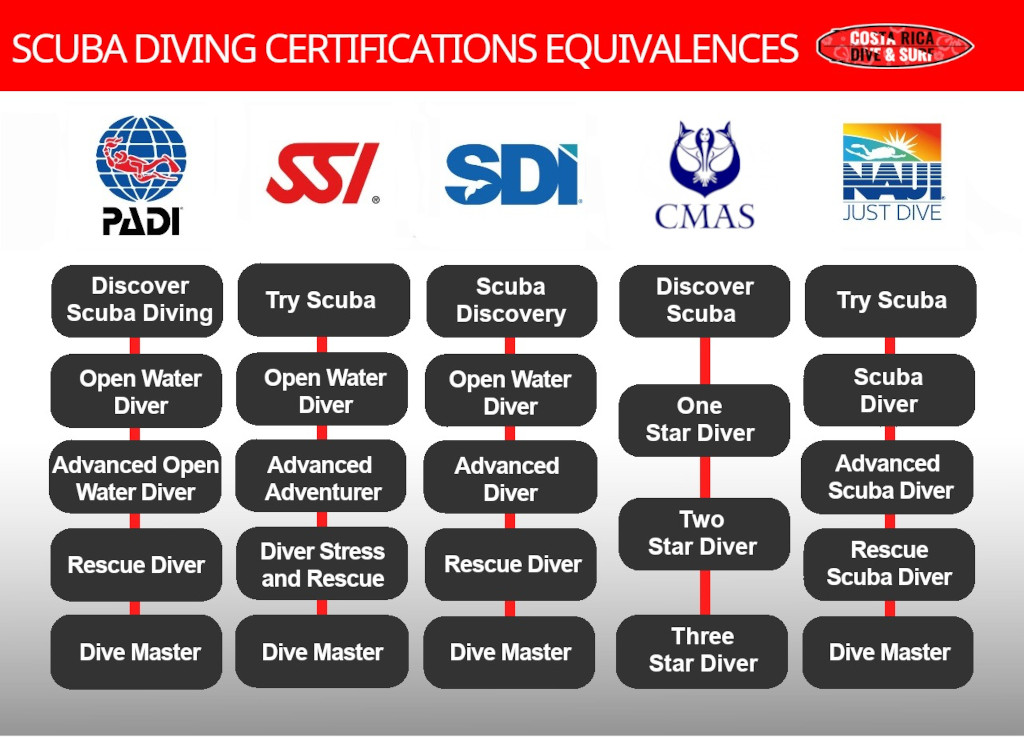 Types of diving certifications
When we talk about diving certifications, we can find four main levels:
Recreational Diving Certifications – for recreational divers
Professional Diving Certifications – for those working in the diving industry.
Technical Diving Certifications – for divers exceeding recreational limits
Commercial Diving Certifications – to perform work underwater, such as repair or welding.
This without considering other certifications such as free-diving, which also has various courses and levels.
In this article we will focus on recreational certifications and the first professional level.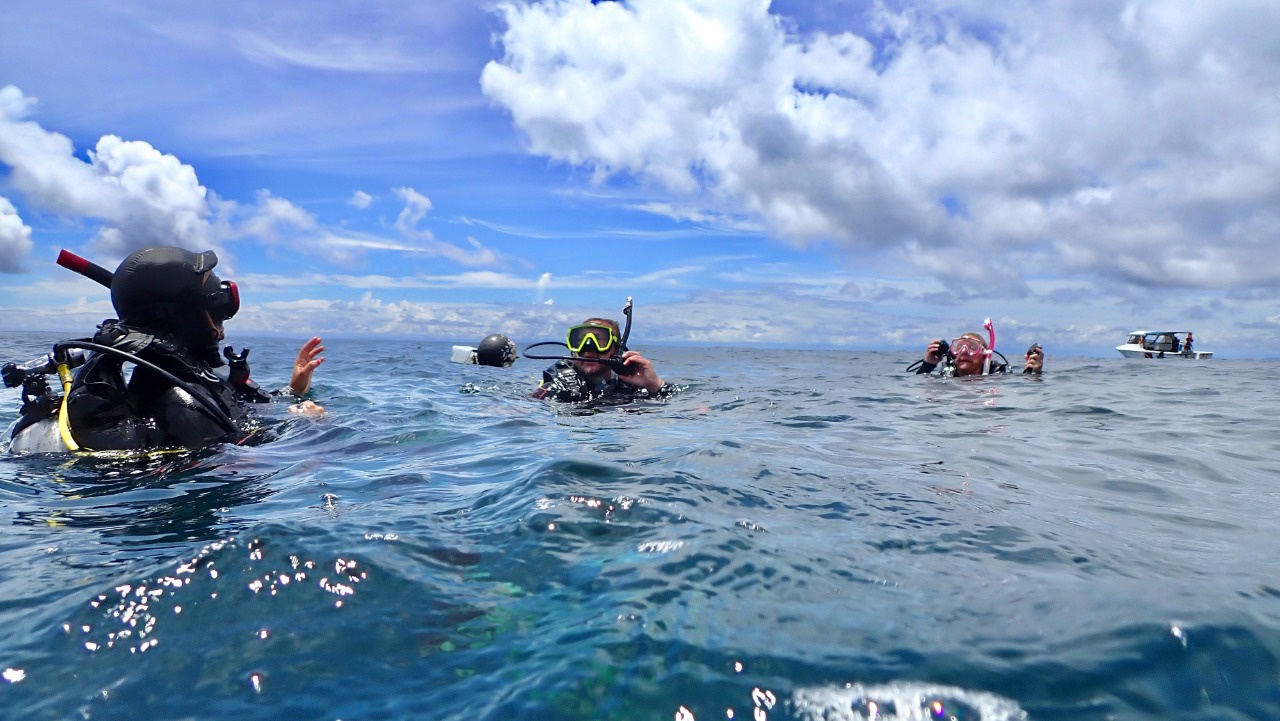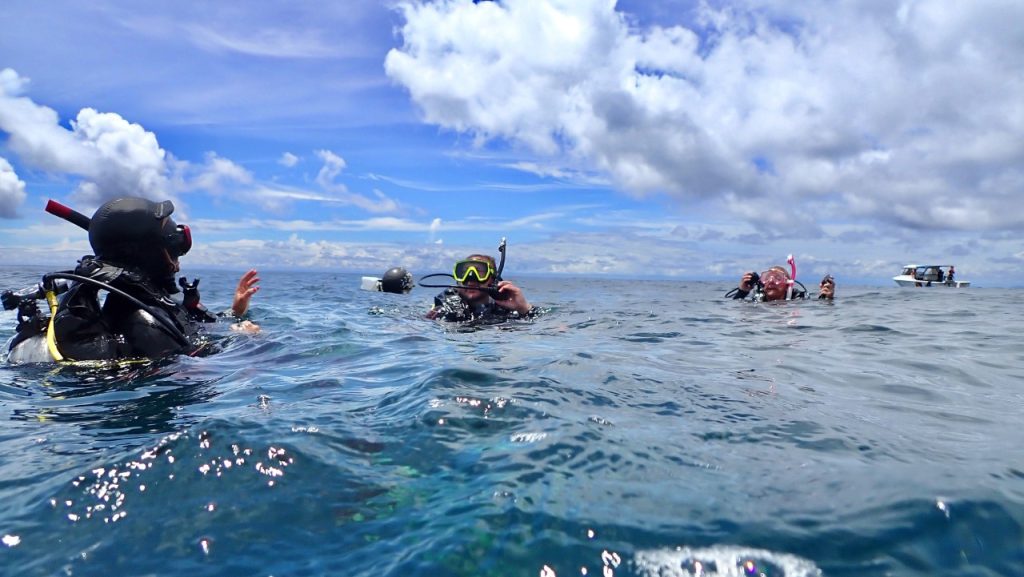 There are several types of diving certifications. Most of the content and activities of each certification have differences.
However, most certifications have a similar structure. All of them require a number of hours of theoretical training, either face-to-face or virtual, and a certain number of supervised activities in the water. That are carried out partly in a swimming pool, where there is a more controlled environment, and partly in the ocean or a lake.
These activities allow an instructor to teach and test the knowledge and skills necessary to dive safely.
For a better understanding we have divided the most common diving certifications into five levels: Test level, Basic level, Advanced level, Rescue level and Divemaster level.
Recreational Diving Certifications – For Recreational Divers
Test Level – Recreational Diving Certifications
Most organizations have a trial level. These courses in fact do not issue a certification but rather an introduction to diving that allows the student to experience breathing underwater without having to invest a lot of time or money.
In this way, a space is created so that the person can decide if they want to take the next step or if diving is not what they expected.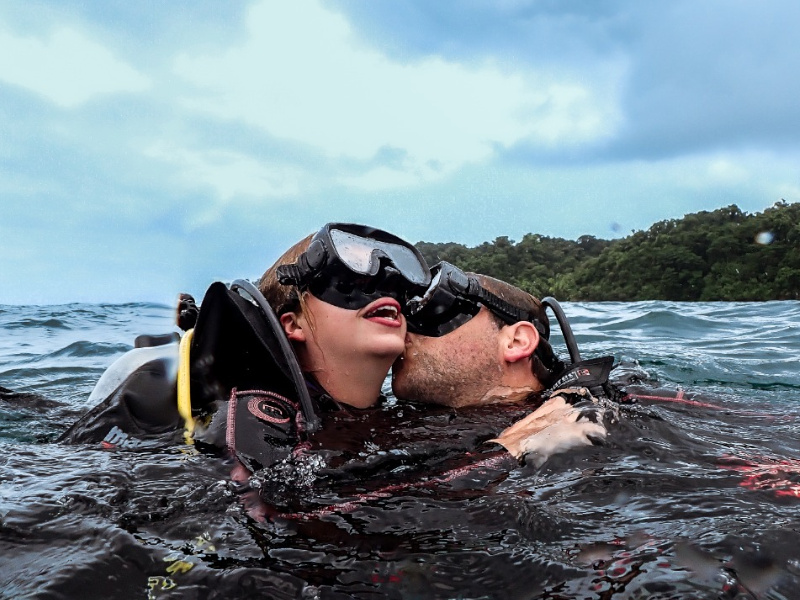 Logically, the vast majority of people after completing this experience are willing to continue the process towards certification.
This option is also ideal for those people who during their vacations do not have enough time to take a complete course and want experience scuba diving for few hours under the supervision of a certified instructor.
Normally, the student must take a brief theoretical course, followed by approximately 3 hours of training in a pool. That allows them to scuba dive in shallow waters accompanied by a qualified instructor immediately.
It is important to note that as they are not certification courses, the student does not obtain a license and in most cases must repeat the theoretical and pool part every time they want to dive.
You will also not be able to dive on your own or rent diving equipment.
Test Level Certifications Comparison and Requirements
With PADI, the name of this experience is Discover Scuba Diving.
It requires a minimum age of 10 years and participants can go up to 12 meters deep in the company of their instructor.
SSI offers the Try Scuba program which requires a minimum age of 8 years and allows reaching a maximum depth of 5 meters.
SDI has a program called Scuba Discovery which requires a minimum age of 10 years.
This course is a little more demanding since it covers topics such as equipment assembly and the use of a dive computer, which is not common at this level.
CMAS has created the Discover Scuba program for which it has set a minimum age of 8 years and recommends doing two open water dives instead of one.
NAUI has divided the content of this course into two parts: the Try Scuba, which includes only the pool part and for which the minimum age is 8 years, and the Passport Scuba, which includes the open water part and requires a minimum age of 10 years.
Unlike other organizations, NAUI recognizes this course for a period of 12 months and allows the student to continue doing dives under the direct supervision of a certified instructor without having to repeat the theoretical part.
First Level – Recreational Diving Certifications
This level is very important as it is the gateway to the world of recreational diving.
After completing this training, the student will be able to plan dives and conduct them safely on their own. This level will lay the foundations for training as a diver and will open up a range of possibilities for the future.
The student can happily remain at this level for the rest of his life, or he can continue his training in different directions: As an advanced, rescue, technical, scientific or even commercial diver.
Something that all divers share is the basic and essential knowledge obtained during this training. This is where the diver learns the fundamentals of physics and physiology that will accompany you throughout your journey. Assemble and disassemble the equipment, safety procedures before, during and after each dive. In short, the knowledge that will allow you to perform as a diver.
Certifications at this level are usually lifelong and will also allow the diver to rent equipment from most dive centers around the world.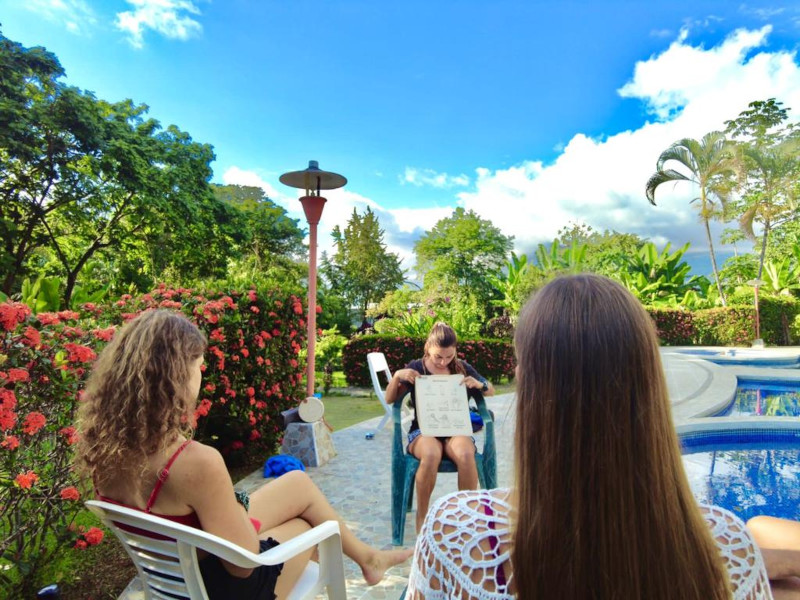 First Level Certifications Comparison and Requirements
The PADI organization has designed the Open Water Diver course in which a theoretical section is carried out. This portion of the course is available online.
In addition, five pool sessions and four open water dives are required.
The minimum age is 10 years. Although at that age the degree obtained is "Junior" Open Water Diver and when they reach 14 years of age the status of the license automatically changes to PADI Open Water Diver.
The maximum depth to which the diver can go when obtaining this certification is 18 meters. The duration of this course is 4 to 6 days.
SSI offers the Open Water Diver course in which the minimum age is also 10 years old, 6 theoretical sessions, 6 pool sessions and 4 open water dives are carried out. The organization suggests a time investment of 36 hours.
SDI has created the Open Water Scuba Diver which is very similar to the PADI courses. With a minimum age of 15 years you can reach a maximum depth of 18 meters.
Also, SDI has a Junion Open Water Scuba Course with the requirement of 10 – 14 years old with parental consent.
CMAS offers the One Star Diver certification with which you can reach a maximum depth of 20 meters and in some countries up to 25 meters.
The organization requires at least 5 open water dives to complete the course. This course includes some rescue and CPR skills that are not needed in other organizations at this level.
NAUI with its Scuba Diver course requires a theoretical part, a pool part and at least 5 open water sessions.
Advanced Level – Recreational Diving Certifications
This is the second of the certified diving levels.
This level is very important since it allows Open Water divers to expand their knowledge on specific topics of great importance, allowing them to enjoy other areas of diving that were previously unattainable.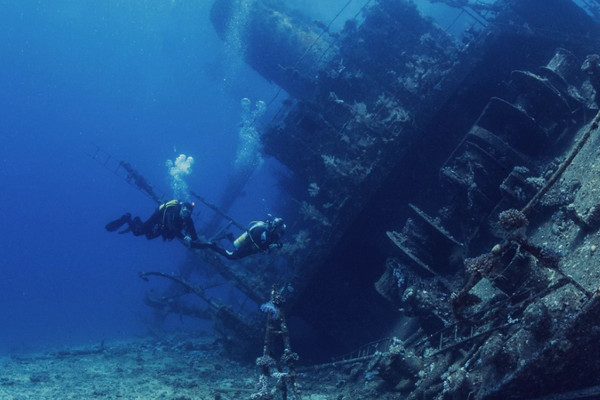 Even though some of the topics to be studied are mandatory due to their importance, others can be chosen by the students depending on their tastes and their geographical location.
This gives each person the opportunity to develop a little more on the topics of interest to them.
One of the most important achievements when obtaining this certification is the ability to dive deeper than 18 meters and up to 30 meters deep.
Specialty dives Comparison and Requirements
For this level of certification, PADI has created adventure dives, also known as specialty dives. These are dives preceded by a small theoretical portion in which the aim is to obtain knowledge and develop a specific skill. The most common PADI adventure dives are:
Deep Diver (Deep Diving),
Peak Performance Buoyancy (Maximum Buoyancy Performance)
Search and Recovery
Digital Underwater Photography
Dive Against Debris (Ecological Diving)
Fish Identification
Night Dive (night dive)
Search and Recovery
Underwater Naturalist
Underwater Navigation
Wreck Diver
To become certified as a PADI Advanced Open Water Diver the student must complete 5 of these dives. Two are mandatory and three are optional.
Two are mandatory and three are optional. The required dives are Underwater Navigation and Deep Diver while the other three dives can be chosen from the list. It is possible to do these dives independently.
Another option is to obtain a specialty by completing the same adventure dive several times.
The number of dives required varies depending on the specialty that you want to obtain, but they are usually between three and five.
SSI has created the Advanced Adventurer program. To achieve this certification, the student must complete 5 different programs called Adventurer Programs or Specialty Programs, which are listed below:
Boat Diving
Deep Diving
Dry Suit Diving -Enriched Air Nitrox (EAN)
Navigation
Night & LimitedVisibility
Perfect Buoyancy -Photo & Video -Scooter/DPV Diving
Search & Recovery
Waves, Tides & Currents
Wreck Diving
SDI has called their course Advanced Adventure Diver and it also requires you to take five specialty dives. Some of them are:
Advanced Buoyancy Control
Altitude Diver
Boat Diver
Computer Nitrox Diver
Drift Diver
Marine Ecosystem Awareness
In the case of CMAS there are no specialty dives since their rating is based on stars and skills are developed in a different way. During the CMAS two Star course the student develops comparable skills and knowledge which allow him, for example, to reach a depth of up to 30 meters.
NAUI, for its part, requires 6 dives to achieve the Advanced SCUBA DIVER certification. Three of these dives are required: navigation, low visibility and deep diving. The remaining three can be chosen from the following list:
Search and recovery
Boat diving
Light salvage
Hunting and collecting
Exploration and underwater mapping
Wreck diving (non-penetration)
Observation and data collecting
Diving in surf or currents
Altitude diving
Salt Water diving (in areas where most diving is in fresh water)
Fresh water diving (in areas where most diving is in salt water) -Shore diving
Diving for photos and videos
Using dive computers
Rescue Level – Recreational Diving Certifications
Despite being one of the most demanding levels, it is one of the most exciting. At this level the diver stops thinking about himself and begins to pay attention to the safety of others.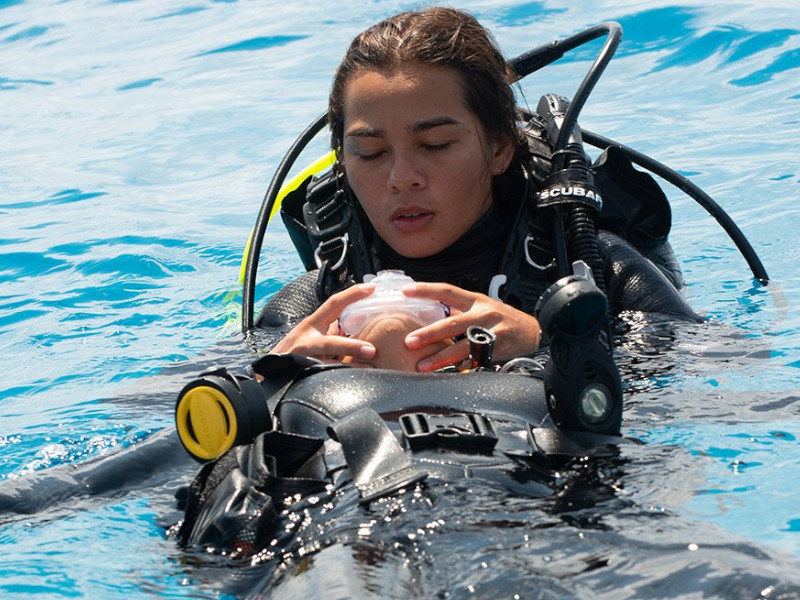 One of the objectives of this level of certification is to teach divers to act in risk or emergency situations and to rescue divers in trouble. At this level, it is also taught how to apply emergency oxygen in the different situations that warrant it. This always within the legal limits of each country.
Rescue Level Certifications Comparison and Requirements
PADI offers the Rescue Diver course. One of the requirements to participate in this course is to have training in Primary and Secondary Care (CPR and First Aid) in the last 24 months.
This is a course also offered by PADI although under a different brand name known as Emergency First Response.
To obtain this certification, two pool sessions and 4 open water dives are required.
The SSI organization teaches the Stress and Rescue course for which the minimum age is 12 years.
It requires at least six theory sessions, three pool sessions and three open water sessions.
This course is estimated to last 15 hours. The theory for this course is also available online.
SDI has developed the Rescue Diver course which has as a particular requirement to have at least 40 dives and a minimum age of 15 years.
CMAS incorporates the knowledge gained within this level into its star system so there is no one specific course that can be equated.
NAUI has created the Scuba Rescue Diver course. For this course it is essential to have previous training in CPR.
Something that is interesting is that you can take this course as an Open Water Diver, so the advanced level is not a requirement.
Professional Diving Certifications – for those working in the diving industry.
Divemaster Level
This is the first level in professional diving, which implies that you will be able to develop your leadership and take charge of different activities.
On the other hand, working in the diving industry will allow you to recover some or all of the money you have invested in your education and even turn it into your main income.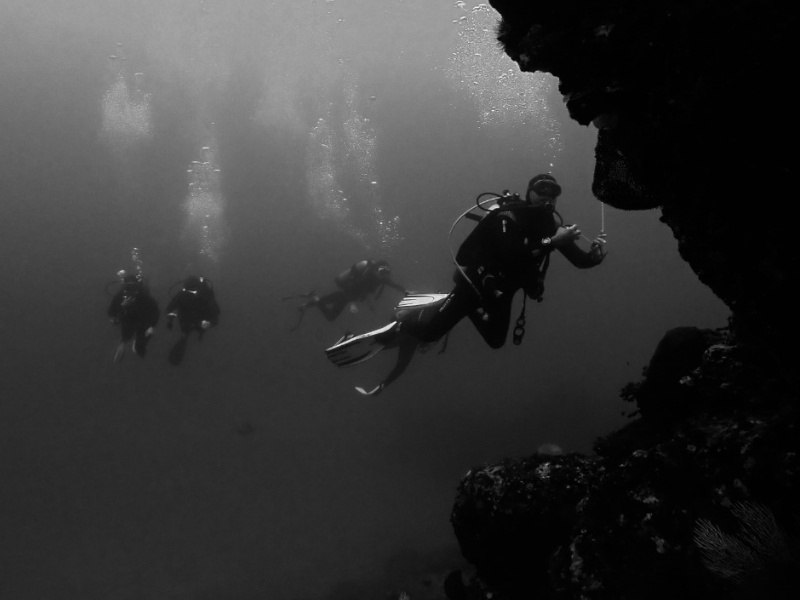 Few things are as satisfying as getting paid to do something you truly love while helping others fulfill their dreams.
The knowledge obtained during this course is one of the most advanced in the world of recreational diving.
Some of the most interesting topics learned during this level are the physiology involved in diving, physics, taking care of equipment from a more technical perspective, and caring for and guiding other divers.
Due to the responsibility of being in charge of these activities, the minimum age in most organizations for this level is 18 years.
Divemaster level diving certifications comparison and Requirements
PADI offers the DIVEMASTER course for which it is required to have at least 40 dives at the beginning of the course and 60 at the end.
It is also necessary to be a rescue diver and have a CPR certification issued no more than two years ago.
SSI is Divemaster certified. It also requires a minimum of 40 dives although some professional training centers require 50.
SSI offers the option of obtaining a certification known as a Dive guide which is a step before the Divemaster but at the same time counts as part of your curriculum.
To obtain the Dive Guide it is only necessary to have the Stress and Rescue certification, complete five academic sessions, four confined water sessions and five open water sessions.
SDI teaches the Divemaster course. This course is very similar to the one created by PADI and requires that you be a rescue diver and have completed 40 dives.
In the CMAS organization, in order to be able to guide, the Three Star Diver certification is necessary with which you can also dive up to 40 meters deep.
With this certification you can guide other divers.Of those mentioned in this article, this is the only organization that allows minors to become guides when they are only 16 years old.
Yes, with the consent of your parent or guardian. Requires a minimum of 15 dives after having obtained the CMAS Two Star certification of which at least 10 must be done at depths greater than 30 meters.
NAUI offers the Divemaster certification which requires, among other things, having completed 50 dives.
Their requirements are very similar to those described by PADI and SSI and SDI.
So, What is the best scuba diving certification? – Conclusion
In summary, with the exception of CMAS, the similarities between the diving organizations that we have talked about and their certifications are many.
Their differences in terms of requirements are few. So it is up to the student to decide which organization they want to choose since they all have with the same validity.
It's important to note that not all organizations are available in all areas. Our advice is that when choosing who will give you your diving education, look for a professional training center where the facilities, boats and equipment are in optimal conditions. That is always a good sign.
Look for a professional who makes you feel comfortable and who you feel you can trust not only because of their appearance but also because of their background and experience.
Are you ready to take the plunge and get certified for scuba diving?
Whether you're a local resident or a visitor to Costa Rica, we offer a wide range of diving certifications to suit your needs and preferences.
Our experienced instructors provide both theoretical and practical training in a safe and supportive environment, ensuring that you have the skills and confidence to explore the underwater world.
To make the most of your vacation time, we also offer the option to complete the theoretical courses online in advance, so you can focus on the fun part of diving during your visit.
So, what are you waiting for? Contact us today to start your journey into the amazing world of scuba diving. We guarantee that it will be an unforgettable experience that you'll cherish for years to come!"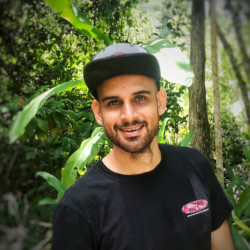 Master Scuba Diver Trainer with thousands of dives in Caño Island.
Guide certified by the Costa Rican Tourism Institute with more than 15 years of experience showing the best of Costa Rica to its visitors.
Sailor with a passion for sailing boats, exploring new dive sites, and marine conservation projects.
Owner and team leader in Costa Rica Dive and Surf.