What is the best scuba diving suit for you?
If you are reading this article, scuba diving is probably your thing, or maybe you want to learn more and get started in this exciting sport.
For any purpose, in this article we offer you a complete guide to choose the best scuba diving suit that will fullfill your needs.
It is important to mention that people do get wet on dives, even when wearing a diving suit.
What the suits do is add extra layers of thermal insulation, by trapping water inside the suit.
The material used to make diving suits is almost always neoprene. These come in a thickness between 1 to 7 mm, and depend on the temperature of the water to choose yours.
We can divide the diving suits into three main groups:
Dry diving suits
Wetsuits
Semi-dry suits.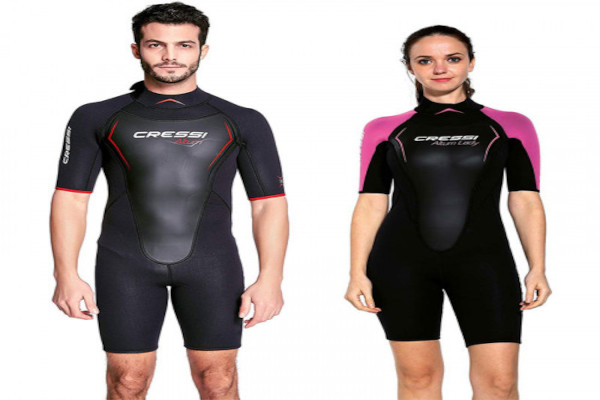 Types of diving suit
Wetsuit
You can use this type of diving suit for snorkeling or diving. The suit comes in different sizes.
The best known are 0.5mm, 2mm, 5mm or 7mm. Most of them are made of neoprene.
The wetsuit is the most used in the world of diving and one of the reasons is perhaps because it is the most affordable.
One of its most important characteristics is that it allows water to enter, so that your body will get wet. If the water is very cold, this will cause your body to lose temperature.
For this suit to work well, there should not be much space between your body and the suit, so that the penetrating water is not too much.
The body heats the water that has entered the suit, and this helps to maintain your body temperature.
If the water that penetrates is excessive, the body temperature will drop very quickly. This happens when the suit is too big for you.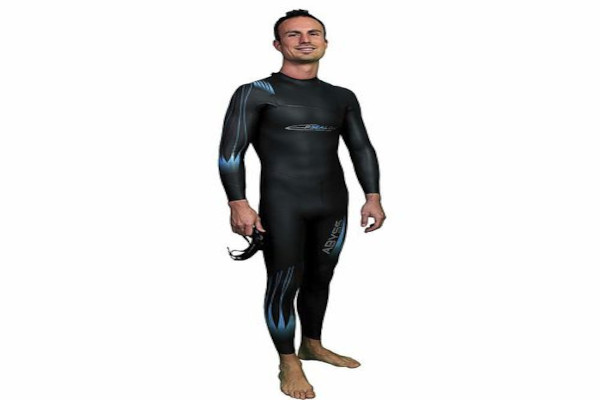 Wetsuits are classified into two types:
The "shorty" type, generally used in tropical waters, because the arm and legs are exposed.
It is made to maintain the temperature of the middle part of the body or trunk, it is very comfortable and easy to put on.
The other type is the "full-body"
This type is ideal for temperate waters because it covers the entire body and has a thickness between 5 and 7 mm.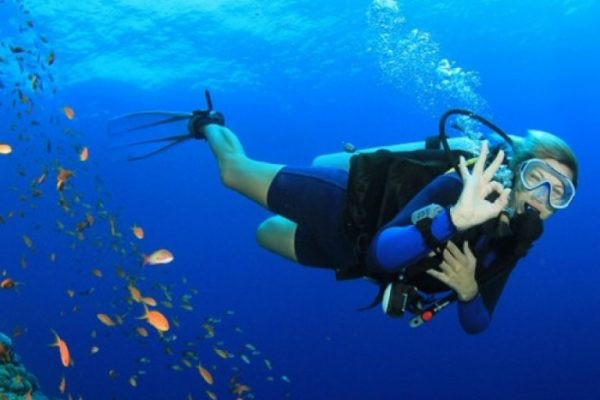 Its thermal insulation is greater than the"shorty" type and it protects you much more from scratches.
They often comes with hoods.
The full-body diving suit can be a one-piece or two-piece suit. The first is easier to put on and more airtight, the second is more versatile because adding or removing the jacket you use it both in summer and winter.
Semi-dry scuba diving suit
This model combines the properties of wet and dry suits.
The average thickness in this type is 4 to 7 mm of neoprene. The semi-dry type suit is semi-waterproof and almost completely isolates water thanks to its sleeves and closures.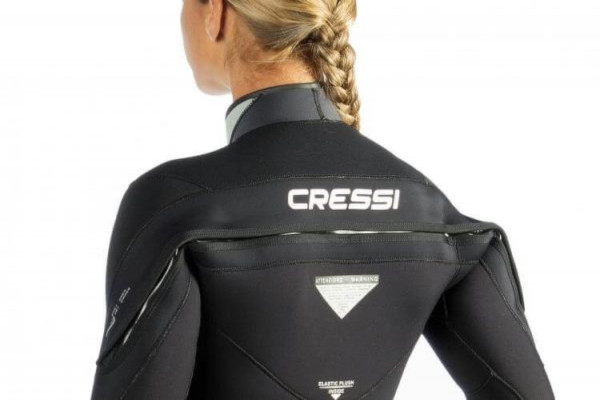 The sippers, neck, hands and feet are airtight, so there is less water flow. It is ideal for cold waters, between 10 ° C and 20 ° C.
It is lighter than the other suits, but at the same time, a little more difficult to put on, so it can get too hot if you are out of the water.
Dry scuba diving suit
With this type of scuba diving suit, you can dive in could waters, with temperatures between 4°C and 15°C.
They are totally hermetic, thanks to the presence of air inside.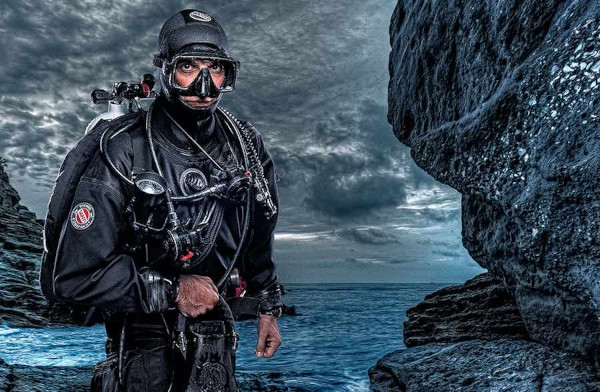 It is a type of exclusive used by experienced and technical divers. Most of the dry suits are made of neoprene or trilaminate. With this type, the clothing that you will wear under your suit fulfills the function of thermal protection.
It has an inflator connected to the air cylinder to inject air into it, this mechanism prevents compression when the pressure is increased under water.
The injected gas forms a layer of air that serves as thermal insulation, it circulates freely within the suit and can become concentrated in the lower part of the body causing an ascent.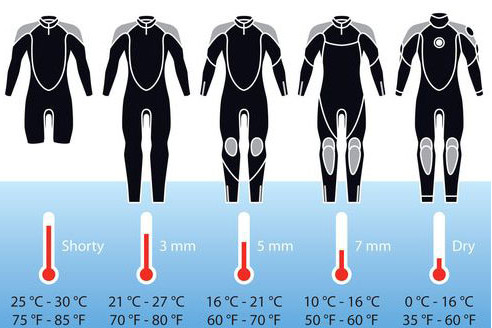 This valve controls buoyancy. You have to swim almost vertically and to empty the air suit (when climbing) you must have a valve or arm cuff.
The use of the valve is the most complicated part about dry suits. They also require carefuldiving for not going to the surface. Some divers use lead on the belt. Being so specialized, this type of suit is the most expensive.
Differences between wet suits and dry suits.
We can summarize the differences between wet and dry diving suits as follows:
Wetsuits are usually made of neoprene and are suitable for warmer waters, providing insulation and protection.
Drysuits are for colder waters as they have better insulation thanks to their multilayer design and their ability to keep water away from the diver.
Chek out some wet suit prices here
How to choose the best scuba diving suit for you?
Before purchasing a scuba diving suit you should take into account the following aspects:
Size
Selecting the correct size is particularly important when considering a diving suit for yourself.
You should think about fit and comfort when selecting the size.
Remember that size can vary from one brand to another, so always take a look at the size chart before making your selection.
If you opt for a neoprene wetsuit and it turns out to be too large, water could seep between the wetsuit and your body, preventing you from creating the necessary warm protection for your body.
In that sense, choosing a smaller size could be an option.
The suit should not be too small either. We recommend that you move with it when you try on. Stretch and bend a bit to see if it doesn't get uncomfortable.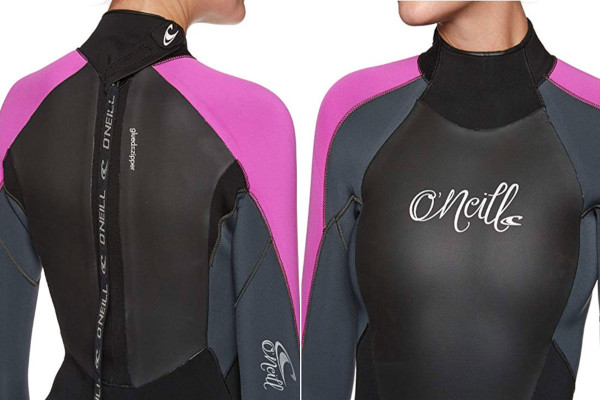 Thickness
Wetsuits come in different thicknesses that can generally range from 3mm to 7mm.
Wetsuits made for warmer waters can be as low as 1mm or 2mm in thickness.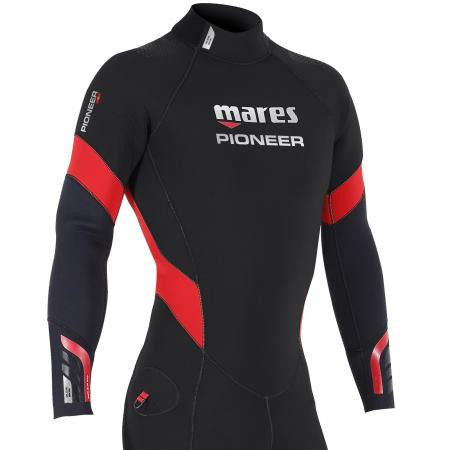 The best wet suit will be the one that moves along with you when you perform any kind of movement. Here is a chart that shows the relationship between the thickness and the temperature.
2 mm: above 85° F (29° C)
3 mm: 70 – 85° F (21 – 28° C)
5 mm: 60 – 70° F (16 – 20° C)
7 mm: 50 – 70° F (10 – 20° C)
Length
Length is also a very important aspect to take into account when selecting the best dive wetsuit for yourself.
If you have too long arms or legs even if the suit fits you well, it may not cover your wrists and ankles, alowing the water to goes in between your body and the suit.
If that happen, there will not be the needed warm protection for your body.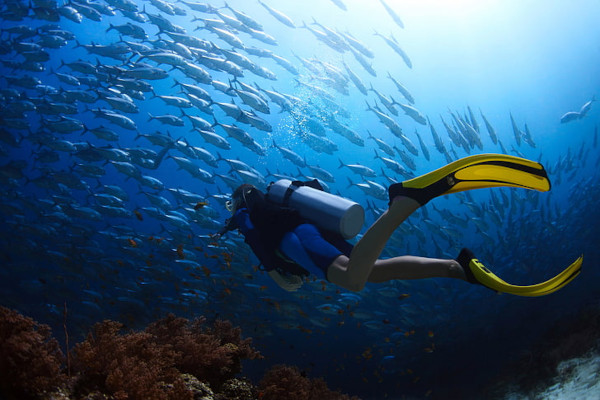 Material
Most of the dive wetsuit use neoprene as theere main material, because this type of material isolates the heat fairly well.
There are two types of neoprene: open cell neoprene and closed cell neoprene.
There is also a third type of material used to make the dive wetsuit, and the material is lycra.
The dive wetsuit made of closed cell neoprene is rigid and rubbery. It is the more common material used on most dive wetsuit because it is affordable and because it last longer.
It is hart to put on though and does not isolates heat well when comparing to other types.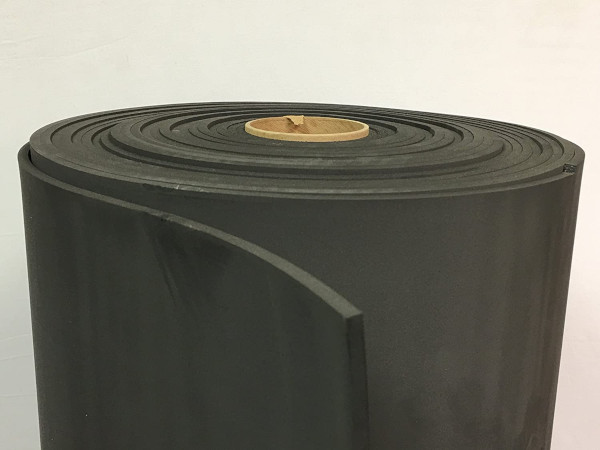 Open cell neoprene wetsuit are more flexible and adapts better to the diver's body. It's a higher quality dive wetsuit. This kind of wetsuit isolates better and allows a better movement.
Although they are more easy to damage.
The third type is the lycra. The lycra type also named skin suits are more suitable for warm water and they only offer a thing layer of protection. They protect your skin from animals and do not offer any thermal insolation.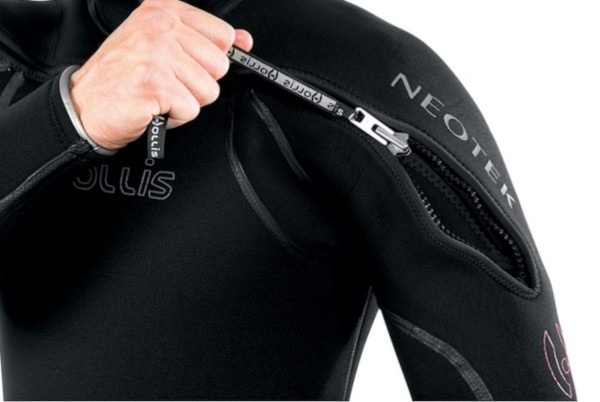 Style and Design
Wetsuits comes in different styles, cuts and lengths, One of the kind is the full-body wetsuit, the shorty wetsuit, and the farmer Jhon/Jane style.
With the full-body wetswuit you will get full protection and insulation while diving. It protects most parts of your body, like arms and legs, from rocks or animals.
The other kind is the short wetsuit. Short wetsuit are more comfortable to put on.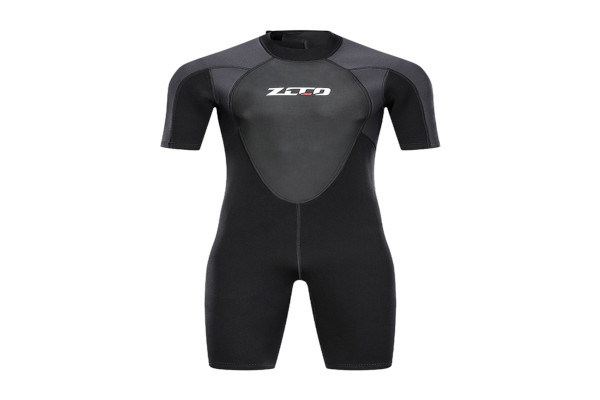 They have shorter sleeves in legs and arms. The third style is the Farmer Jhon style.
This type is a two-piece wetsuit, a jacket and an overall.
Those mentioned sytles also comes designed for man, female and unisex.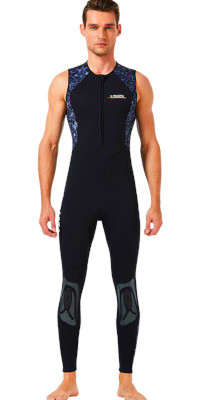 How to choose a two-piece diving suit?
Some divers like better a two-piece diving suit, instead of the one-piece type, due they fill to have easier movement with this type of dive wetsuit.
Just like the one-piece wetsuit, the two-pieces dive suit should feets snugly. The two-pieces wetsuit have a bigger mass and it comes with a hood. One nice thing is that it can generates more heat in the inside, which is excellent for the diver.
About the hood, make sure that it feets well on you your head. Otherwise the movement can be hard, or you could get a headache.
Best Scuba Diving suit for 2022
Scubapro Everflex Steamer
Henderson Greenprene Men's Jumpsuit
Henderson Thermoprene
Mares Graph-Flex
Bare Velocity Men Full Suit
Henderson Thermoprene Pro Hooded Semi-Dry Jumpsuit
Cressi Playa Flex 2.5mm Women's Shorty
Fourth Element Proteus
Cressi Bahia Flex 3mm Women's Jumpsuit
Aqua Lung AquaFlex
Why do you need to wear a diving suit?
Let's see the reasons why you need a special suit for scuba diving.
First of all, the purpose of using a wetsuit is to protect you from cold water.
What happens underwater is that the diver's body experiences a direct transfer of heat from the skin to the water and therefore it cools up 25 times faster than in a common environment.
It is therefore crucial to delay the cooling of the body.
The purpose of the wetsuit is to limit the heat loss that occurs when your body enters a colder environment, such as seawater.
The suit should help you to keep your body temperature at a good level.
That is why diving suits are also known as isothermal wetsuits.
In addition, the diving suit protects the skin from bumps, scrapes and other possible external aggressions due to contact with animals such as jellyfish, sharp objects or any dangerous element.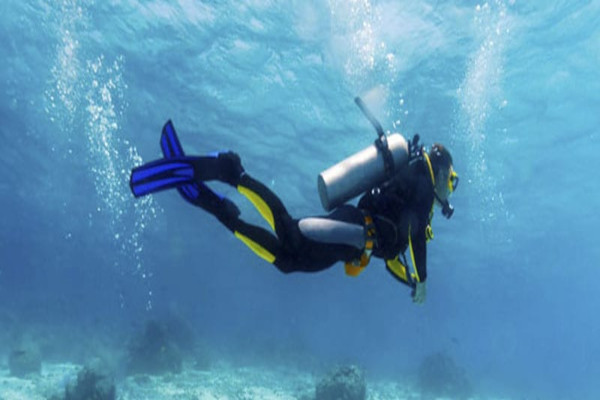 Read also:how to choose the best scuba diving gear
Diving without a diving suit?
When thinking about the risk of diving without a wetsuit, it is good to remember that one of the main keys of a good diving is not getting cold.
So you probably won't if you are wearing a wetsuit.
Getting too cold is dangerous and you may be at risk for hypothermia.
Or maybe you could be exposed to experiencing a decompression accident due to vasoconstriction caused by increased cold throughout your body.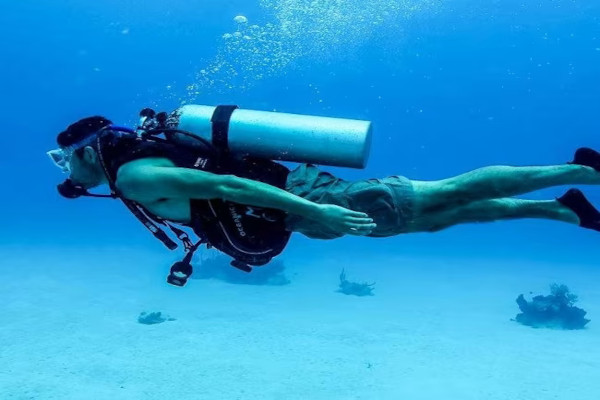 Summary
The diving suit will protect you from the cold and any dangerous elements in the water such as rocks or animals.
The type of diving suit you will need to use depens on the temperature of the water where the immersion will take place.
There are different classifications and models of diving suits, as well as manufacturing materials, but the most used material is neoprene.
Aspects to consider before buying a diving suit:
Immersion site temperature
Thickness
Style
Manufacturing material
Size