Snorkeling vs swimming – If you are someone who feels attraction and even passion for the marine and underwater world, and you want to have your own adventure, but you have never done an aquatic experience, here we tell you about an alternative.
This alternative is within your reach to fulfill that desire and experience something unforgettable, snorkeling. or snorkel.
In this article we want to share with you some tips or advice that will help you make your first snorkeling experience truly enjoyable.
Snorkeling is a very beautiful and quite comfortable sport.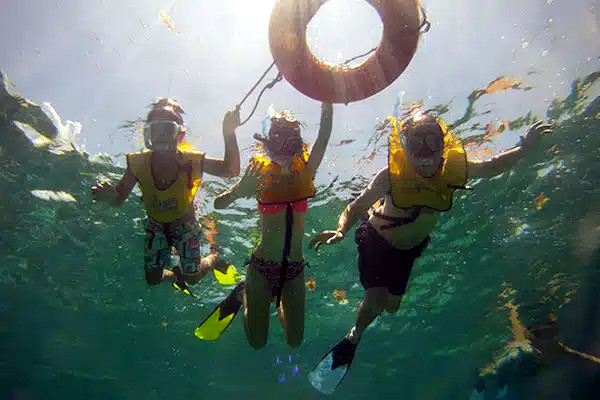 To practice it without problems you must have some necessary skills, use the right equipment and have some knowledge about the ocean, which can make this first diving experience unforgettable.
Do I have to know how to swim?
A short and direct answer is no. As snorkeling is a surface activity, knowing how to swim is not an exclusive requirement.
You don't need to be an expert swimmer. In fact, there are many non-swimmers who snorkel, it is even a sport practiced by children.
But to practice it more fully and for greater enjoyment, it is important to know how to swim and how to move in the aquatic environment.
It is very important not to be afraid of the water, if so, we recommend you look for another activity as an alternative.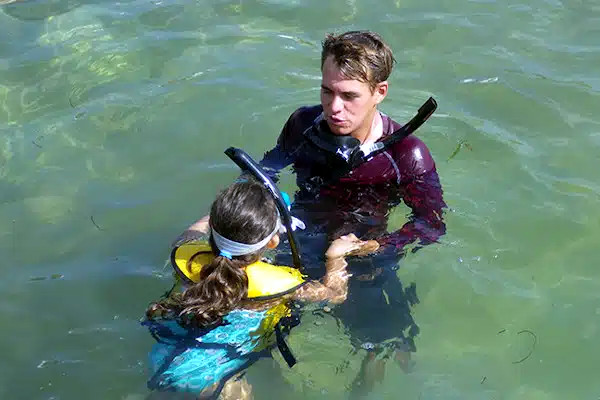 Know the equipment you use
In the practice of snorkeling, equipment is used that basically consists of goggles or a face mask, a tube and a pair of fins.
The most complicated element and that requires the most adaptation work are the fins.
It is important that you try them on and make sure they are comfortable and are neither too loose nor too tight, because they are the ones that help us to propel ourselves better in the dives.
It is important that you put them on once you are in the water, because they will make it difficult for you to walk in them on the sand. You should put the snorkel tube in your mouth and breathe in a normal and relaxed way.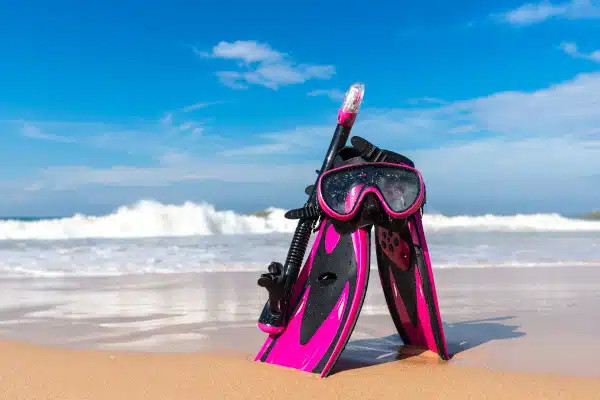 The tube has two ways of use, the open one that you can use without submerging the whole body, and the one with a blocking valve that divers normally use.
Secure and adjuste the glasses or mask .
It is also important that the widest part of the strap fixes just at the back of your head and that you make sure that they are well so that no water or air enters.
If you are a non-swimmer or it is the first time you practice snorkeling, it is better that the life jacket is part of your equipment, as it will help you feel safer and more confident.
Also read: How to buy your first diving gear? Practical advice
Be with someone
In all cases, it is always important to snorkel accompanied by someone, and it is even essential to do so if you are a beginner or novice, because, in the event of any unexpected situation or problem, that company will be at your fingertips, either to help you or eventually to ask for help.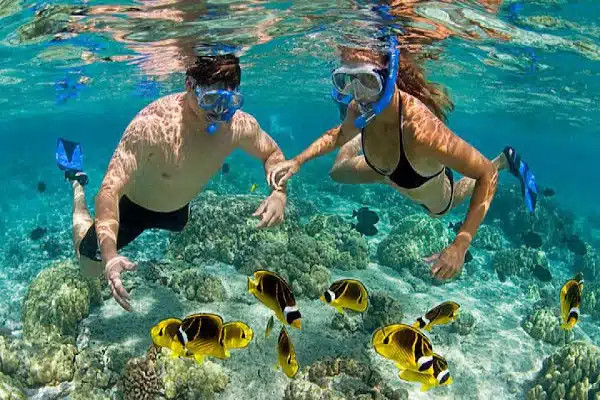 Use Suit in case of need
When is it necessary to wear a suit? In case the practice of snorkeling is in very cold waters and that you are going to do relatively deep dives, you can use the neoprene suit that will help you not to lose body heat during your practice of snorkeling.
In case you are not in deep water, the wetsuit will not be necessary.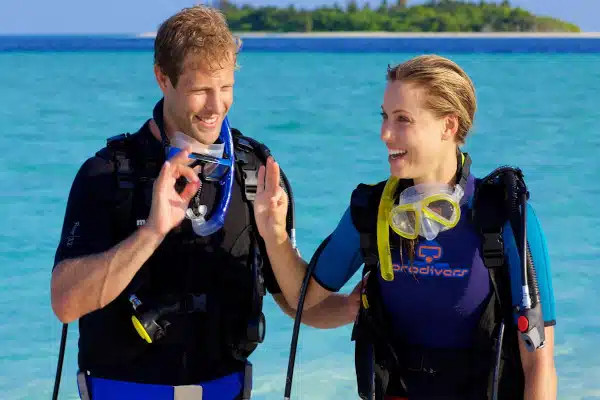 Choose a place
This is a key recommendation in the practice of snorkeling. If you are a non-swimmer or a novice, we suggest doing this activity on the beach or not far from the coast.
From no point of view we would recommend for beginners to practice snorkeling in the open sea, since any unforeseen situation could be risky and terrifying and combining that inexperience with fear could result in the subtraction of the fun that the person seeks.
The place must be suitable, that it has those security conditions and that it presents a space in which you can fully contemplate the fish and marine life that you hope to see.
Do not stay in one place, because you can miss out on unforgettable experiences and also get bored.
Do not let yourself be guided by other people to do activities that may make you uncomfortable and make you feel insecure.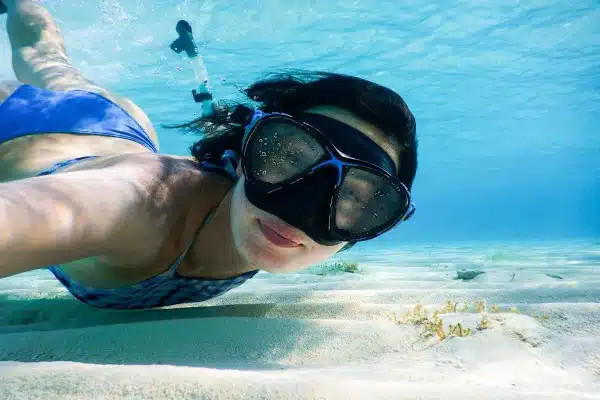 See also: 10 best places to practice snorkel in Costa Rica
Be relaxed and confident
You should see it as an advantage when practicing snorkeling, because the more you can relax, the better your performance, you will be able to float without problems and you will have better control over your movement in the water.
To feel relaxed you should know that if you breathe slowly, that will help you for that purpose, and you will be able to walk much better through the water.
On the contrary, if you expose yourself to an uncontrolled situation, you could sink if you do not have a life jacket. Dedicating a few minutes to the practice of breathing and relaxation will be very helpful for you.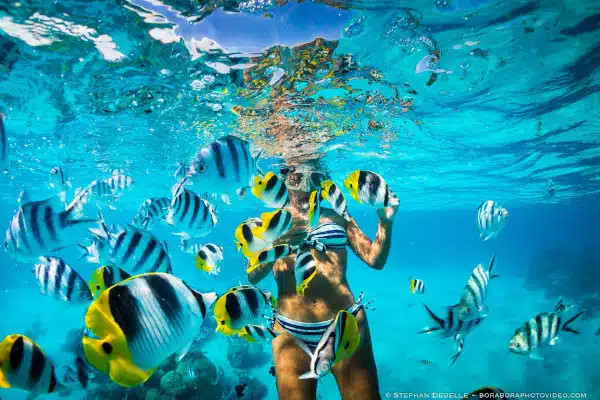 Take care of yourself
As someone who is just starting out in the snorkeling experience, it is important that you take care of some aspects.
For example, you must take into account your environment, know as much as possible the spaces through which you have to move, in order to avoid unnecessary dangers.
If you have a guide, which is highly important for you, do not lose sight of them and if you are in a group, do not take too much distance from them, knowing that it is also important to be as close as possible to the coast.
Do not make physical efforts unnecessarily, causing exposure to dangerous situations.
Take care of the environment
Join the practice of caring for our ecology that, in our time is extremely necessary, also care for the sea.
Do not touch and damage the marine flora and fauna in your path such as corals, fish or marine life itself.
Enjoying this experience implies your respect and responsibility in the care of marine beings.
That includes even the use of body protection products such as sunscreens.
If you do use them, use those that are biodegradable and don't really harm sea life.
Just as you enjoy the moment, you will allow other practitioners to do so in the future and finally make it unforgettable for everyone.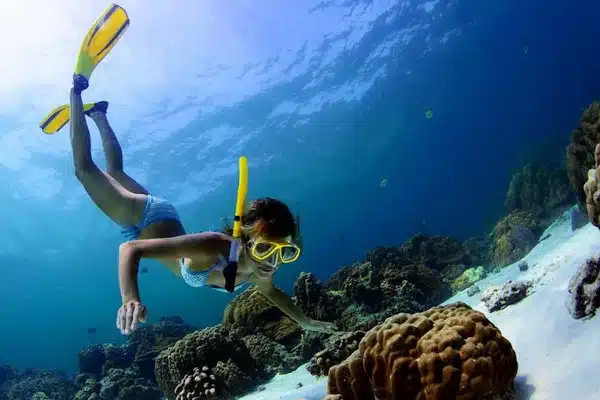 Summary
The snorkel or snorkel is the best option to start the practice of scuba diving or an introduction to diving on a less professional level.
Snorkeling is widely better when you practice it in calm, clear and shallow waters, even more so considering your status as a novice or maybe someone who doesn't know how to swim.
With these tips, we encourage you to equip yourself and have your snorkeling experience. Enjoy it!!!