To buy your first scuba dive gear ca be either exciting or stressful.
Like any other activity, diving requires that you use a specific type of equipment in order to participate and enjoy this practice.
Each piece of scuba gear is specifically designed to allow the person to have a good experience underwater while keeping it safe.
As a beginner diver, you will have a wide range of options to choose from depending on the budget you have reserved for your equipment. The quality and condition of the equipment is always essential, taking into account that your life depends on it.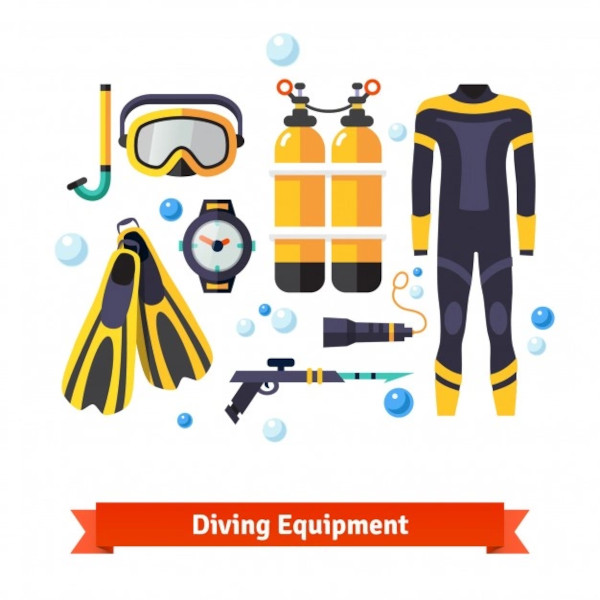 What scuba gear should you be looking for?
It is very important that you have all the necessary diving equipment before going on your trip. Forgetting any of these basic items will make you look at some options in your destination, to rent or buy and it is likely that you will pay more than you had planned.
So what kind of gear are you going to need to bring? Here's a list of the most important items you should start with, when thinking to buy your first scuba dive gear.
Diving mask
Neoprene suit (wet or dry)
Frog fins or legs
Scuba regulator
Dive computer (calculates air time and water depth)
Buoyancy Control Equipment (BC)
Air tank (Normally you rent it at the destination)
Regulator
Dive computer (calculates air time and water depth)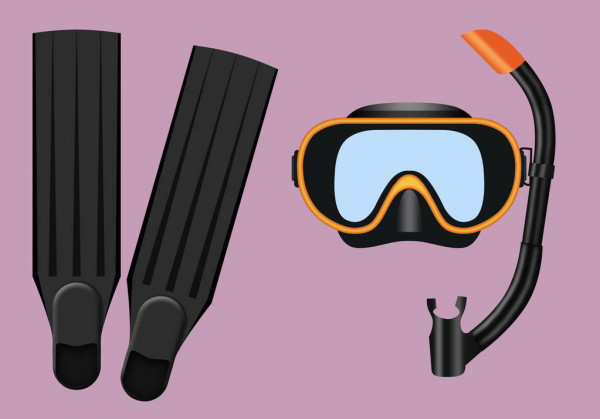 Choosing the best diving equipment
When you decide to buy your scuba gear, there can be overwhelming options to choose from. With the continuous evolution of technologies applied to diving, there is always a variety of new equipment to choose from.
Making a good choice can become difficult and mainly deciding which pieces of diving equipment should have priority when buying. Below we provide a guide to choose the basic diving equipment you will need as well as some tips so that you can make the best possible choice.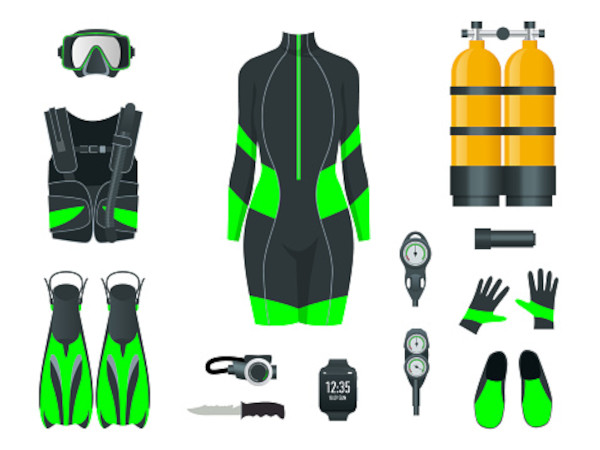 1. Diving mask
The Mask allows you to focus underwater by creating an air space in front of your eyes. It is important to choose it carefully. The mask is one of the most important parts of scuba gear as it will provide you with the visibility you need under moving underwater.
How to choose the best diving mask?
Put the mask on without holding it to your head and look down. It should stand on its own and fit evenly to the face with no gaps.
Also check the mask with the snorkel mouthpiece in the mouth. This must be comfortable and not present spaces.
Inhale through your nose while wearing your mask without holding it to your head. This should fit easily and seal to the face. Do a sniff test using a mouthpiece.
Now use it by adjusting the strap and check that the nose does not touch the mask. Check if the fold is comfortable on the lip.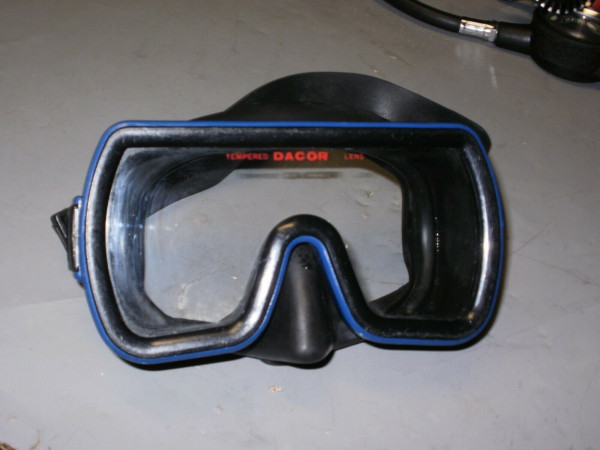 Also check the mouthpiece of the regulator and verify that it does not interfere when reaching the nose to equalize the pressure of your ears. This is very important.
Also read: How to choose the best diving mask
These are the requirements to choose a diving mask that works properly for you. There is a wide range of dive mask options to achieve a wider view, such as the side, top and bottom panels. There are also a variety of masks with different color schemes according to personal preference.
You must choose the one that best suits your needs, considering the recommendations. Normally, clear or wider masks are more comfortable and allow more light to enter.
Some models that we can recommend
OPTION # 1: Cressi Big Eye Evolution Mask
Approximate Cost: Between 41-84 Dollars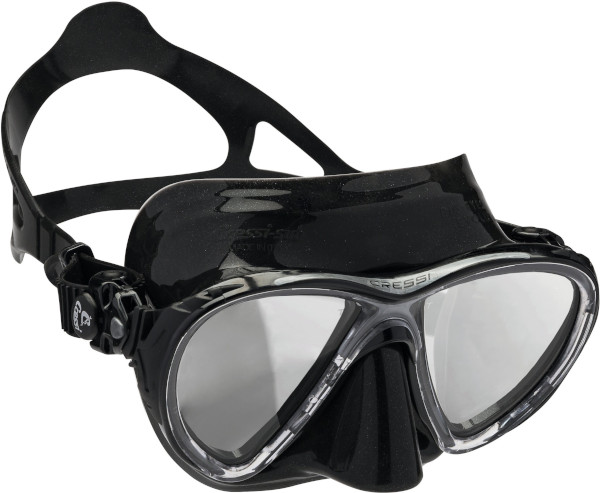 OPTION #2: Mares X-VU Liquidskin Sunrise
Approximate Cost: At around 35-45 USD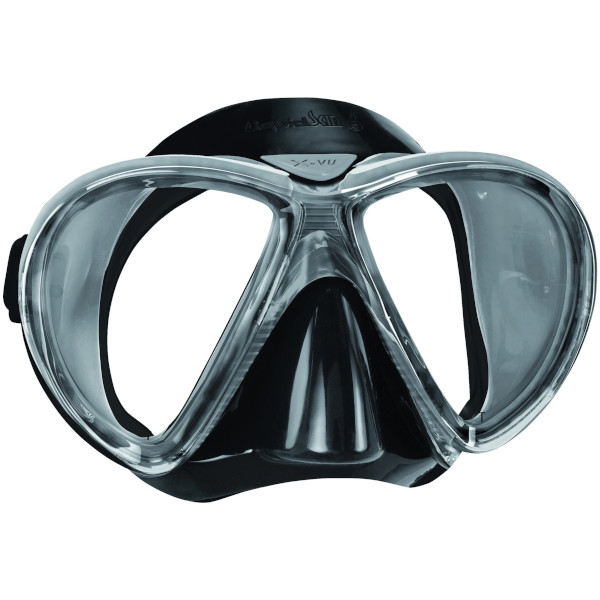 2. Snorkel
The Snorkel is a curved tube through which you can breathe while floating face down on the surface of the water. It is useful to avoid wasting the air in the tank when you are on the surface with your head underwater.
How to choose the best snorkel?
Comfort is the priority when choosing your snorkel mouthpiece. You should choose one that you feel good about and that allows you to breathe easily.
How to choose the best snorkel for your diving equipment
A good snorkel allows you to breathe easily and should stay dry. The larger snorkel creates more drag in the water. It is also important that you consider how well the snorkel is attached to the mask.
Choosing durable, simple, and easy-to-operate accessories is a good option.
Here are some models to choose from:
OPTION # 1: Cressi Standard Bore Tube Snorkel
Approximate Cost: 10 Dollars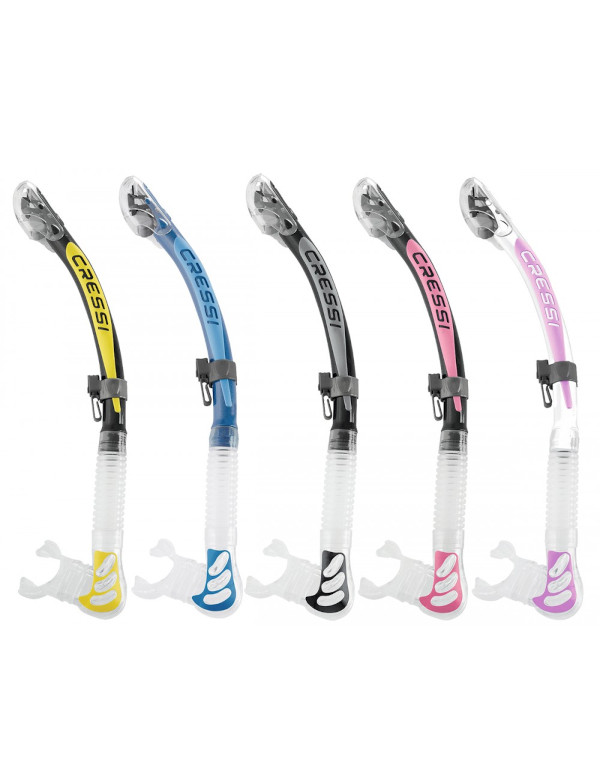 OPTION # 2: Speedo – Unisex Adult Snorkel
Approximate Cost: 30-32 Dollars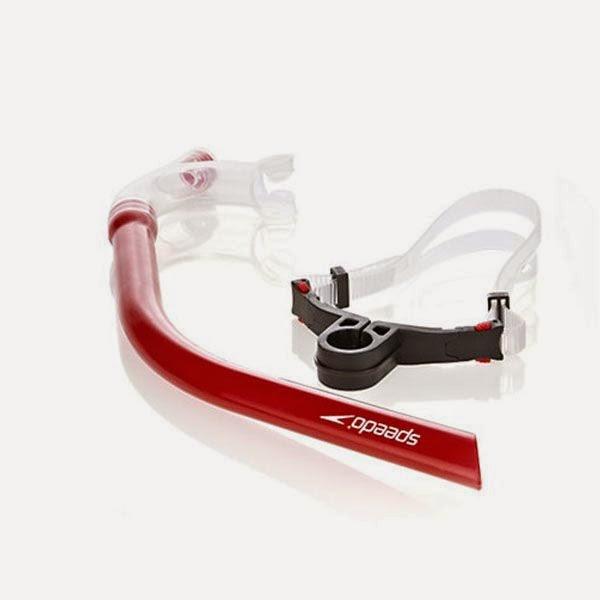 Also read: Differences between snorkeling and Scuba Diving
3. Wetsuit
The wetsuit is a common part of scuba gear, especially useful in non-tropical waters. The suit keeps you warm by keeping the water out and providing insulation against heat loss. It allows to avoid hypothermia in cold waters and to be able to dive more comfortably.
How to choose the best wetsuit?
When trying on a wetsuit you should verify that it fits you but that breathing and movement are comfortable under water.
Loose-fitting suits are not recommended as water can circulate internally due to gaps in the arm, leg, neck and crotch, and consequently the suit's ability to prevent heat loss is affected.
Therefore, the suit must fit correctly. You can choose basic models according to your budget route, but it must be fit and comfortable.
These are some models with their prices:
OPTION # 1: Mares pioneer 5mm wetsuit
Approximate Cost: 135-170 Dollars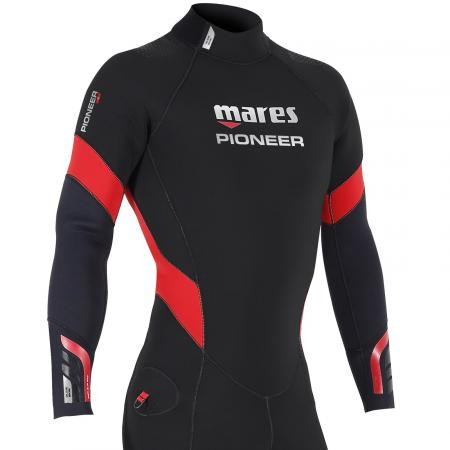 OPTION # 2: Cressi female suit with zipper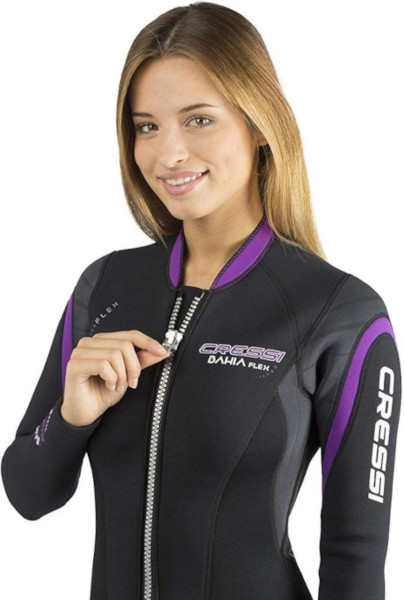 Approximate Cost: 100-200 Dollars
Also read: 6 important things to consider before diving
4. Fins
The fins, also known as frog legs, are used to help divers move quickly and effortlessly through the water, just like fish. This is the most efficient way to get around and optimize energy underwater. Fins are a very important part of scuba gear.
How to choose the best fins?
Again, comfort and efficiency are the priority when choosing the best fins for you.
You should check that the fins are snug but not "pinched" on your toes. Never compromise the fit of your fins, as they will be your best ally in the water while moving quickly.
The efficiency of the fins is associated with the size, stiffness and design of the fins. Divers with a strong leg can use a larger, stiffer fin, while less conditioned divers will be more comfortable with smaller, flexible fins.
Buckles and straps should be easy to use. Choosing the correct pair of fins is also important to avoid muscle cramps and fatigue.
Here are some models:
OPTION # 1: Mares brand diving fins
Approximate Cost: 30-60 Dollars
OPTION #2: Aqualung Aletas de buceo
Approximate Cost: 30 USD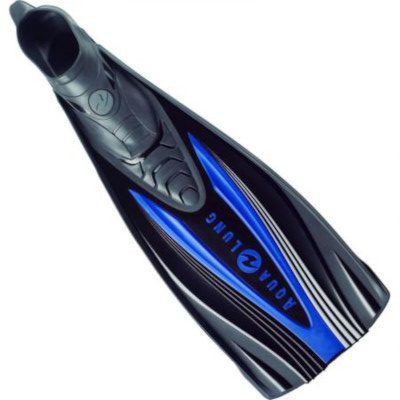 See also: Chart of other types and prices
5. Scuba regulator
Scuba regulators are used to convert the high pressure air in your tank to ambient pressure to facilitate your breathing.
How to choose the best scuba regulator?
When choosing the regulator you should look for high performance. A regulator must deliver a high volume of air at a high depth. It must also provide air under high stress even at low tank pressure. The regulator is one of the most vital parts of scuba equipment.
Some regulators also have knobs and switches that are controlled by divers to aid in this process. Therefore, it is also important that you understand the operation of all knobs and controls when choosing one of those.
Breathing into a regulator and testing it at a dive shop doesn't necessarily give you an idea of its performance underwater. This is why it is important to learn about regulators and perform different tests underwater, before identifying one that you prefer.
OPTION # 1: XS COMPACT AC2 Scuba Regulator
Approximate Cost: 240 USD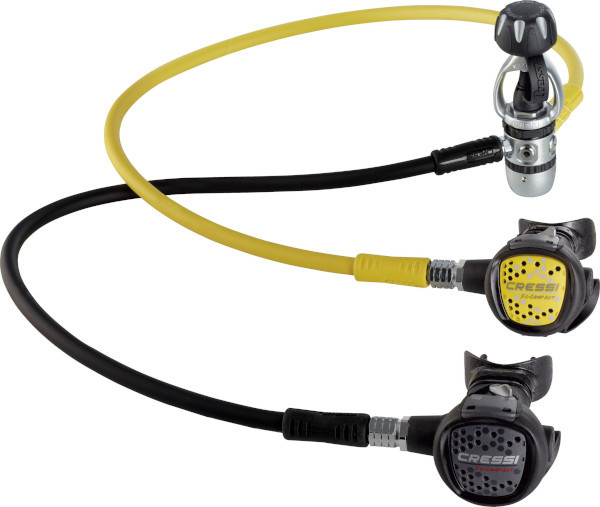 OPTION#2: Regulador Gallaxy eliptical shape T10SC CROMO
Approximate Cost: At around 150 USD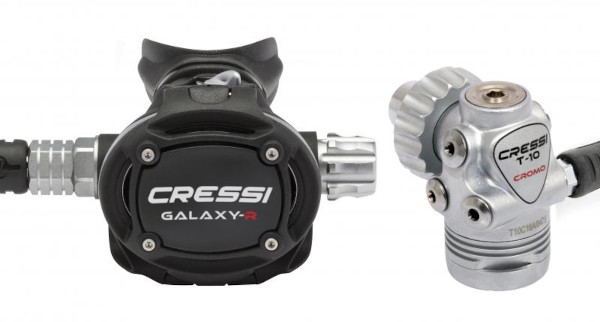 6. Dive computer
Computers are used to constantly monitor depth and time while diving. Dive computers automatically recalculate your no-decompression status, display your ascent profile, and much more.
The computer is also a key part of the dive gear, especially if you are diving alone (not really recommended) or with a few friends without a local guide (not highly recommended either)
How to choose the best dive computer?
Dive computers should be easy to use. This device should have all the necessary functions and should be easily and quickly accessed. You should be able to access information quickly and easily during a dive, such as depth, time, decompression information, and tank pressure.
Some models have two displays, such as numerical and graphic displays for quick information retrieval. Before choosing the dive computer, check the owner's manual and understand the full instructions as they should be easy to understand so that you can operate in the future.
Here are some options:
OPTION # 1: Cressi Leonardo- (target: beginner)
Approximate Cost: 100-180 Dollars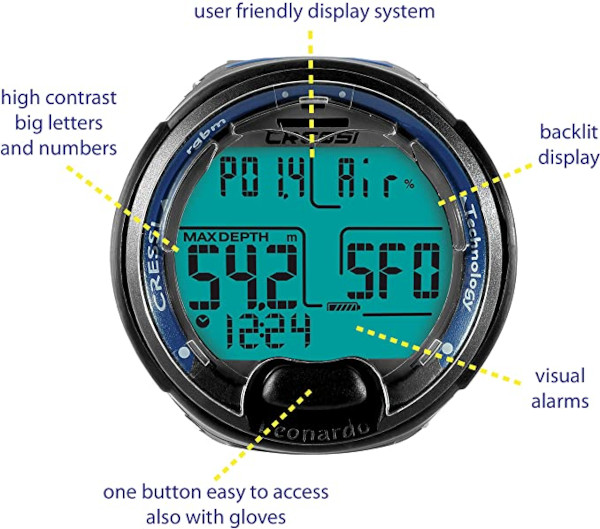 OPTION #2: Mares Smart (target: avanzados)
Approximate Cost: At around 200 USD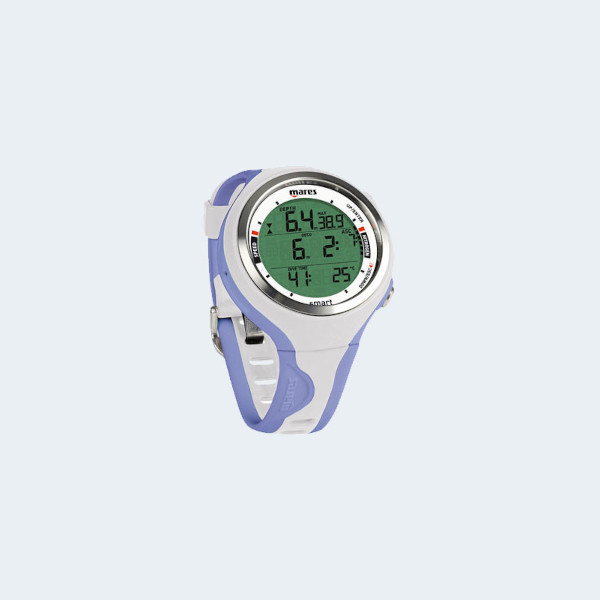 It may interest you: Scubapro Galileo Hud Dive Computer, a true game changer
Where else can you find your diving equipment?
When it comes to buy your first scuba dive gear, you will be faced with several options, all with their pros and cons. Which one to choose will depend on your comfort level as to which one is best for you. Here are three options by which you could get your first scuba gear.
You can buy your first scuba dive gear from another diver
You can always find people who want to sell their diving equipment. Most divers end up upgrading their equipment to newer ones long before it reaches its useful life and can no longer be used. It is very likely that you can find your diving equipment from another diver. However, when it comes to the regulator, you need to be very careful. It is advisable to take it for maintenance and technical review before using it.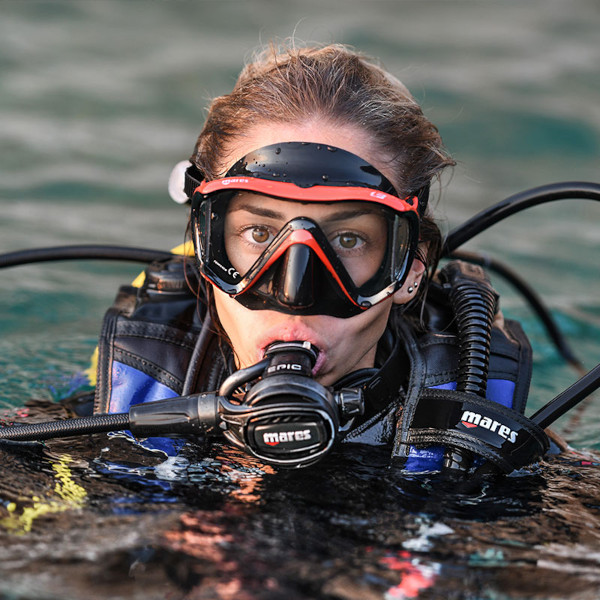 You can buy your first scuba dive gear on the Internet (Craigslist)
The Internet is a great option, but you should always be very careful that what you are buying is actually what you need. Craigslist is one of the best-known Internet sources for used items. For the most part, you will be able to see in the pictures the quality of the items you are buying. The air tank and regulator are extremely important. In the case of acquiring these items, it is recommended that you take them to a dive shop for evaluation and maintenance before using them. Remember that these two elements are what keep you alive in the water.
Buy your first scuba dive gear in a local dive shop
This is probably the best place to find and buy the equipment you need. Most dive shops are certified and operated by divers with a high level of experience and knowledge of the equipment. They will be able to answer your questions and make valuable recommendations on what equipment is best for you as a beginner.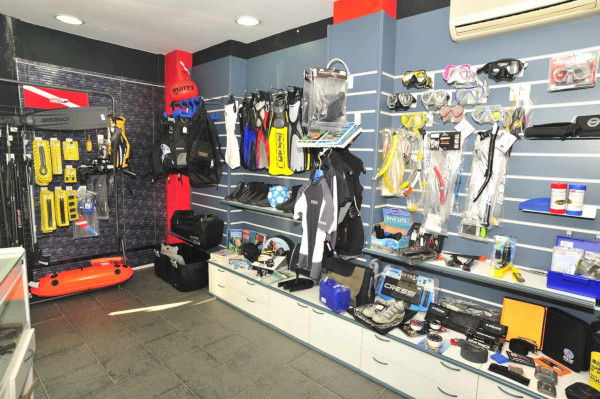 Dive shop
Renting a scuba gear is always an option
And remember, a Dive Center always has equipment for rent. All available tours normally include the cost of the equipment. Therefore, if you are traveling and want to have new underwater experiences and discover new places, it may not really be necessary for you to travel with your scuba gear. You will probably find a high quality (and properly verified and maintained) one at your local dive center to guide you on your next dive.
Local diving orientation for a better experience.
If you are planning to come to Costa Rica, send us a message! We will be more than happy to help you with your next dive. We have fantastic tours to Caño Island, one of the best underwater destinations in Central America.