It is common for people to wonder what is the minimum age to dive? Diving is one of the most fascinating activities, but, what is the minimun age to dive for kids?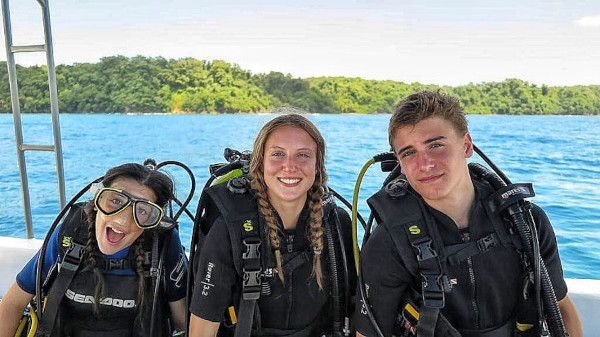 A unique experience that changes the lives of the people who practice it. It raises awareness in a special way and helps to look at nature from a different perspective.
Like other disciplines, starting at an early age in diving is a great advantage. However, there are very important aspects to consider.
Who can dive?
Anyone with the physical ability to handle the equipment and the emotional maturity can dive.
If a person can understand the rules and take responsibility for their safety and that of their companions, they can dive safely and enjoyably.
However, certain conditions can prevent people of any age from practicing this discipline.
Especially conditions associated with lung functions or anything that may affect your ability to perform effectively underwater can be limiting.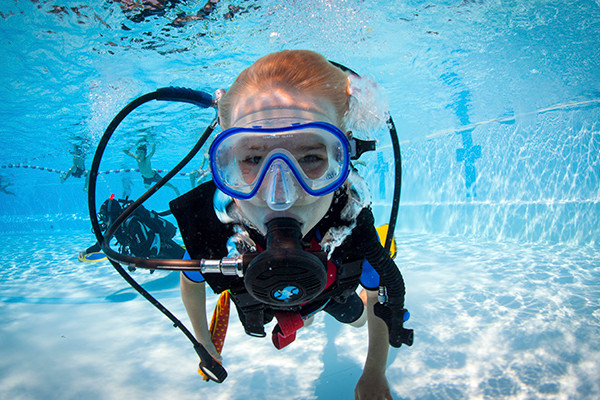 See also: PADI Open Water Diving Course in Costa Rica
Of course, a diving license is always necessary. Venturing into open water without proper preparation and unsupervised is not a good idea.
Minimum age to dive
Although there is no maximum limit to learn and practice diving, there are limitations regarding the minimum age to dive, which the student must have in order to participate in a course and be certified.
Generally, the minimum age for diving is between 10 and 12 years old, depending on the certifying association.
In the case of PADI, the minimum age is 10 years. At this age, students are certified as Junior Open Water Diver.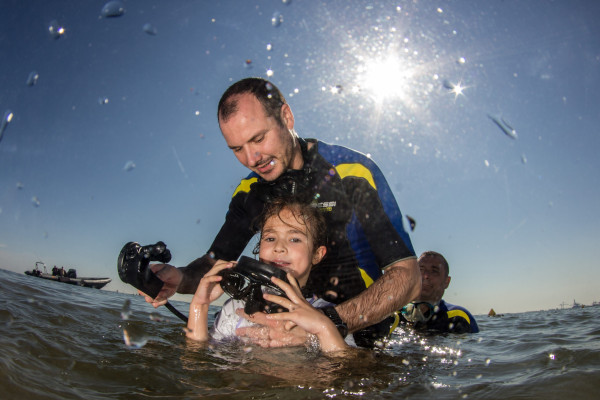 They can only dive in specific conditions, at limited depth and under strict professional supervision.
At the age of 15, students can access the Open Water certification. For this it is necessary to take the corresponding tests and pass the exam.
PADI also states that all 10- and 11-year-olds along with their parents must read "Young Diving".
Divers under 18 must have the "PADI release form" signed by a parent or guardian before starting training.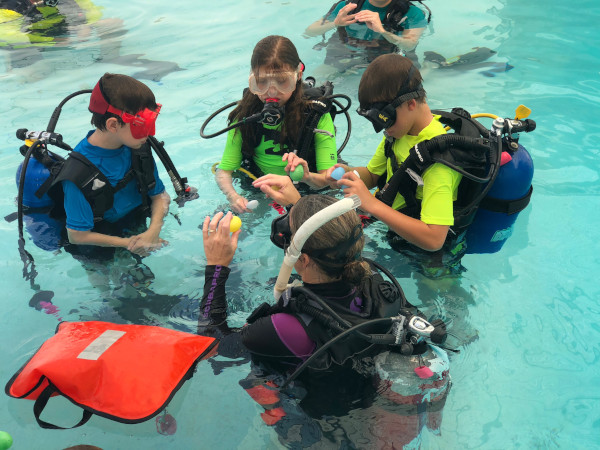 What if my child is under 10 years old? Does it get the minimun age to dive?
For those children who are under the minimum age to dive but want to experience scuba diving, there is the PADI Seal Team. It is important to mention that not all PADI Dive Centers develop this program.
The PADI Seal Team program seeks to teach children responsibility and respect for the aquatic world and takes place in a pool.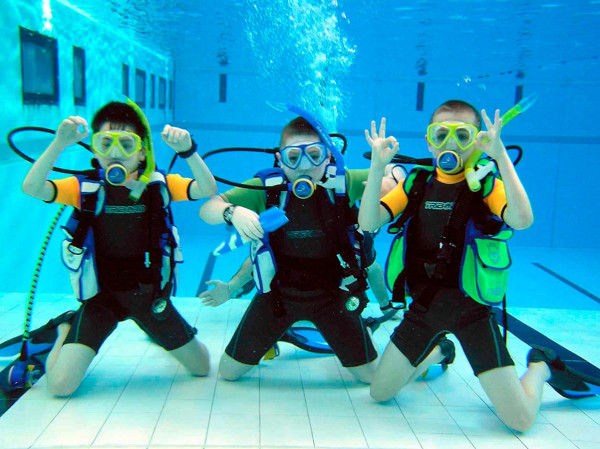 This program consists of 2 parts. In the first part, the child performs a series of Aquatic Missions, which covers basic diving skills.
Breathe underwater
Clean your mask
Recover the regulator
Basic buoyancy
In the second part the child will carry out a series of special aquatic missions that includes:
Creature Identification
Search and recovery diving
Snorkeling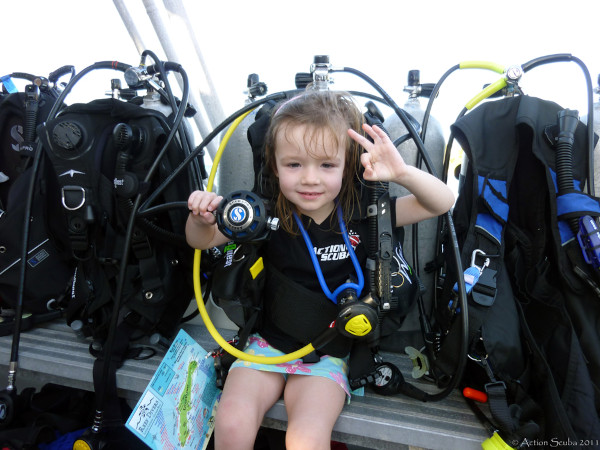 Upon completion of the program, PADI grants the child PADI Master Seal Team membership.
While this is not a certification, it is a very important step.
When the child is old enough it will be much easier for him to take a PADI certification and enter a world with which he has become familiar.
Costa Rica Dive and Surf does not offer this program.
Programs for children who meet the minimum age to dive.
If the child is at least ten years old but his parents consider that it is not the time to start an Open Water Junior certification, he can opt for a Discover Scuba Diving course.
The Costa Rica Dive and Surf PADI Discover Scuba course is available for both young and old divers to get introduced to scuba diving. Review the related details specifically for younger divers.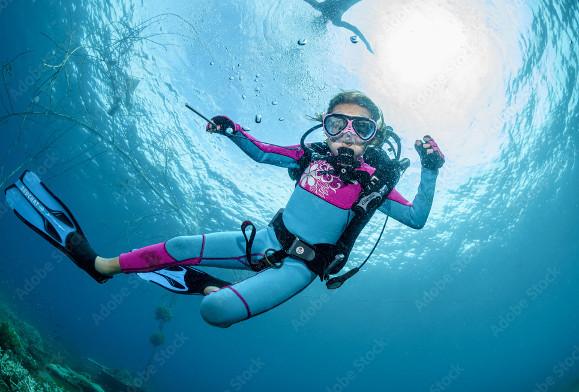 Why do the little ones have to wait a bit to dive?
Although children can start swimming even before the age of ten, they often need to wait a little longer to start diving.
One of the reasons is psychomotor skills. In order to dive, children must be able to handle their body safely, either getting on or off a boat. They must also be able to carry the weight of their own equipment.
The child who begins diving must know how to swim, pass a medical examination and be able to understand and follow the rules that the instructor gives.
What are the benefits of diving for children?
Dives with children are shorter and shallower. This is for those who reach the minimum age to dive
They must always be accompanied by an adult to dive.
The benefits of diving in children are several. Among them we can mention:
Exercises all the muscles of the body
Improves circulation
is good for lung capacity
makes the heart work better
Helps control your emotions
Lower your stress level
Improves concentration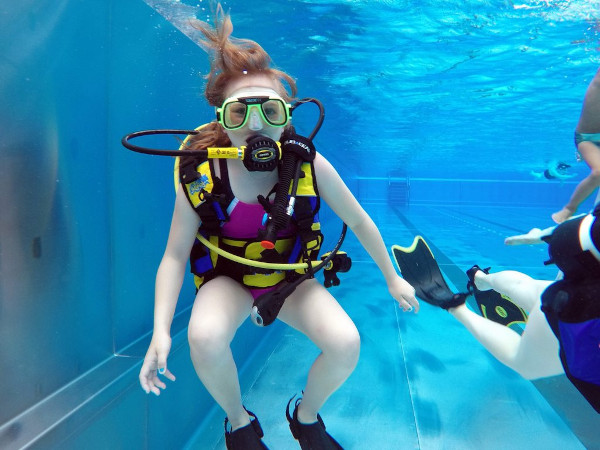 The role of parents is vital
Diving can be a very positive activity for your children. It will help them build their character and discipline and allow them to venture into a fascinating world with responsibility.
Of course, the role of parents is critical, as children mature at varying rates. Only parents can decide if their child is emotionally and physically ready to take responsibility for diving. Even when they are of the minimum age to dive.
Summary
Diving is a positive activity for children.The minimum age for diving is between 10 and 12 years old, depending on the certifying association.
Kids should be able to carry the weight of their own equipment, before to start.
There are other activities as preparation for diving that kids can practice if they do not meet the minimun age yet.
Video: Open Water Diver Course
If you want more information about the diving courses we teach and their requirements, please contact us or send us a message by whatsapp. We will gladly guide you in the first steps to enter this beautiful diving activity.