Diving is a sporting activity with its own limitations, not only because of the maximum depth you can reach or the time you can stay underwater, but also because of the capacity your nerves have to withstand that pressure.
For this reason, for divers who dare to go a little beyond the conventional in the diving activity, there is nothing more exciting than shipwreck diving. Exploring its hidden cabins and experiencing face to face the encounter with those moments trapped in time underwater.
It is that the discovered shipwrecks are essential events that tell us stories of the past, and serve us to connect points of history.
For generations to come, shipwrecks give us an entrance into the vast histories of conflict, survival, and stories of fates.
The shipwrecks are testimonies of those commercial and cultural exchanges that took place between our ancestors.
Throughout history, for several centuries, many ships have suffered accidents, both natural and caused by human negligence.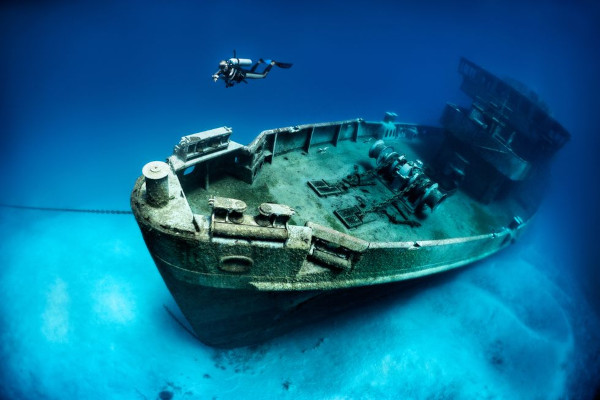 Nonetheless, these shipwrecks excite history buffs and laymen alike. These events remain a mystery.
History records that many keen travelers, brave warriors, and even merchants found their final resting place at the bottom of mighty seas and oceans.
These historical monuments not only contribute to the significant maintenance of a healthy and balanced ecosystem, but in addition to being important sites of cultural interest, they encourage recreation and strengthen the growing diving industry.
Hilma Hooker – Bonaire(the Caribbean Netherlands)
Bonaire is an island located north of Venezuela in the southern Caribbean. This island belongs to the Caribbean Netherlands.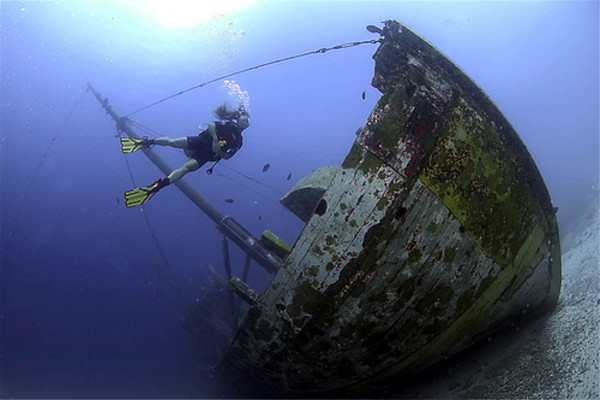 Without a doubt, it is one of the best diving sites in the world. Not only because of the coral reefs and its unique underwater landscapes, but also because there you can visit the shipwreck sites, if you are a lover of diving.
Hilma Hooker is a fairly safe place to dive on Bonaire.
It was built in 1951. It was transporting 11,340 kilos of marijuana when it was intentionally sunk in 1984, off the south coast of the same island.
Something extremely interesting about this shipwreck is the mysticism that revolves around it.
There are people who think that it is bad luck to change the name of a boat many times. This is the case of the Hilma Hooker, which had other names such as Anna, William Expresso and Doric Express.
The superstitious believe that the numerous name changes of the ship led to its sinking.
In addition to the Hilma Hooker, on Bonaire you can also enjoy another more recent shipwreck. Our Confidence.
A 18 meter fishing boat that sank in 2003. Not as well known as the Hilma Hooker, but very accessible from the beach.
Both divers and even snorkelers can have an excellent view of this wreck.
Video: Diving the Hilma Hooker Bonaire
Truk Lagoon-Micronesia-
In this place in Micronesia called Truk Lagoon, you can find the remains of 60 Japanese warships. These ships were sunk by US forces in World War II.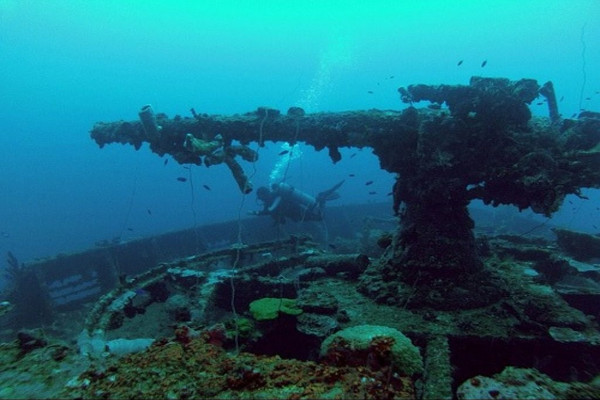 Divers from all over the world go there to see this screen or underwater window to the past. Among the things you might see are Japanese fuel supply ships, cargo ships, and Zero fighter jets.
The famous underwater photographer and diver Brandon Cole said about this place.
" Diving there means facing the tragedy of war. Finding small household things like toothbrushes, a boot, remnants of clothing, has a profound impact on me."
According to Cole it's not just about weapons and ammunition.Seeing these wrecks can be terrifying and exciting at the same time, according to his words.
Watch this video: Truk Lagoon. Diving the Japanese WWII shipwreck
Bermuda
Bermuda is the shipwreck capital of the Atlantic. The main reason is because it has more shipwrecks per square kilometer than anywhere else in the world.
In the surrounding waters there are more than three hundred shipwrecks.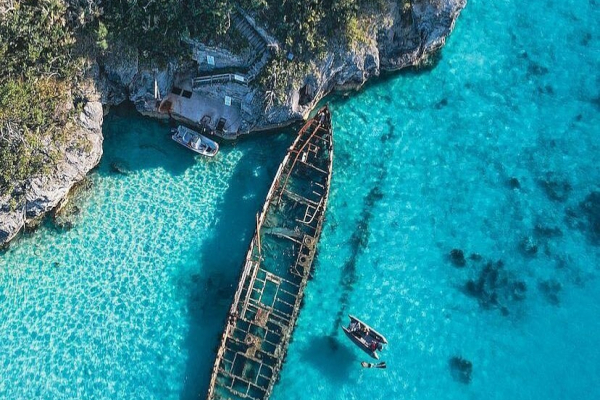 One of the main reasons there are so many shipwrecks in this area is the coral reefs, which some people say are razor sharp.
Among the most famous shipwrecks in Bermuda is the Christopher Columbus.
This was a Spanish ship that ran aground on coral reefs in 1936.
According to PADI Dive Instructor Tara Bradley Connell, one thing that makes diving in Bermuda so exciting is that you never know what the next storm will bring. There are always new things to discover.
Video: Shipwreck diving in Bermuda
Shipwrecks in Playas del Coco
In this sector we cannot speak of large shipwrecks, but we do find two shipwrecks that you can reach by boat from the Playas del Coco area in the province of Guanacaste (northwest corner of Costa Rica).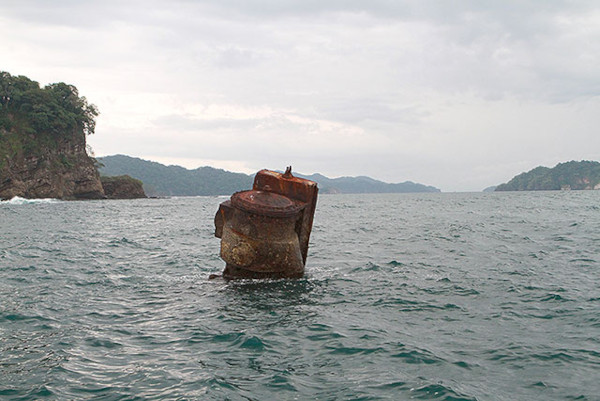 Both wrecks are in shallow water, less than 40 feet long. Even so, they can occasionally house a shark or two.
Groupers and Tortuga are the dive sites with the wrecks.
On Meros you can dive to a sunken sailboat at a depth of 60 feet. In Tortuga there is a fishing boat at a similar depth and it is close to a cave that frequently has sharks, this makes it an excellent place to snorkel.
To learn more about Islas de Coco click here
Shipwrecks in Isla Tortuga / Montezuma Area
This place is interesting because it is almost the only place in Central America with three shipwrecks in the same sector where you can practice diving: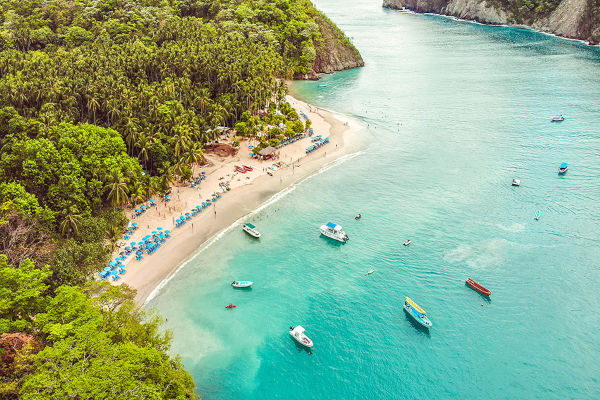 Caroline Star
This wreck sits 100 feet (30 meters) below the surface, and because of its recreational feature, you might see one or two white-tip reef sharks that normally sleep on the hull, along with snappers ( red snapper) and the usual diverse variety of Pacific tropical fish.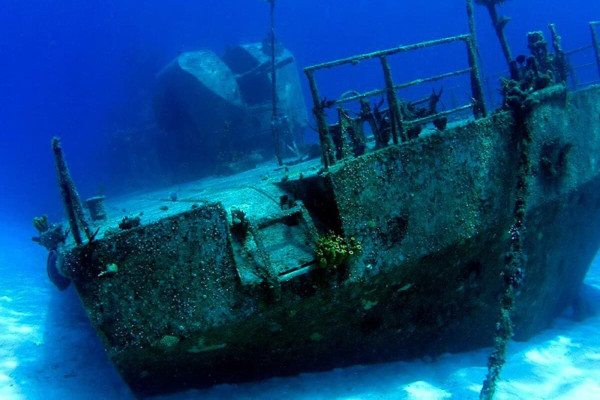 Coronel Alfonso Monge
The Coronel is a vessel that was part of the Costa Rican Coast Guard fleet measuring 82 feet long and weighing 65 tons. Now a fish and tourist attraction, it sits 16 meters underwater.
Franklin Chang Diaz
It is a 95-foot shipwreck that weighed almost 120 tons, located near Isla Tortuga. In addition, a Coast Guard ship built in the 1950s, now lies sunk at the bottom of the Gulf of Nicoya at a depth of approximately 23 meters (75 feet).
The Costa Rican diving company Ballena Blanca, located in the Tambor/Paquera del Sur area of ​​the Nicoya Peninsula, can visit both Franklin Chang and Colonel Alfonso.
A few decades ago, there was a big shipwreck off Cabo Blanco – the Grand Ranger sank and it would make an amazing dive site, but it's in protected waters.
Final thoughts
Taking into account everything we have seen on this tour about the shipwrecks, the stories of the events and the places where they occurred, we can affirm that if you are a diver who visits one of these shipwrecks, you will not return the same.
There is so much to learn about history, as we said before. People from all ages and status, and the things that we can learn about them and from them, even when they only remain in our memories and the bottom of the see.
If you are interested in advanced diving courses, and the certification that allows you to dive to see the wrecks, check this link:
Technical Diving. How to get a technical diver certification?