Welcome to Uvita, a tropical paradise nestled on Costa Rica's Pacific coast, where lush rainforests meet pristine beaches. If you're wondering how to make the most of your time in this vibrant town, you're in the right place!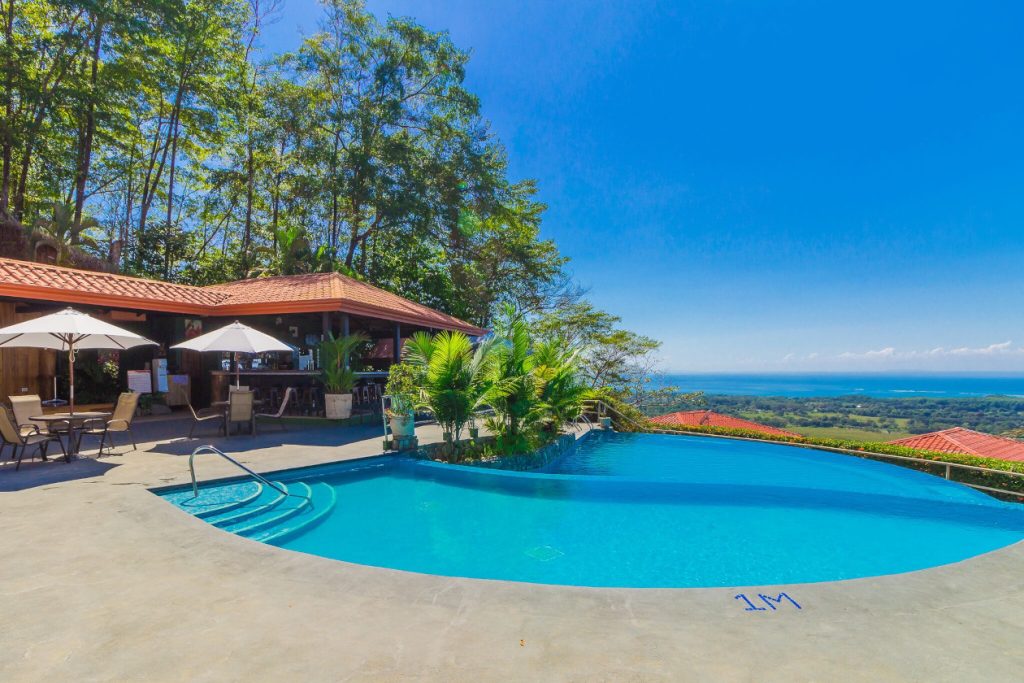 Our complete guide will take you on a journey through the must-visit places, exciting activities, and budget-friendly prices that make Uvita a traveler's dream destination.
Whether you're a nature enthusiast, adventure seeker, or simply looking to relax in paradise, Uvita has something special for everyone. Let's dive into the wonders of Uvita and discover the secrets that make this destination a true gem.
Practical information about Uvita
Perhaps on your tourist visit to Costa Rica you would like to visit small places, but with great appeal. If so, you must get to Uvita.
It is an ideal place for relaxation and adventure in the South Pacific area due to its spectacular mountains and its variety of beaches.
Going along the South Coast, you will realize the many opportunities you have to enjoy, adding to your experience activities such as: watching the famous humpback whales, dolphins and others, the beaches, waterfalls, night walks, horseback riding and other experiences. unforgettable.
What can you do in Uvita?
If you plan to stay in Uvita, you should also consider visiting its surroundings.
Although it is a small town, it will take you a few days to make the most of your visit. For this you will find a great variety of hostels, very beautiful rental houses, campsites, even hotels in the mountains, that is, you can find anything that you can imagine.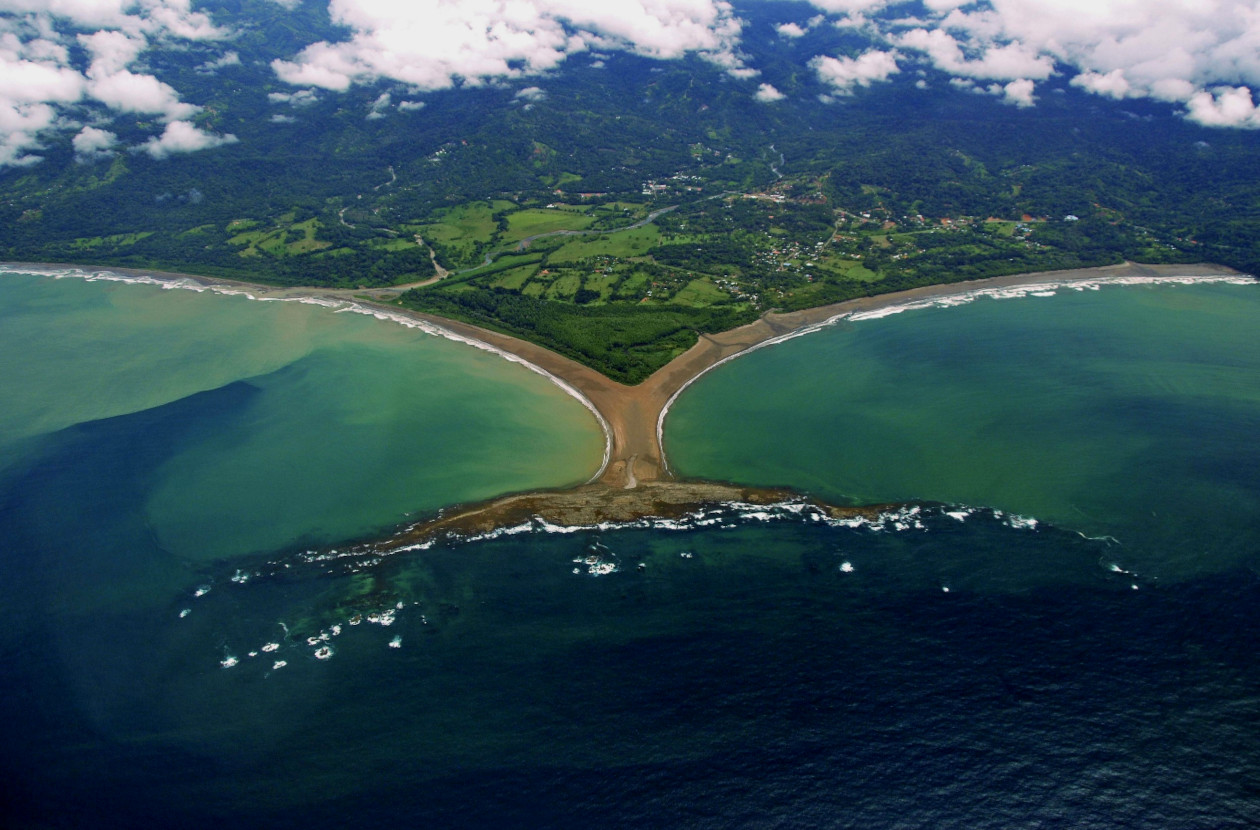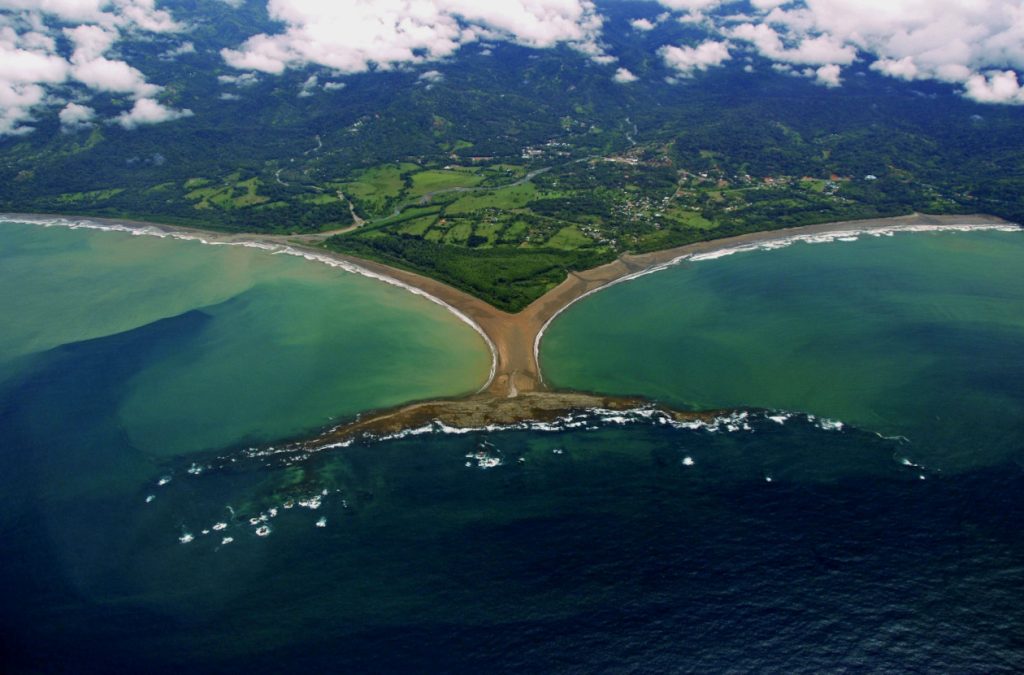 Marino Ballena National Park
The first protected wilderness area in Costa Rica created exclusively for its marine resources is the Ballena Marine National Park.
This place in Uvita is the first marine park in Central America and according to National Geographic, it ranks eighth as the best place in the world for whale watching.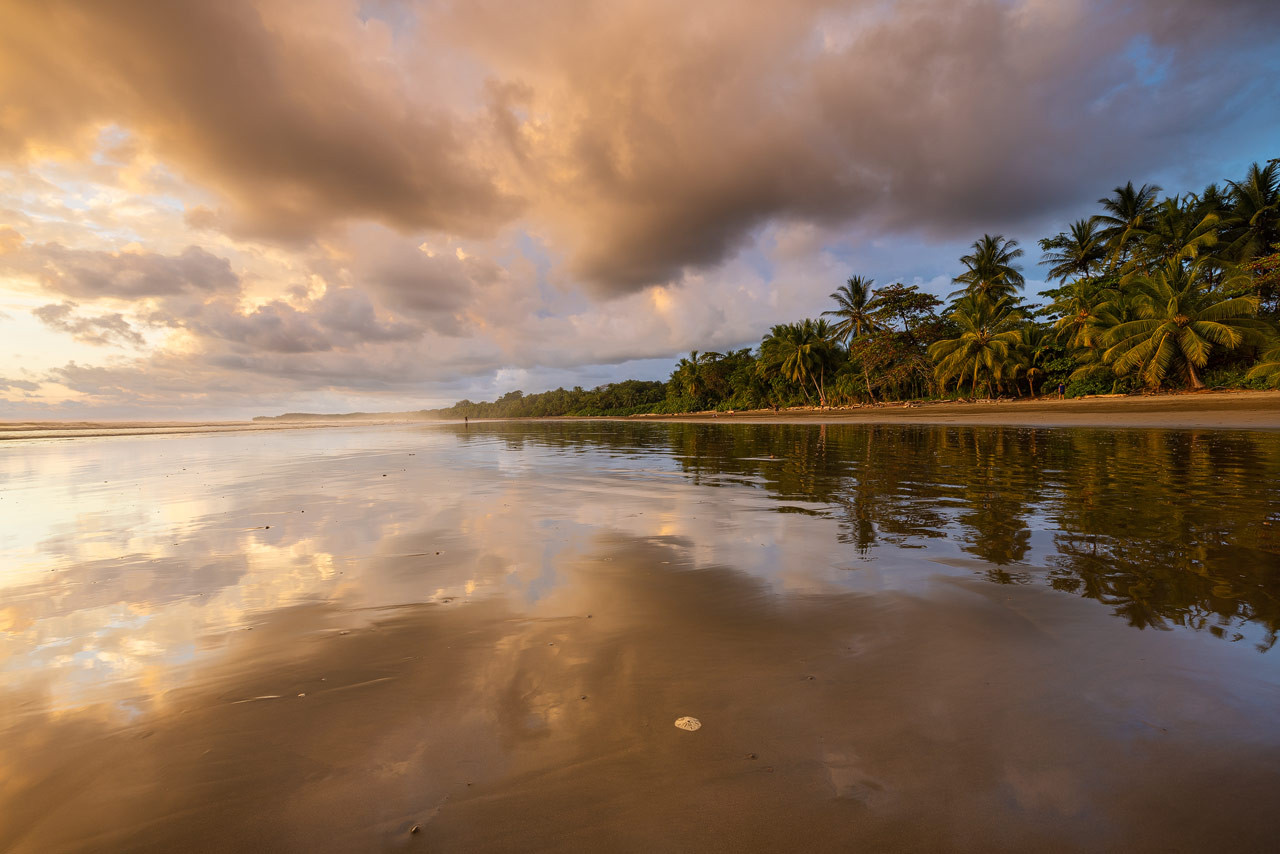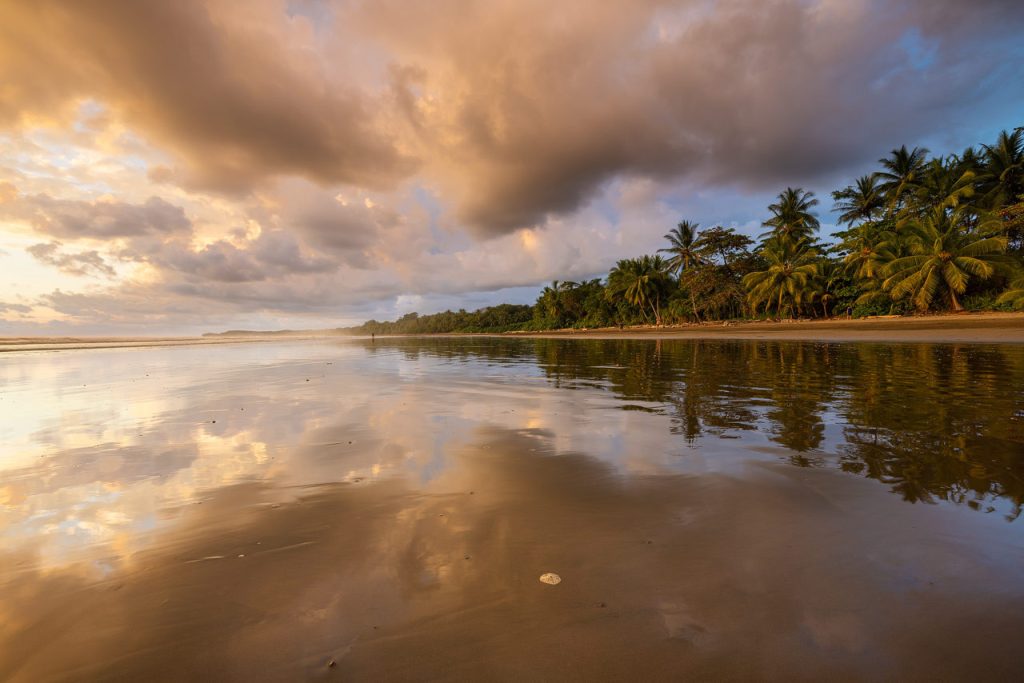 In Punta Ballena and Punta Piñuela are the most important places of forest vegetation.
You can find varieties of trees such as the Ojoche, Niñosapote, Cedro María and Lagarto.
Around and within the black estuary, we find the mangrove swamp that is made up of red mangrove, button and salt stick.
One of the indisputable attractions in terms of marine fauna is the humpback whale, but we can also find other species such as the spotted dolphin, bottlenose dolphin, manta ray, parrotfish and mackerel.
Isla Ballena also stands out as an important nesting place for the white ibis.
The sea earwig and the brown booby are other species that can be found in the park.
The national park presents these various attractions.
Rock formation in the shape of the Whale's Tail
It is a wonderful natural geological formation of rock and sand that can be seen during 6 hours of low tide.
Coral reefs
To the left of the whale tail and Isla Ballena are those areas of coral reefs, so this sector becomes an ideal space for you to snorkel.
Whale watching
One of the greatest moments is the sighting of humpback whales, which you can see in two seasons of the year.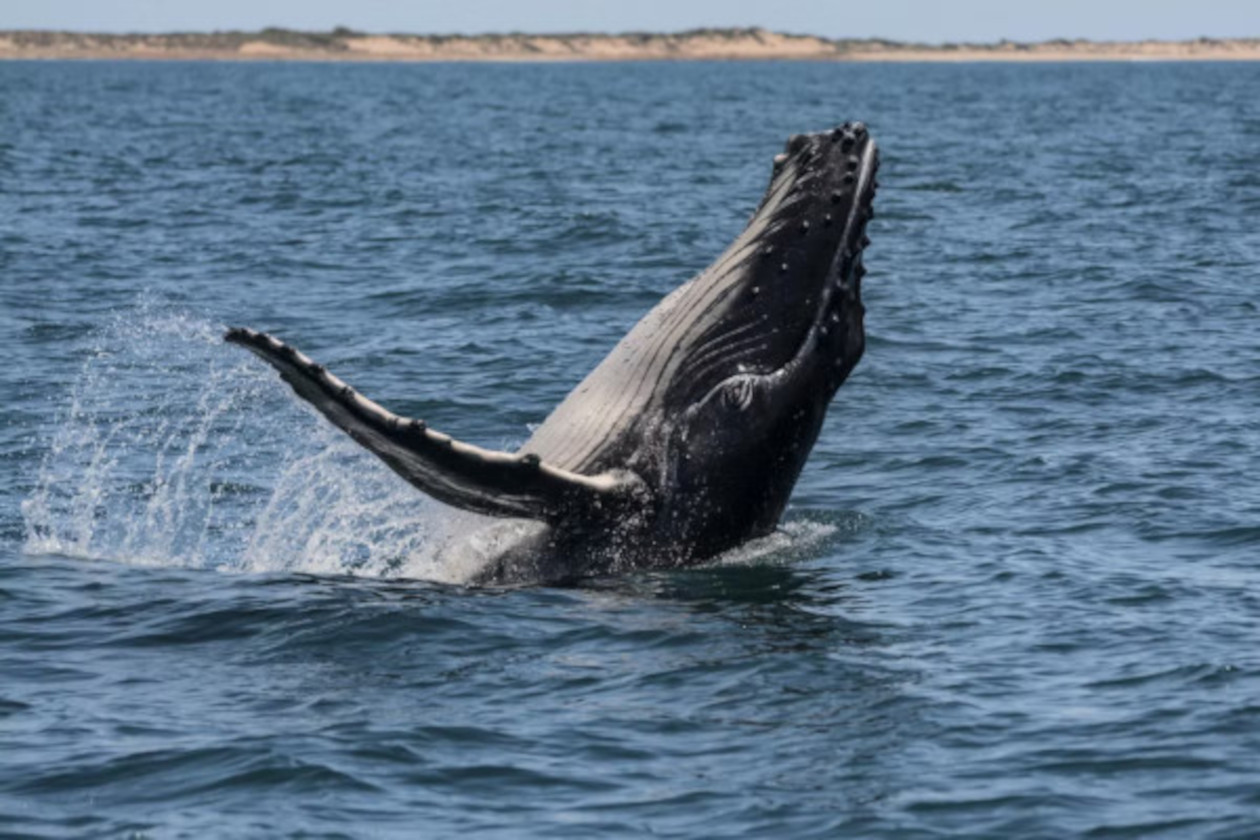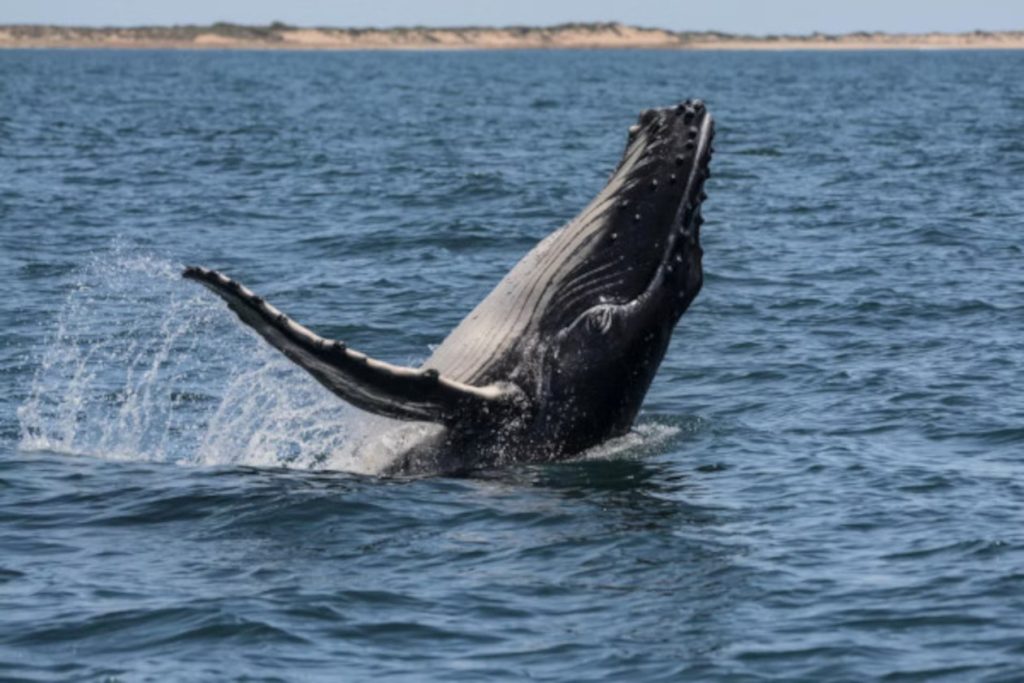 Between December and April they come from the north and between the months of July and November they come from the south. Dolphins, which are residents of the area, can be seen at any time of the year.
The different species of birds can be observed in the rock formations of Isla Ballena and Peñón Tres Hermanas, which come to nest in them.
Playa Arco
It is a beach of great beauty, but the only safe way to access it is at low tide through the Ballena Sector.
Horseback riding
Whether you have experience or not, it is an activity that you can do, even with children.
There are several areas of interest such as the activity of sustainable environmental livestock farming, enjoying nature or feeling the pleasure of riding a horse.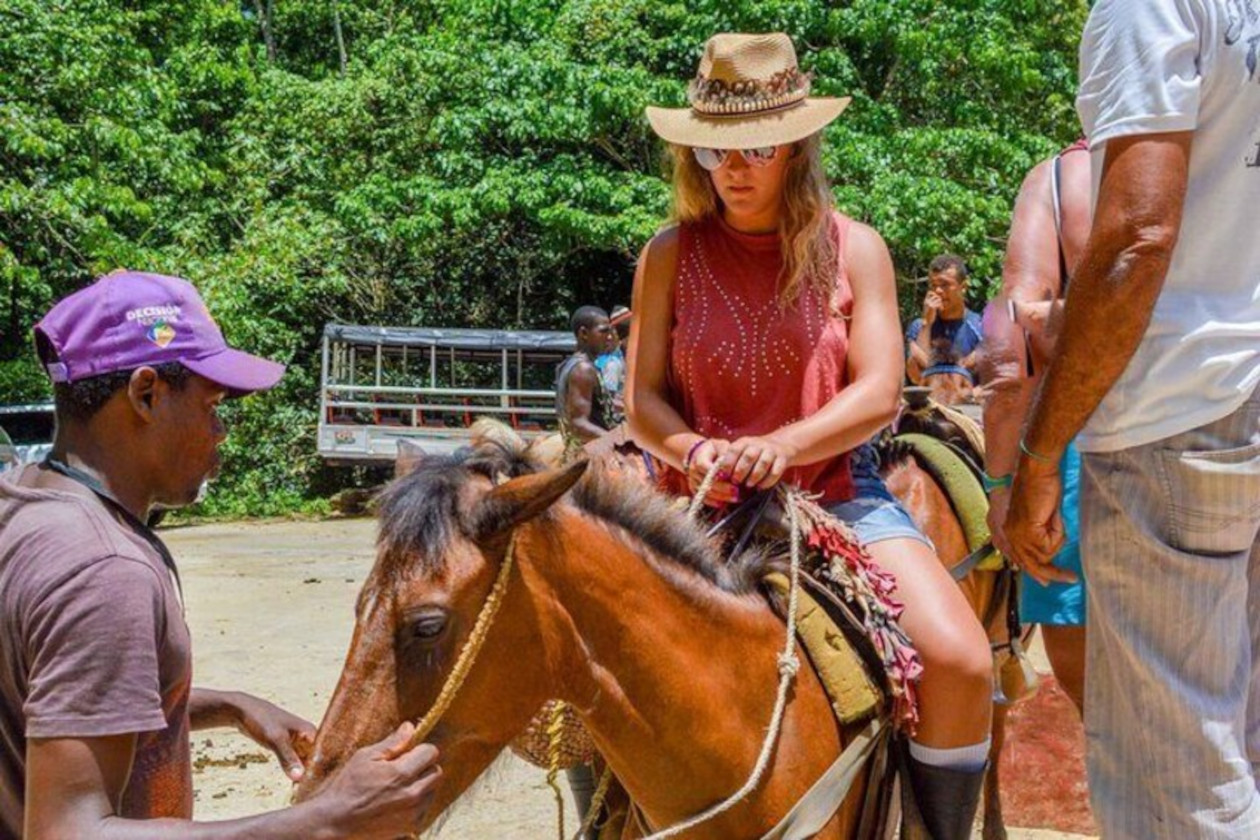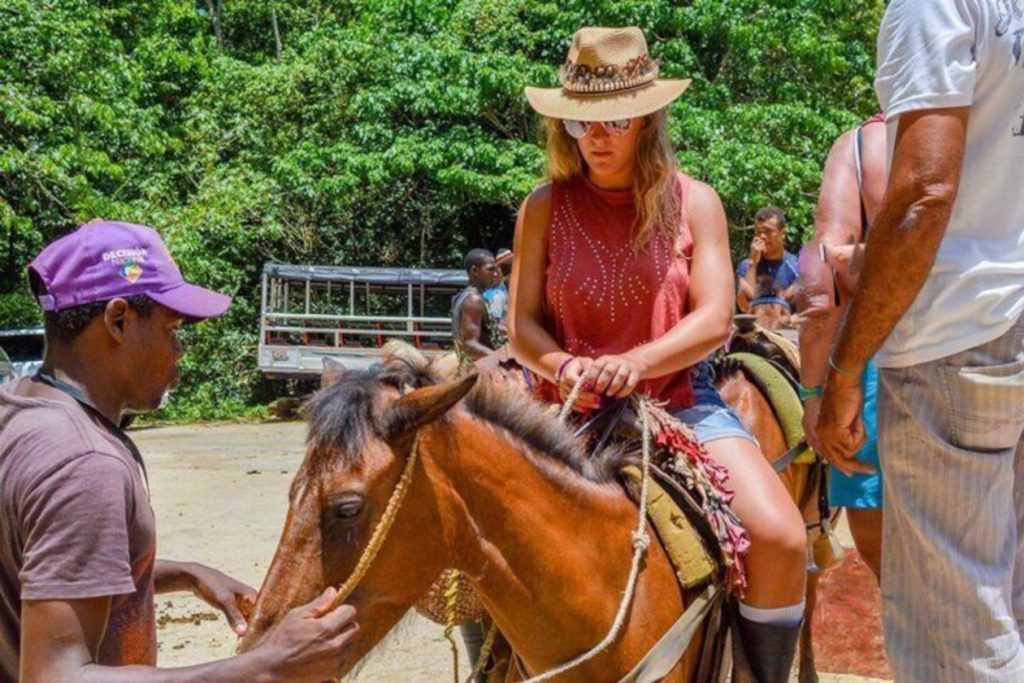 In this activity you can choose two different options: you can enjoy the sunset on a beautiful beach that is located near the Marino Ballena Park or walk through a rain forest to finally reach a beautiful waterfall. You can only get to either of the two places on horseback, an activity that is certainly wonderful and therapeutic.
Cowboy day
It is an extremely beautiful activity, because you can ride with the cowboys, do the task of herding the cattle, control the cows and their calves in the pasture, learn to lasso calves and other activities typical of the Estancia.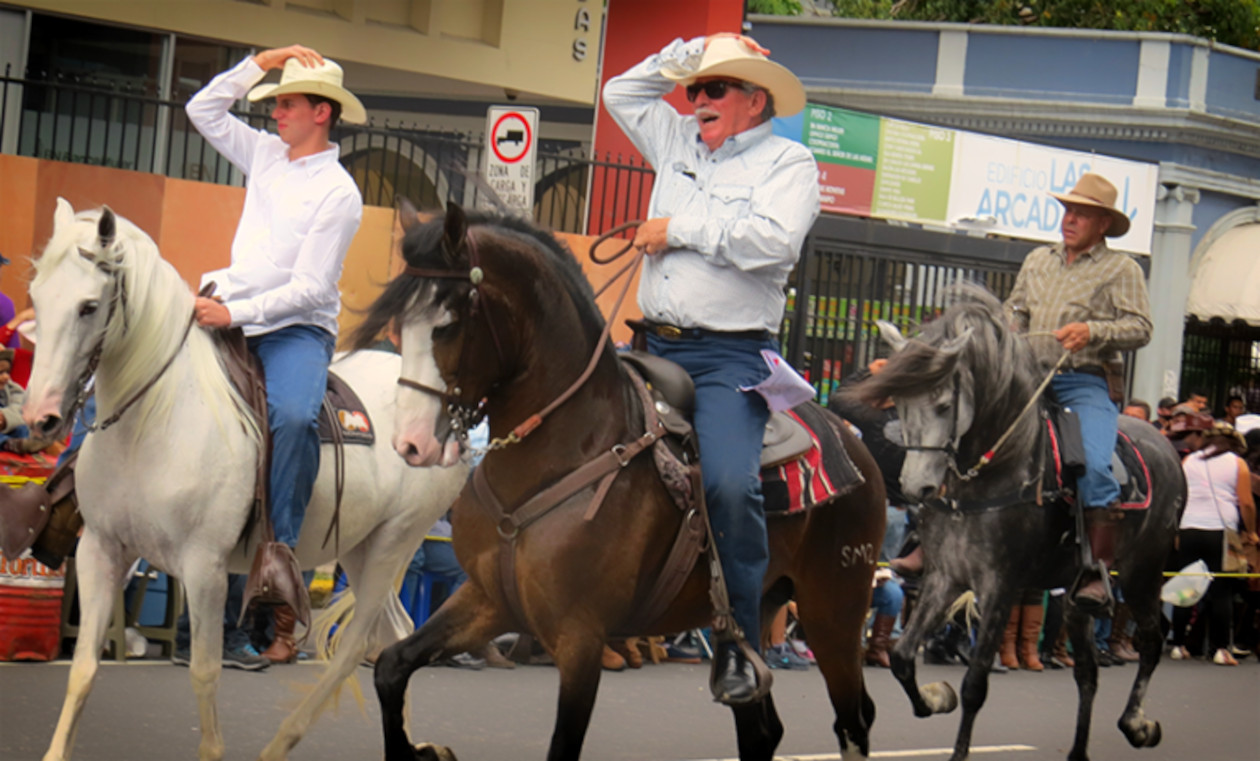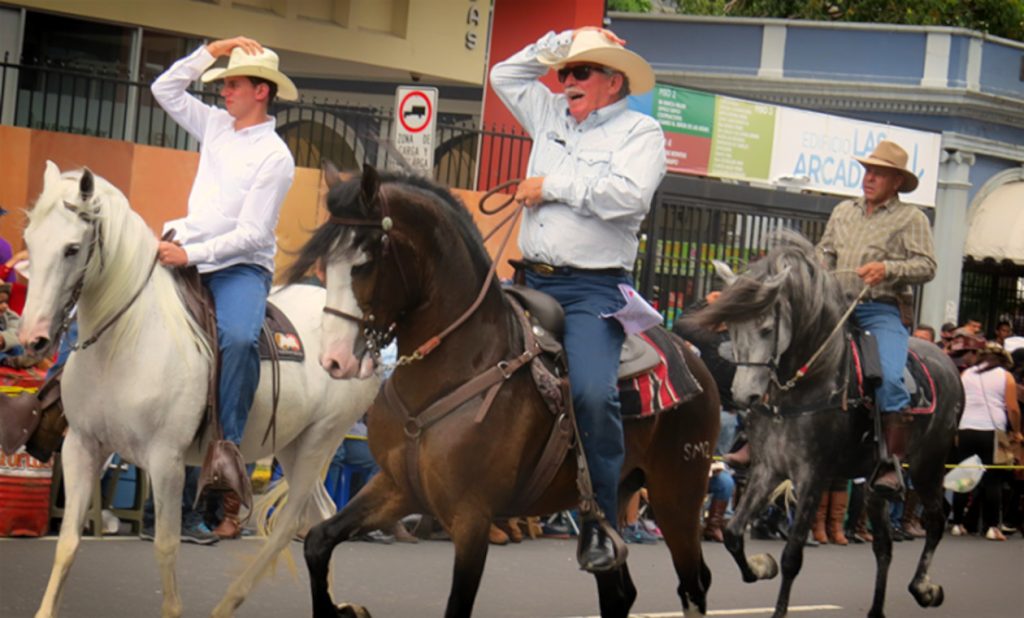 This is dedicated to cattle, whose production takes care of the ecological balance of the tropical jungle and the surrounding mangroves.
The experience of being a cowboy is unique!
Depending on the season of the year in which you visit this place, you will be able to carry out the activities of riding with cowboys, lassoing the cattle and carrying out other tasks that are carried out by its staff within a normal working day.
Also read: Walking on a Whale Tail.Marino Ballena National Park
What else can you do in Uvita?
Visit the waterfalls!
If you want to live an unforgettable experience and get into nature, you have to visit the waterfalls that are near the area.
Although there are places that are a little more difficult to access, they can be reached by car, on horseback or on foot.
Some places you can get to
Nauyaca Waterfall, Dominical
Eco Chontales Waterfalls
Pozo Azul Waterfall, Dominicalito
St Louis Falls
Uvita waterfall
Uvita waterfall
The waterfall is surrounded by a totally green forest. After crossing its main entrance, the path leads directly to the main waterfall, passing through a river that flows through the forest where natural pools are formed. At the end of the path is the waterfall that you can climb to the top and slide down.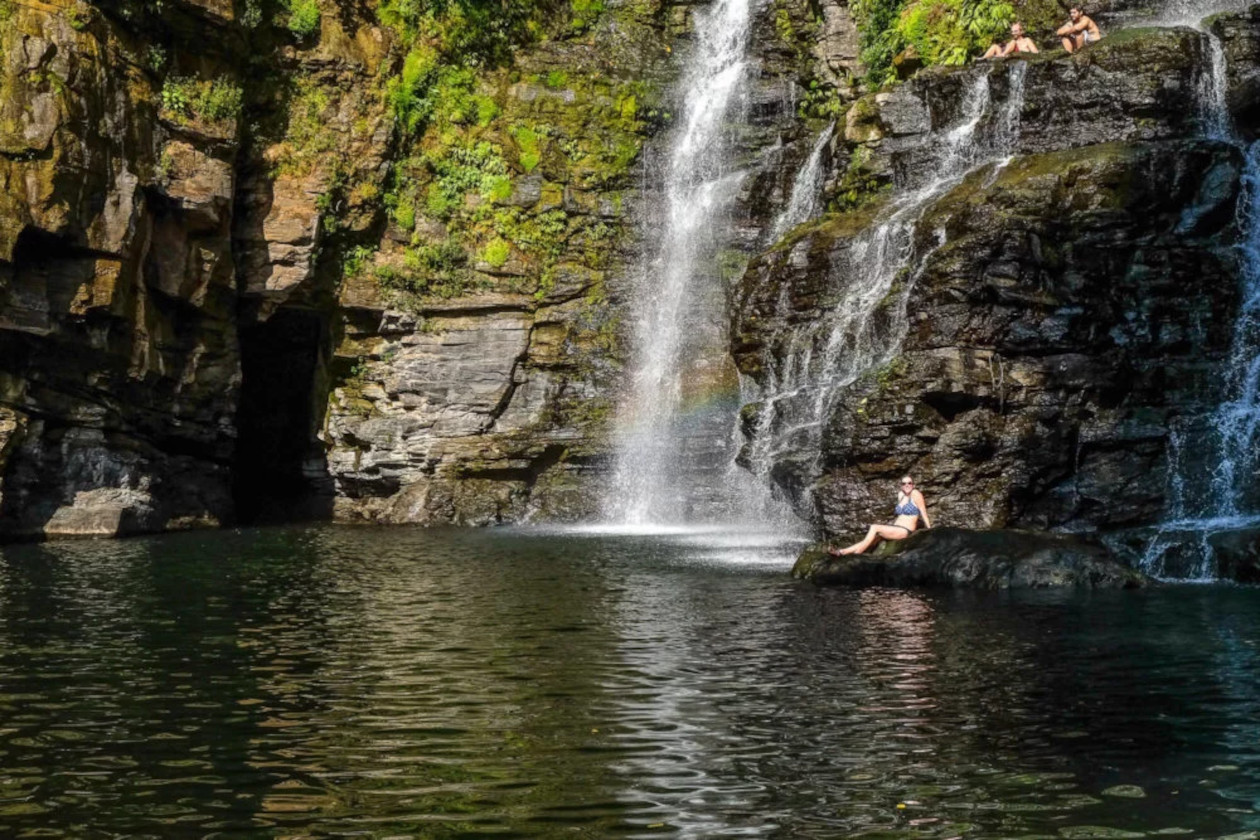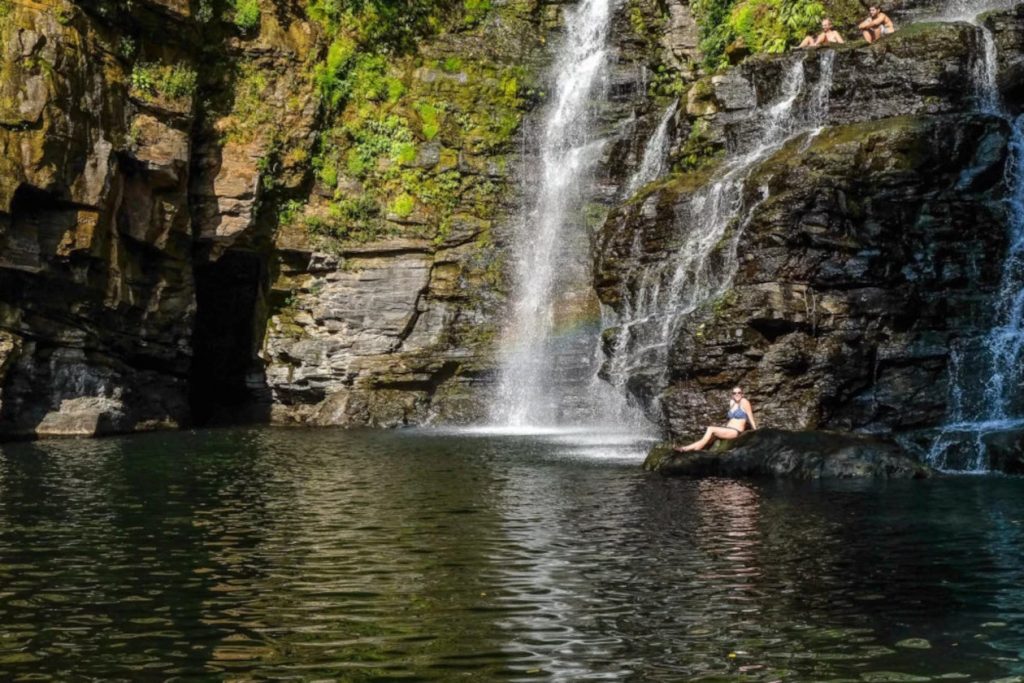 You can also swim in the formations of the natural pools and enjoy the scenery on the rocks below the waterfall. Those gushing jets of water give a feeling of freshness and relaxation at the same time.
And something that makes it really magnificent is that small butterfly garden that can be seen when entering the property through the main entrance, and not only that, but you can also see an excellent and extensive collection of plants that are the main attraction for those butterflies Without a doubt it will be an unbeatable experience.
Snorkel in Caño Island
If we talk about snorkeling, the Isla del Caño Reserve is one of the best places in the country for it and it is approximately one hour by boat from the Marino Ballena National Park. There are two places on the island where you can snorkel, where you can see white-tipped sharks, turtles and other species of fish as well as corals.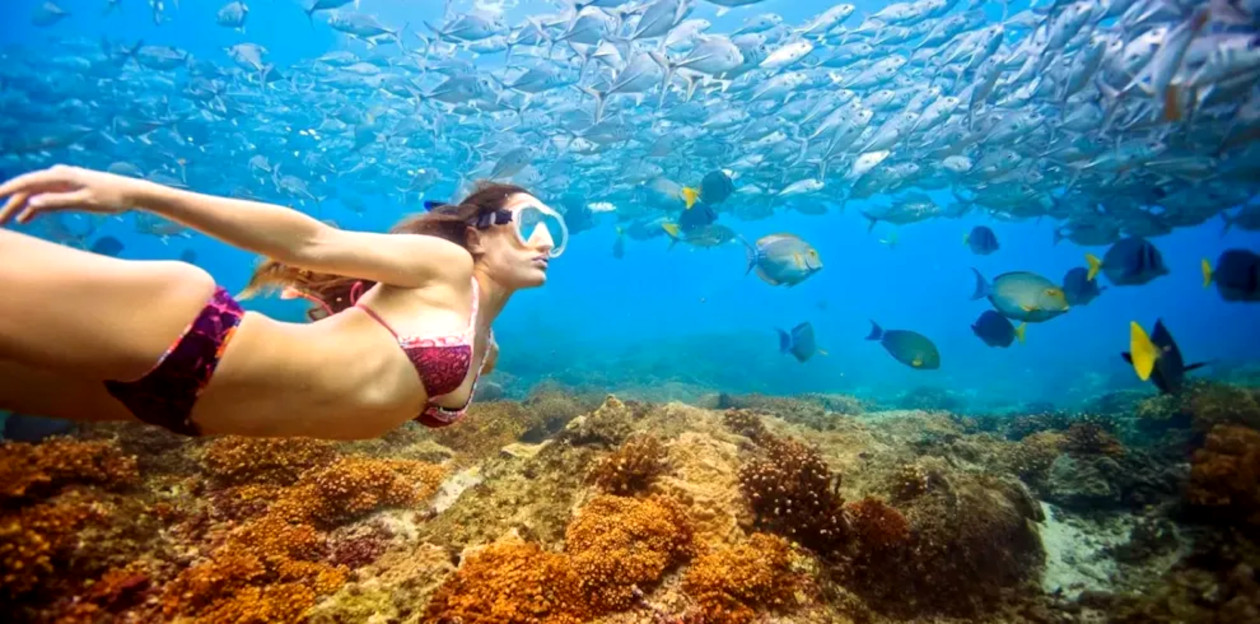 You can have lunch on the boat. You can also include hiking in your activity in which you can reach the viewpoint that is located at the top of the island. And of course, depending on the time, you can see the whales and dolphins on your way back.
Diving in Caño Island
If we talk about Isla del Caño, we are inevitably talking about diving. This is one of the most recommended trips in Costa Rica.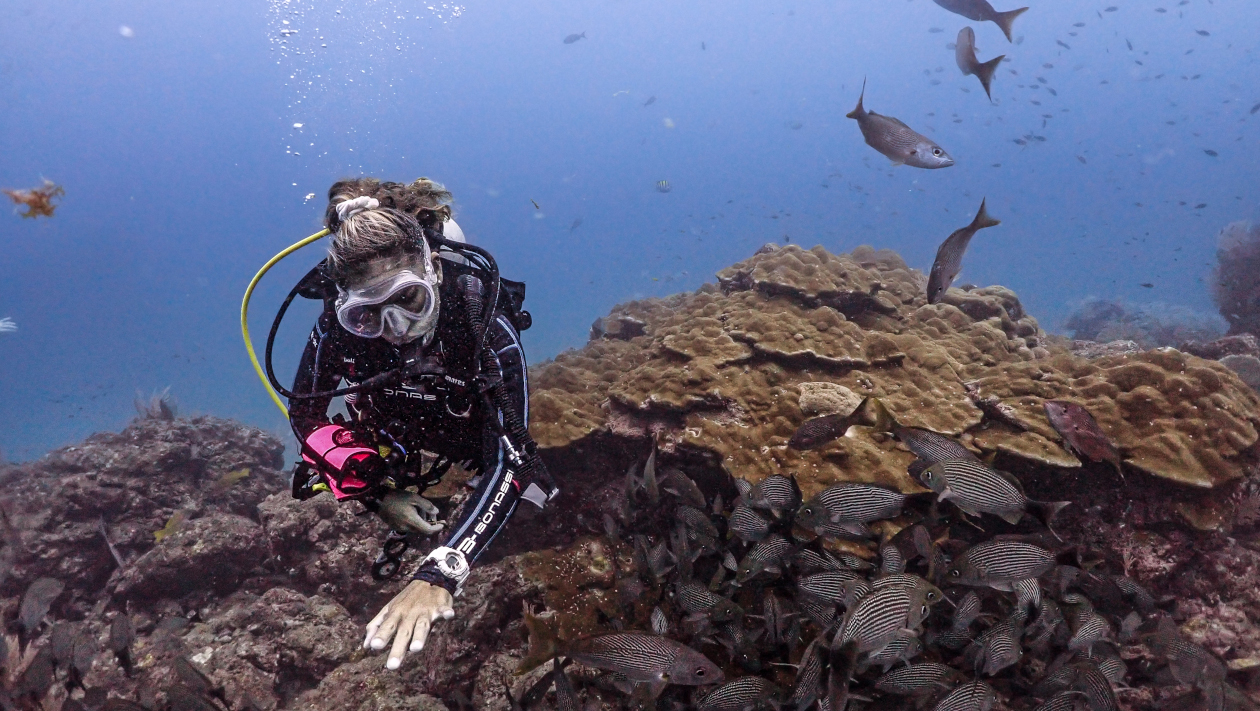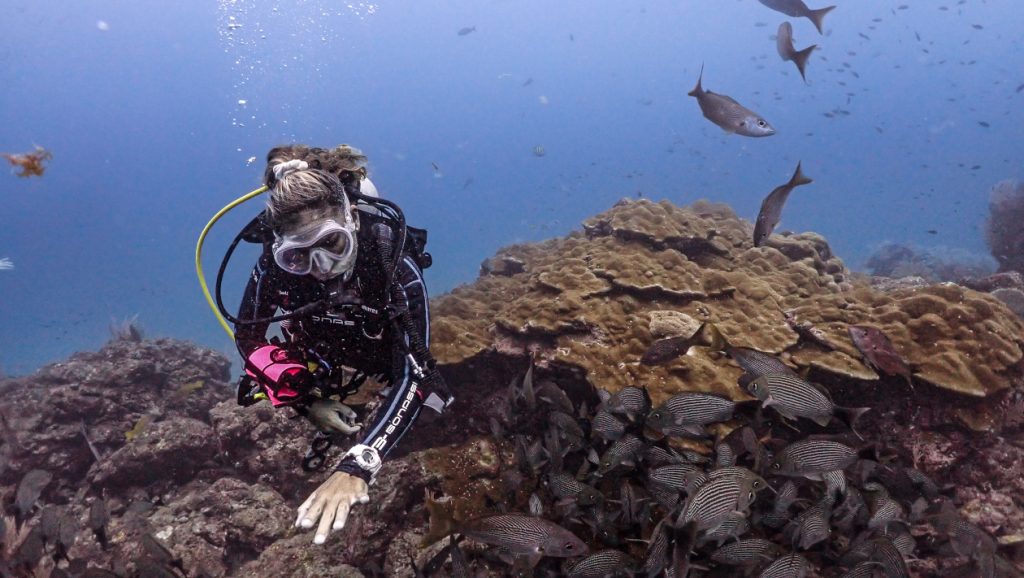 Being a natural reserve, which includes its surface, Isla del Caño offers you the incredible opportunity to meet manta rays, dolphins, white-tipped sharks and even whales through diving.
The Isla del Caño Nature Reserve is without any doubt one of the best places to dive in Costa Rica.
Its clear and warm waters make it the ideal place for diving, which later becomes an incredible adventure.
Go Sailing
Uvita is an area that has some beautiful beaches if you want to start as a beginner until you become a professional in surfing.
You can give surf lessons or rent the boards. If you are a beginner, we recommend that you go to Playa Colonia within the Marino Ballena National Park, also known as Playa Chaman.
At an intermediate level you can do it on one of the best beaches in the area, where baby turtles eventually apears.
You should be careful to check the tide advisory to see what the waves are like, as they can be quite strong.
Professionals and locals are attracted by the waves of Playa Dominical, which can grow and give them the experience they expect.
Go surfing or take a surf lesson
The Pacific coast in general, including Uvita, is a place where surfers can do their thing.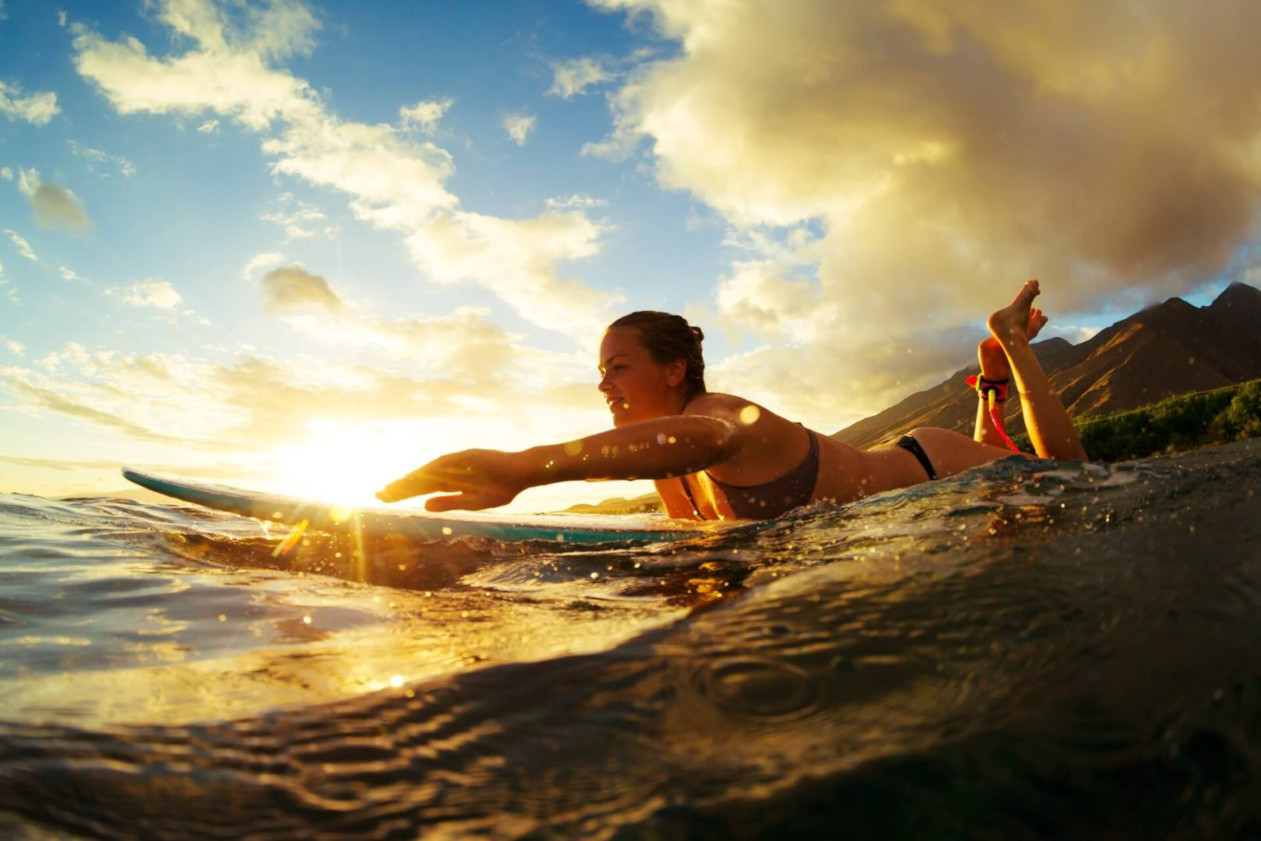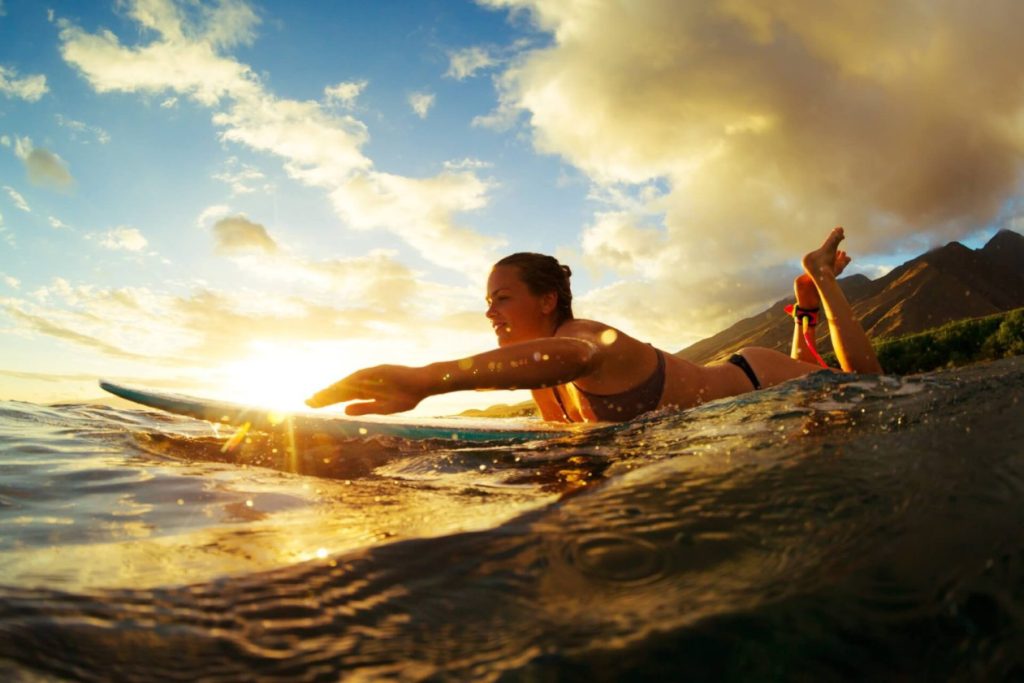 Uvita and Dominical attract numerous surfers. In the area you will be able to find several surf schools, as well as places where you can rent surfboards.
The area is suitable for beginners, so if you want to start venturing into the world of surfing, Uvita is the ideal place.
Kayaking
It does not matter if you have experience or not with this activity.
This option is valid for anyone, since an experienced guide accompanies you on a kayak trip. You have the option to choose between going to the mangroves or the sea.
Although they are two very different experiences, both are beautiful.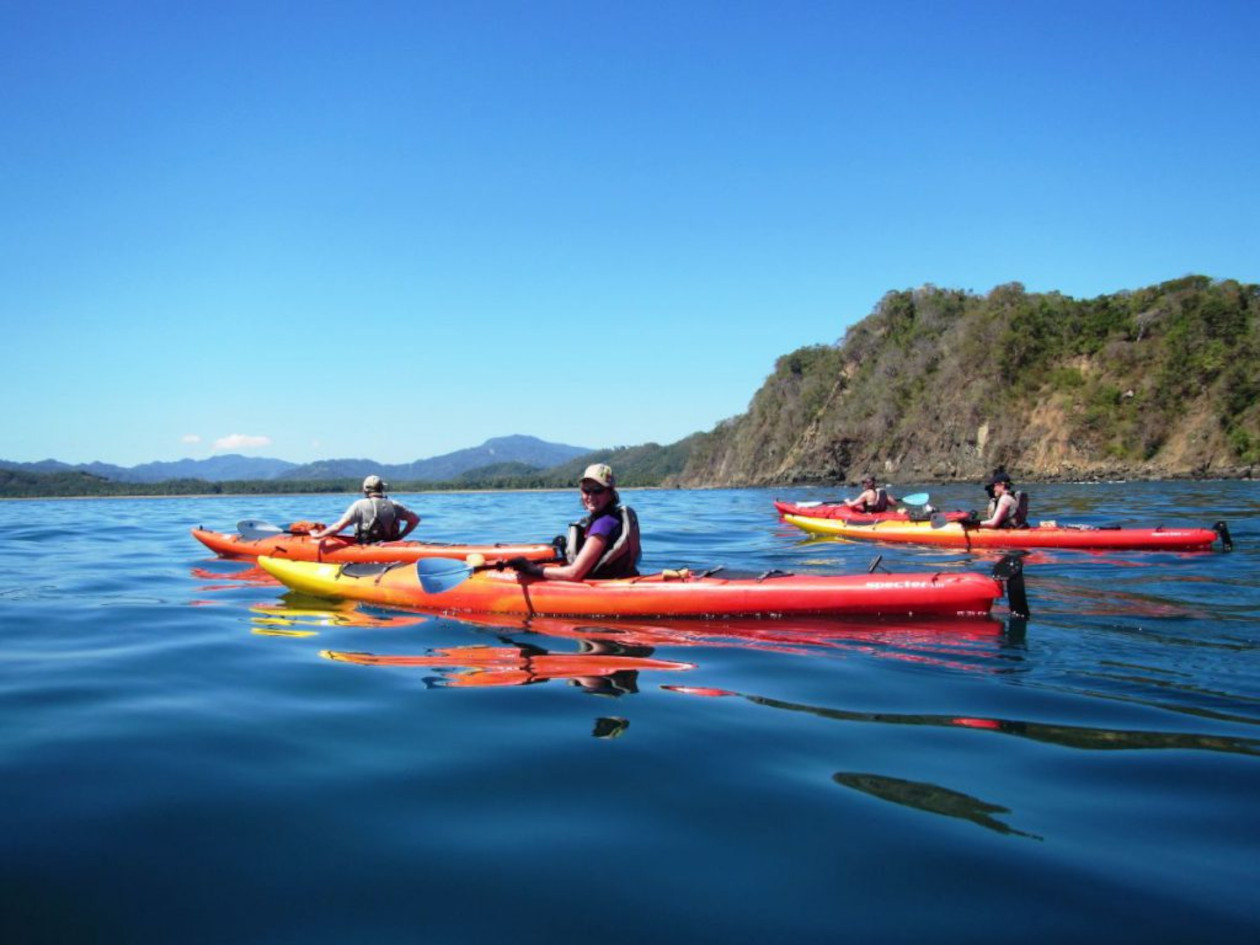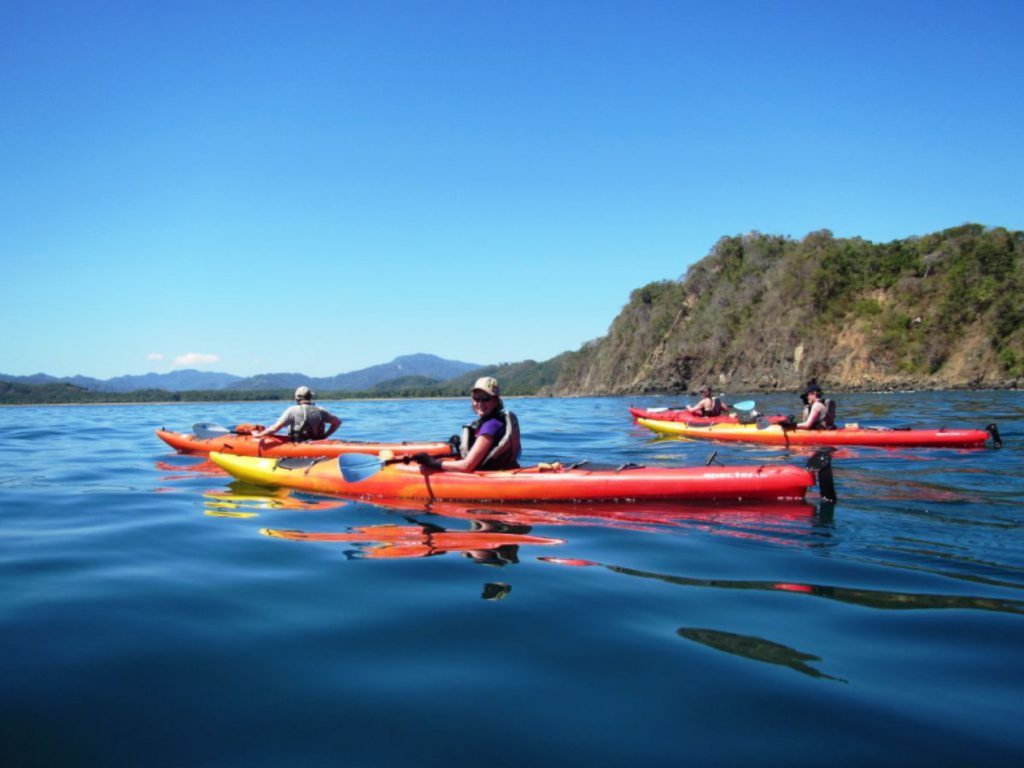 If you do the tour in the mangrove you will enter the interior of the channels and you will have the facility to closely observe the great variety of animals characteristic of the mangrove.
On the other hand, if you choose to go to the sea you can reach the caverns of the windows and you can even snorkel in Punta Uvita.
Coconut tour
This is an activity that is still interesting because you will be able to learn about the properties and uses of coconut in an artisanal way.
Both the local craftsman and the local producer always work in rescuing and maintaining the traditions of the coastal areas.
You will be able to see how people use coconut derivatives their in daily life. If coconut reforestation interest you, in the Marino Ballena National Park, you should go ahead and learn more about coconuts. It is an experience that will capture your interest and your attention.
Canyoning
If you really want to feel the challenge of getting out of your comfort zone and want to really feel the adrenaline rush, this tour is for you for sure.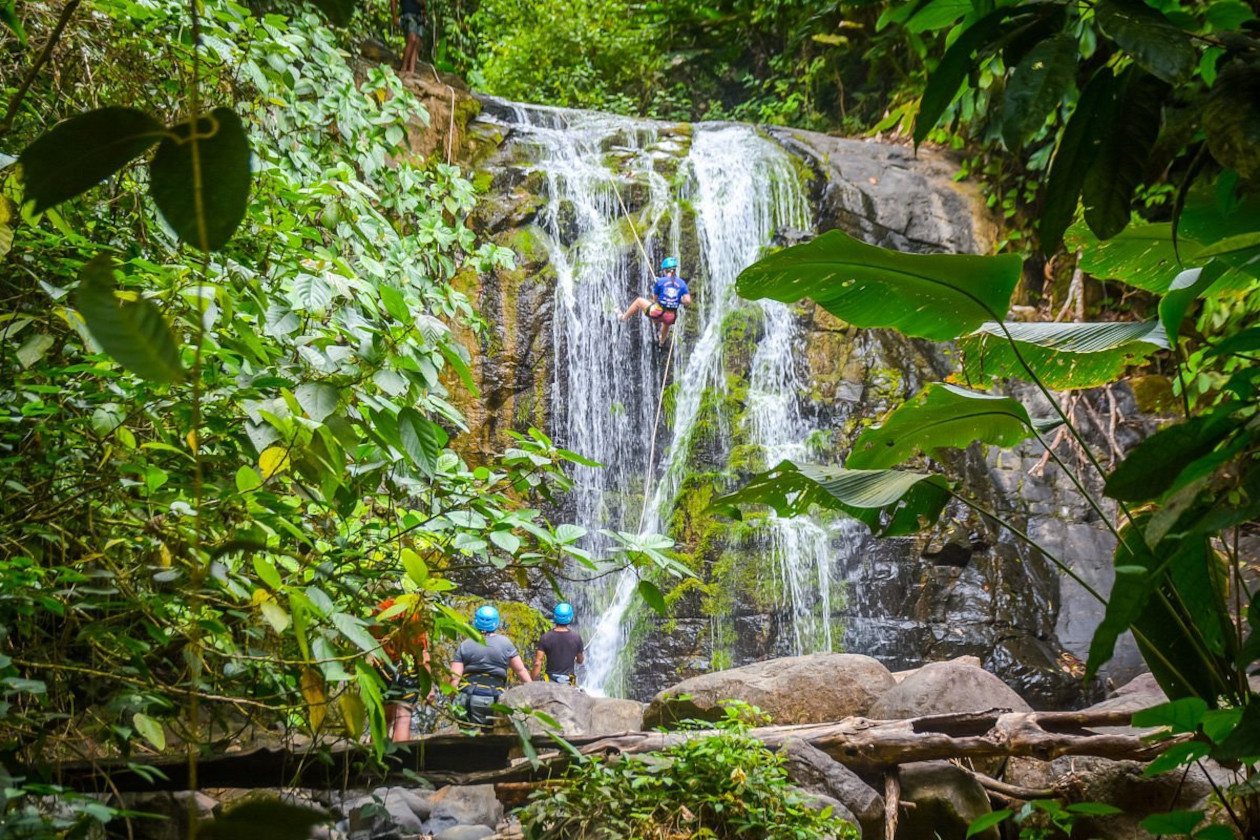 You will learn the correct rappelling technique and enjoy the waterfall with a total of 27 meters.
When you reach the end of the river, you will find the natural pools, where you can jump, slide and relax. You have the chance to have a VIDA PLENA style picnic afterwards.
Corcovado National Park
This is one of the richest places in biodiversity that exist in the country. There are several biological stations in it.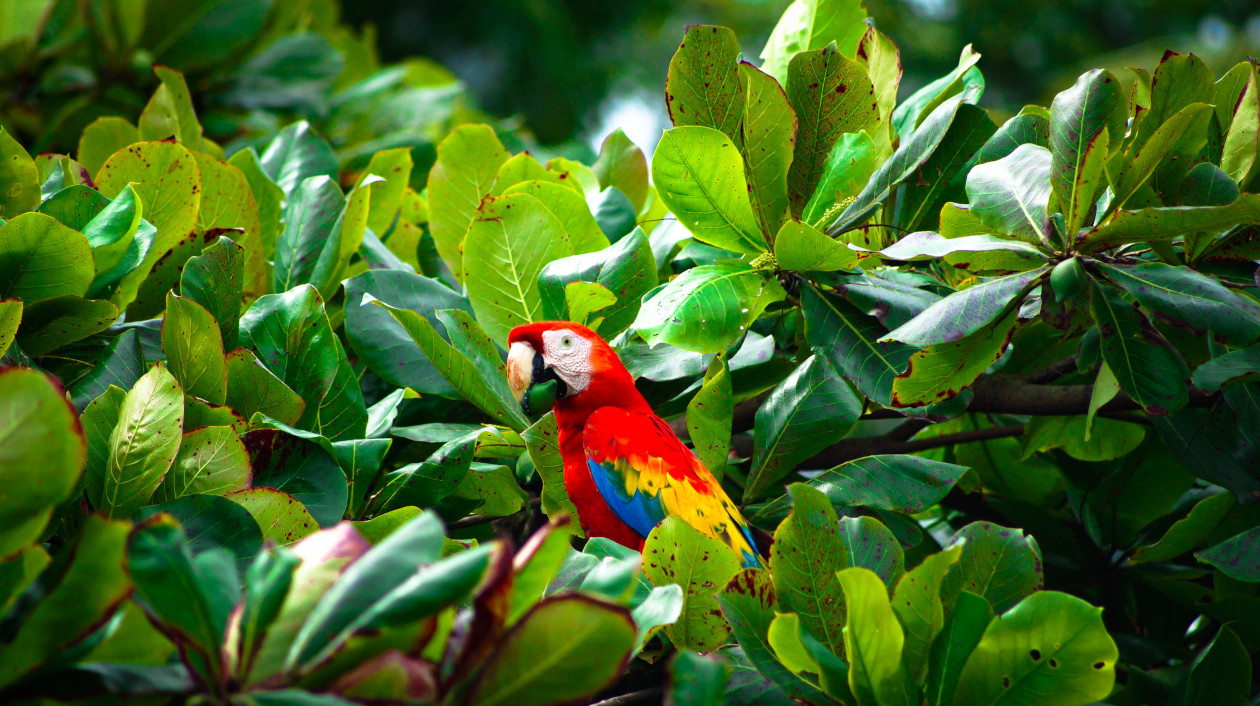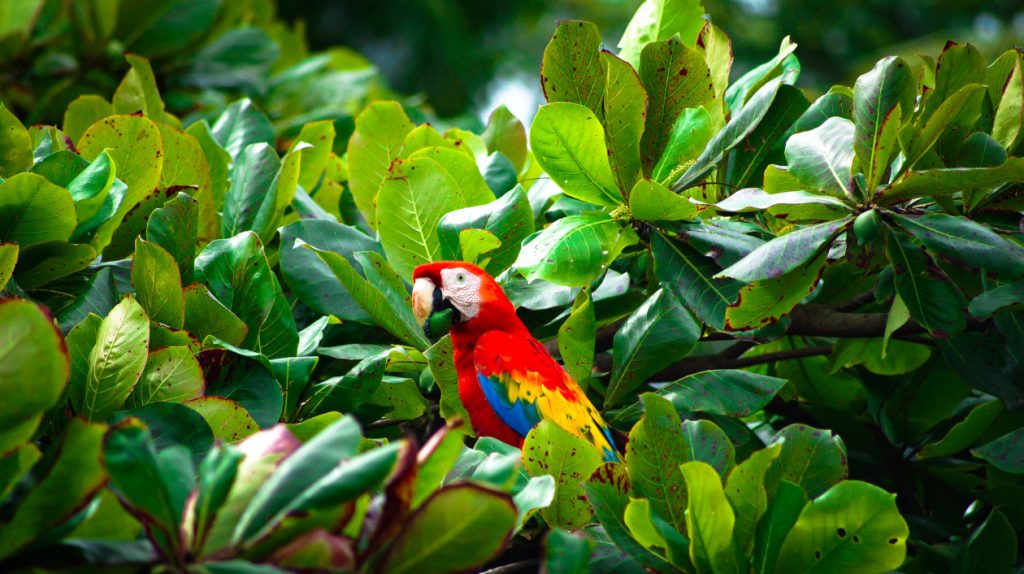 In this experience you will travel to San Pedrillo, approximately an hour and a half by boat from Playa Uvita.
When you arrive at Playa San Pedrillo there are the paths through which you will walk for a few hours.
At noon you will have the opportunity to enjoy a delicious lunch and enjoy a rest on the beach and then start the second walk along the trails to the waterfall.
On this adventure you will be able to see important animals such as white-faced monkeys, coatis and limpets.
Uvita ATV Tour
This tour will give you the opportunity to discover some of the most amazing landscapes in Costa Rica in a unique off-road trip through long mountain ranges that will give you impressive views of the ocean that stretch to the horizon.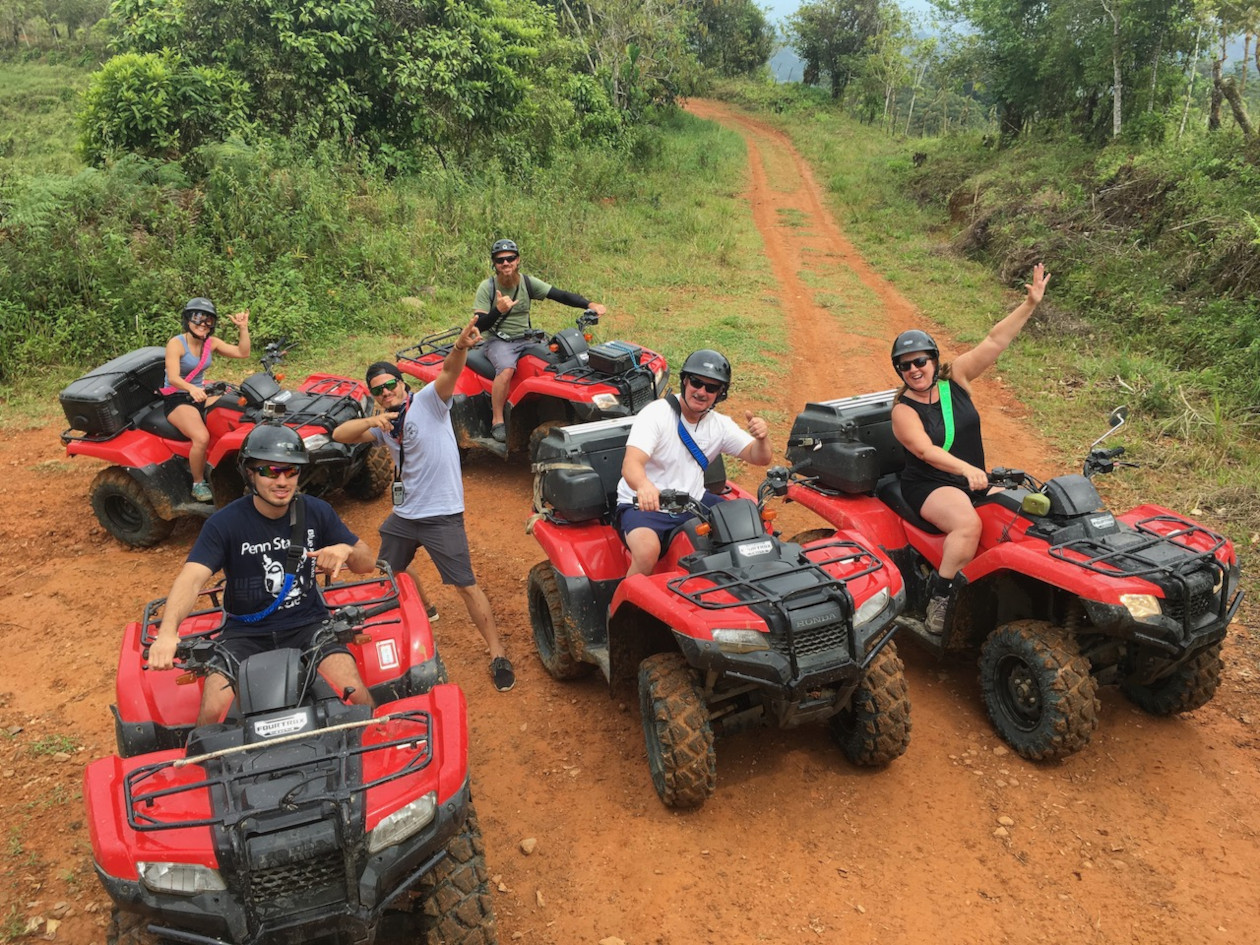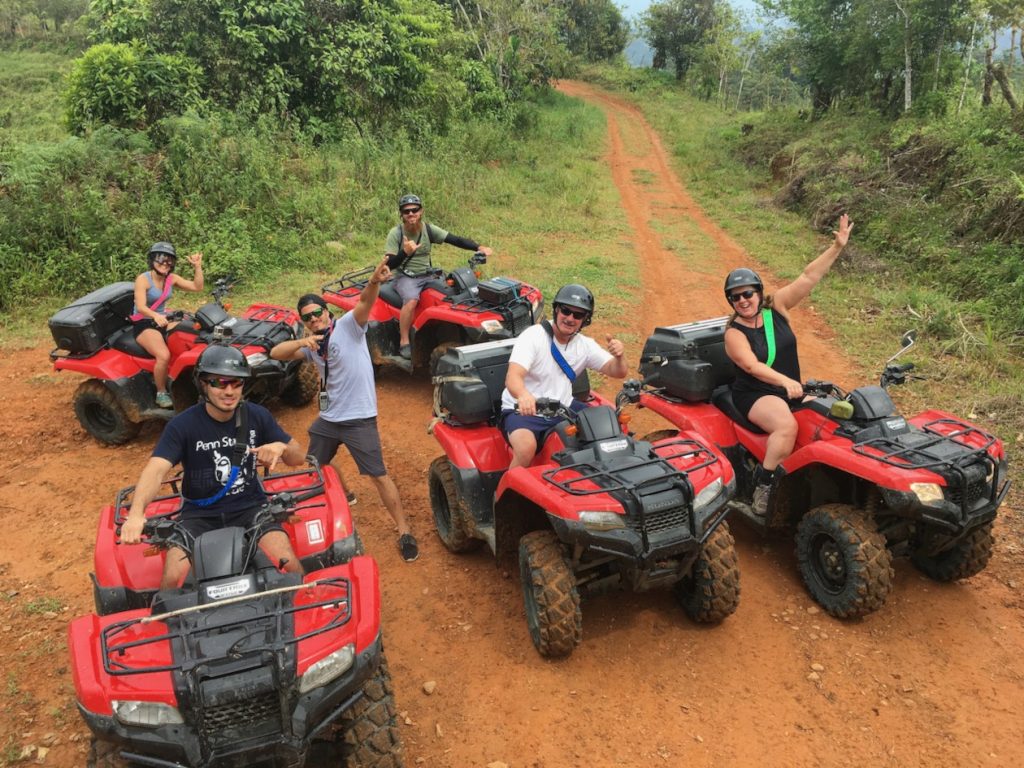 Halfway through the trip, you will come across a picturesque and traditional Costa Rican town where you can have coffee tasting with a local family, and then continue this exciting journey past banana plantations and crossing streams.
The exuberant jungle and wildlife will show you their habitat where you can observe monkeys, sloths, toucans, parrots, hawks and other species.
And the prize for all that adventurous tour is the experience of a refreshing drink and a bath in a hidden waterfall.
Bird watching
In Costa Rica you are willing to see around 924 species of birds that live in different ecosystems.
In the South Pacific coast, where the Ballena Marine National Park is, you will see birds everywhere.
Pelicans, gannets, toucans, scarlet macaws, strawberries, hummingbirds and many, many more.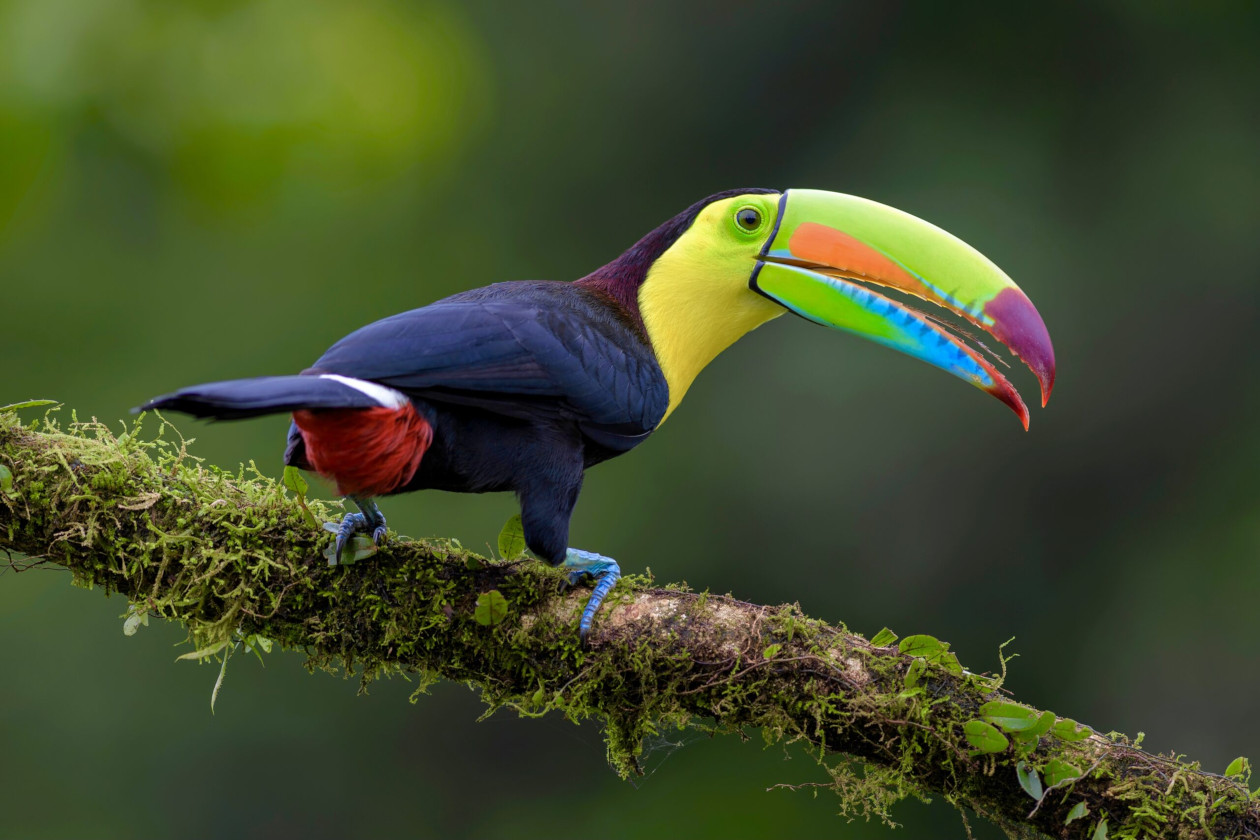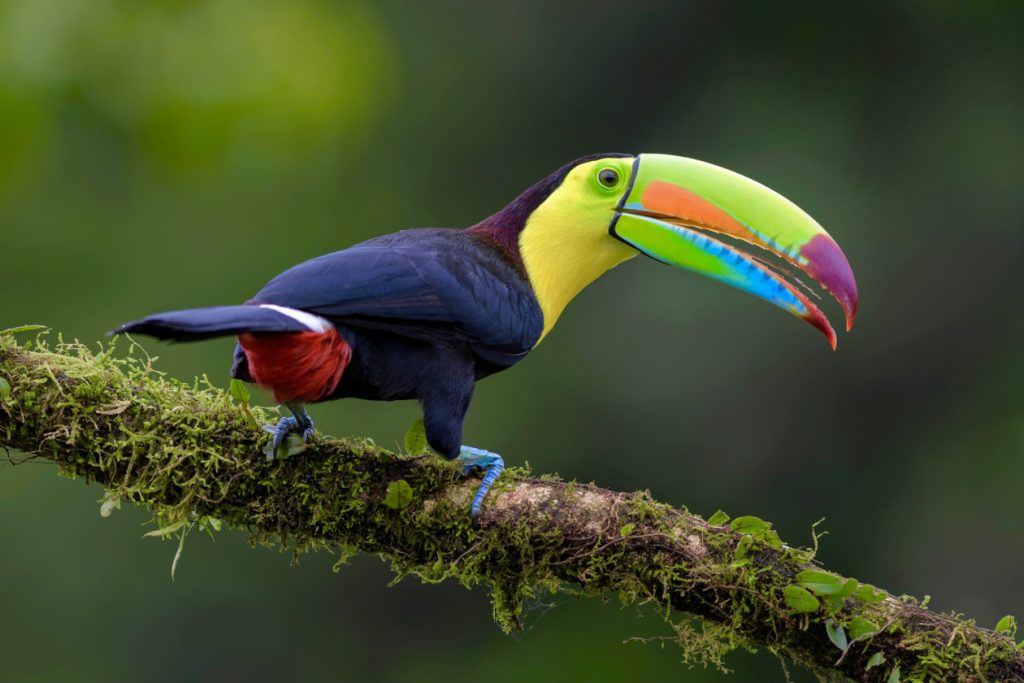 Tour operators, from their experience, estimate that you will see for sure up to 50 species of birds in three hours.
So that you can fully enjoy this experience, remember to wear clothing corresponding to the activity such as complete shoes, a hat, items such as sunscreen, binoculars, and a camera. Besides, the guides will help you feel comfortable and give you the best advice.
Find out more about birds in Costa Rica: Birds of Costa Rica
Outings in San Josecito
This is a walking activity that includes a series of trails in which you will pass through primary and secondary forests and plains, giving you the opportunity to observe the protected flora and fauna.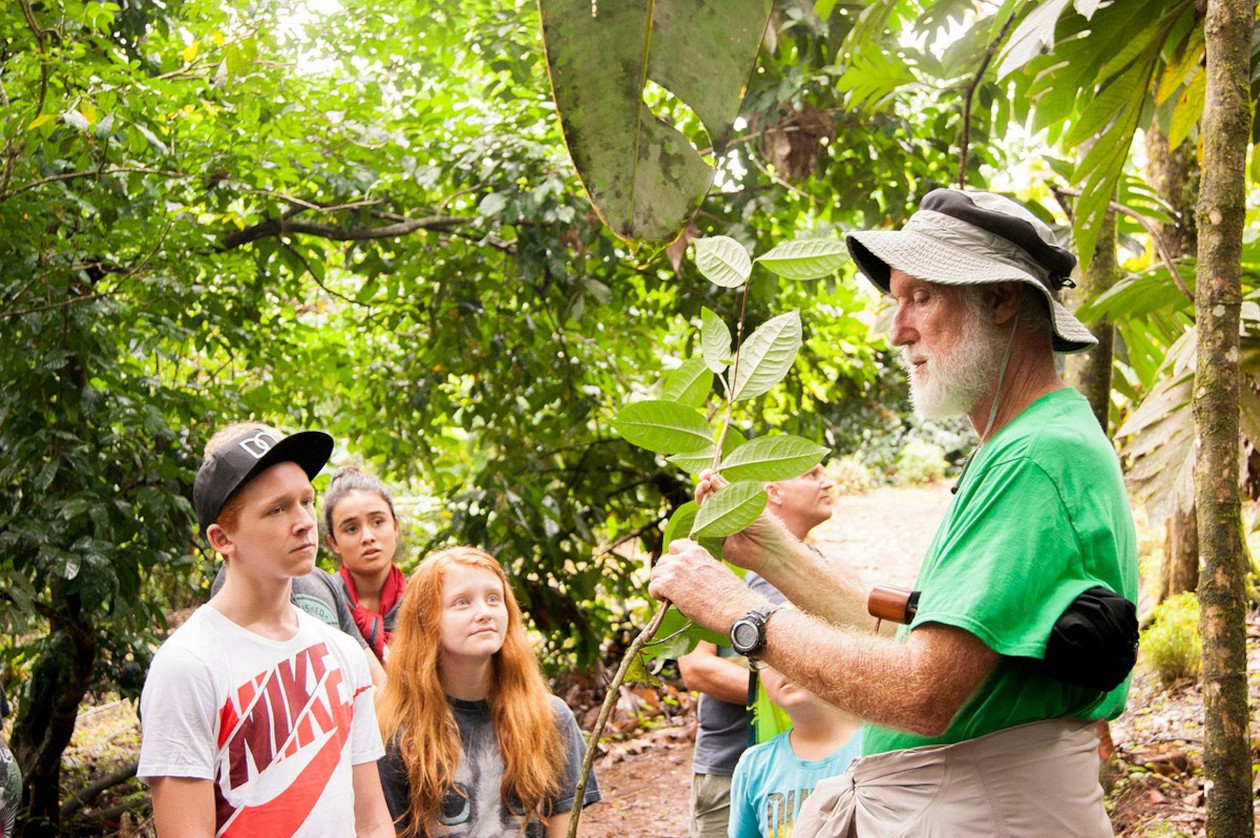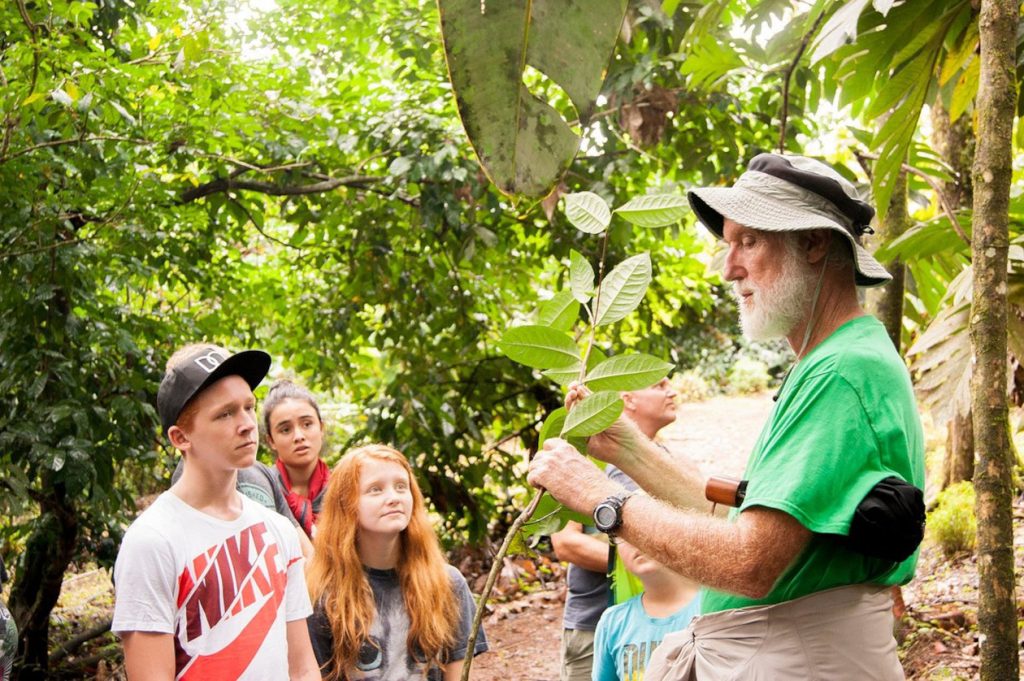 You will be able to observe the behavior of insects, birds, mammals and reptiles in their natural habitat.You will also see a wide variety of tropical plants.
Part of the travel routes are located in the hills of the reserve and in the Morete river basin.
Here you will have the great opportunity to observe wildlife, as a large open space and a combined with the forest. In this morning tour you will pass in areas where you will is always hear howling.
What can you do in Uvita? Summary
Although it is a small town, Uvita and its surroundings are a great place to relax by the sea.
It has many activities available and this will keep you entertained and feed your adventurous spirit from your first day to the last of your stay.
If you want to know more about water activities, contact us at our diving center.