Have you ever thought if this is possible? Well, In Costa Rica you could literally walk on a Whale Tail !
If you are planning your next vacations with lots of fun and adventure, the Marino Ballena National Park in Costa Rica can be an ideal location with an exciting and wide range of activities.The Park is one of the best sites to visit and enjoy with your loved ones.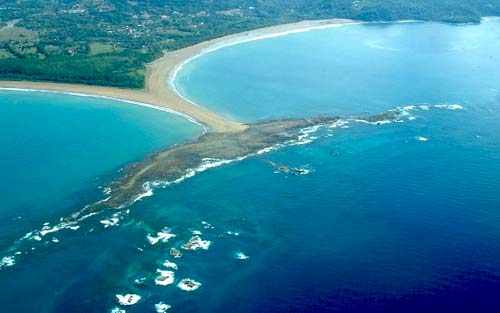 As the title suggests, the park is also the best place to go whale watching in Costa Rica. You can see humpback whales out there as both northern and southern humpback whales pass through the area, allowing the area the most extended whale watching season!
The famous whale tail of Costa Rica
The whale tail of Costa Rica is a natural formation part of Marino Ballena National Park. The park contains 110 hectares of land and around 5375 hectares of ocean, protecting coral reefs, beaches, and mangroves. It is also a whale breeding ground. The whale tail is a result of converging currents which deposits sand on rock formation making a unique tail like pattern.
If you are planning to visit the south of Costa Rica, then this famous Whale Tail is not to be missed !
Besides whale watching, Marino Ballena National Park offers numerous activities. You can enjoy a lazy day at the beach or do some water activities like scuba diving, swimming, SUP or snorkeling.
The calm waves allow a perfect environment for little ones to enjoy in water. During the year, Olive Ridley and hawksbill sea turtles come to nest and lay eggs. If you are lucky, you can get to view the sight!
The park is stunning with the famous whale tail visible during low tides, the coral reefs, the beaches, the mangroves and the wildlife; the place offers a lot to you to enjoy and fall in love with its beauty.
Believe it; once you get there, you will want to get your whole vacation centered around the park to enjoy the South Pacific Coast of Costa Rica. With beaches covered in a thick green jungle and wildlife without the crowd, this place is just for you!
When to visit the Park
During all year the National Park Marino Ballena is open to the public. Though, during, November to mid-December, it's a low time for tourists.
With a dry season from the end of December to April, the place will have a sunny and hot season. If you are planning a late visit, you should make it in end of August. You can attend the yearly whale festival in Uvita.
Many fantastic experiences you can get in the exceptional national park. Enjoy beaches, spend time doing water sports and activities or go whale watching !