Like any other type of activity, scuba diving requires you to have a specific type of gear in order to participate. Each piece of the scuba gear is designed specifically to allow the person to be able to enjoy the sights in the water while keeping them safe at the same time. As a beginner, you will a wide range of options depending on the budget that you have set aside for your gear. Note: your life will depend on your choices of equipment you make, so choose wisely!
What scuba gear should you be looking for?
It is really important that you get all of the necessary scuba diving gear before you leave for your trip. You really don't want to have to pick up anything that you did not have at your destination, chances are you will likely pay much more than you probably should have. So, what kind of gear are you going to need? Here is a list of the most important items that you should not start your trip without:
Wet or Dry Suit
Swim Fins
Dive Mask
Buoyancy Control (BC) Equipment
Air Tank
Regulator
Dive Computer ( calculating air time and water depth)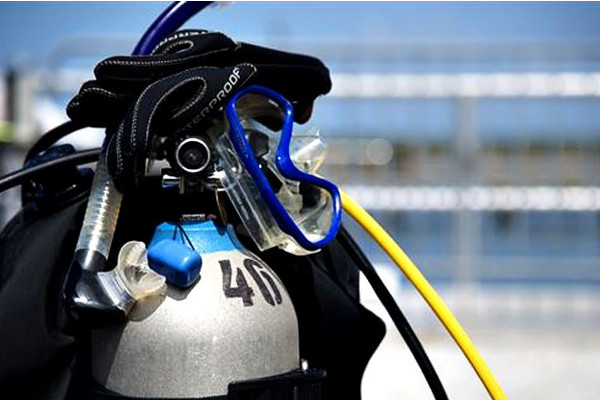 Where to look for your gear?
When it comes to making your first purchase of your dive gear there are several different options for you to choose from. Each of them has good points and bad points associated with them and it really depends on your level of comfort as to which one is the best one for you. Below is a short list of some of the ways that you can buy your very first set of dive gear.
From another diver
You can always find people who are looking to sell the old diving gear that they are trying to get rid. Since most people end up upgrading their equipment long before it is no longer usable you are likely to be able to find what equipment you need from another diver. However, when it comes to your regulator, you want to be extra careful.
On the Internet (Craigslist)
Like anything for sale on the Internet you need to be extremely careful that what you are buying is actually in fact what you need. Craigslist is one of the most well-known Internet sources for used items. For the most part, you will be able to see from pictures the quality of the items you are buying. Air tank and regulator are extremely important. You should have them check out at a local dive shop to ensure that they are both in good working order. These two items are what will keep you alive while you are in the water.
Local Dive Shop
This is likely to be the best place that you will find to get all of your dive gear. This is because most dive shops are owned and operated by fellow divers who are extremely qualified and knowledgeable of all of the current scuba gear. They will be able to answer all of your questions and make sound recommendations about which gear is best for you as a beginner.
Renting a Scuba Gear is always an option
And remember, Dive Center always have equipment for rent. All tours available normally include the cost of the equipment. So, if you are travelling and want to experience new diving environments, it's not really necesary to take your scuba gear with you. Probably you will find high quality (and properly verified and mantained) in the Local Dive Shop that will assist you in the next inmersion.
Local Diving Made Easy with Diver Orientation
If you are planning to come to Costa Rica. Send us a message ! We will be more than happy to assist you with your next diving. We have beautiful tours to Caño Island, one of the most amazing destinations in Central America.