Have you considered in getting one of your next PADI certifications in Costa Rica? This country is one of the most famous diving destinations in America's.
This makes for the perfect opportunity for a person to complete one or more of the diving certifications that are offered by PADI. At the same time, you will be able to enjoy one of the most beautiful tourist destinations.
There are numerous dive shops that offer training courses that are designed to help you prepare for taking the PADI exams.
At Costa Rica Dive and Surf dive center, we have available the following PADI certifications:
Frequent asked questions about PADI certifications in Costa Rica
The most common questions from our clients regarding PADI certifications in Costa Rica have to do with requirements, course duration and the processes to become certified.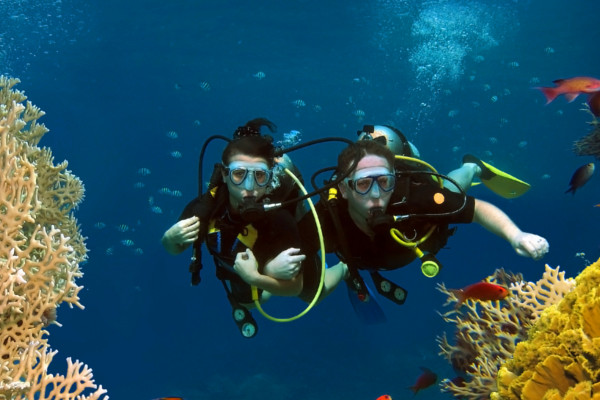 We have compiled some of the most common and interesting questions and we hope they can help you understand certifications.
Discover Scuba Diving
Is there a diving course specifically for kids?
Answer: The answer to this question is really no, while a person has to be at least 10 years old to be able to signup for it, truly anyone can signup as long as you meet the age minimum. If you don't have enough time on your trip to sign up for an open water certification, give this a try and save some money.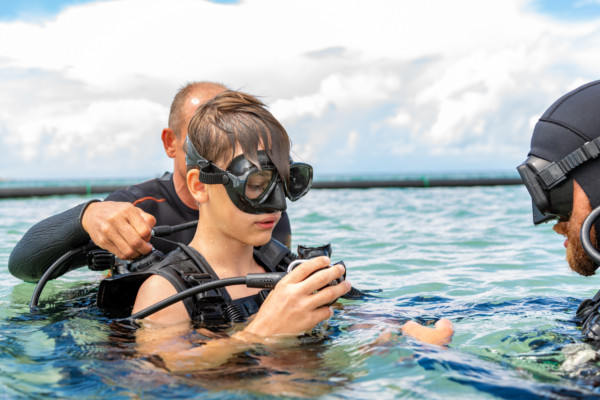 Can a person learn to scuba diving in one day?
Yes, it is actually possible for someone to learn and qualify for a basic PADI Discover Scuba Diving certificate. However, you have to take into account that this is an introductory course.
What does it take to earn a Discover Scuba diving certificate?
This course is uber condensed in order to make it possible for person to go from beginner to qualified diver in one day. All of the course work is contained in a video that introduces you to dive theory, fundamentals, and techniques. Once you demonstrate proficiency to a certified instructor or Divemaster you will be ready to get into the pool. Once you demonstrate a good understanding of breathing underwater, you are ready to open water dive. After two full successful dives off Cano Island with a certified PADI instructor, you are ready to go.
Open Waters
How many total dives most you complete to earn your open water certification?
In order to get your full Open Water Diving certification, you must demonstrate competency in 9 dives (5 confined space dive and 4 open water dives). The five confined water dives normally are conducted in a swimming pool. During this phase, the student is expected to show the instructor that they gained all of the knowledge from the study sessions. The four open water dives are conducted out in the open waters of the Pacific Ocean.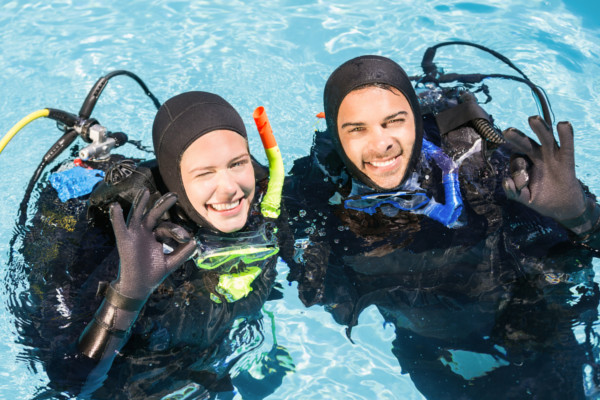 Is there a minimum age limit to be able to take the Open Waters Certification Course?
According to PADI a person must at least 14 years old. This is the age required to take the Open Waters Diving Certification Training Course.
How long should the Open Water Dive Course take to complete?
It should take no longer than 3 full days in order to complete the certification course. But the actual time it will take will depend on how long it takes to get the five study sessions out of the way. Note: If you were to use the online eLearning course before you take your vacation starts you could cut down on some of the needed to get started.
Advanced Open Waters
What is the minimum age to take the Advanced Open Water training course?
In order to sign up and take the Advanced Open Waters Certification Course you need to be at least 15 years old.
How many total dives and what kinds are necessary to be demonstrated for the Advanced Open Waters Certification ?
A total of 5 dives must be demonstrated in front of a certified instructor. The dives must consist of at least 2 mandatory dives (Deep Adventure and Underwater Navigation dives) and then you must complete three elective dives of your choice.

How long should it take to complete the Advanced Open Waters Certification Course?
You can expect it to take at least 2 or 3 days in order to complete all of the necessary parts. Since you must first complete all of the study information before you can get started with the diving phase of the certification, you can shorten the amount of time it takes by taking advantage of the online eLearning courses that Costa Rica Dive and Surf Scuba Diving shop offer before you leave for your vacation.
Rescue Diver Certification
What is the primary purpose of a rescue diver course?
First and foremost the most important part of learning to be a rescue diver is to be able to identify when a fellow diver is in trouble and needs help. The absolute scariest thing for any diver has to be when they are under the water and something happens to them and they are not able to help themselves.
Can speed up the certification process for Rescue Diver with an online training course?
You absolutely can considerably shorten the length of time you will need to have for getting a Rescue Diver certification by taking advantage of the eLearning courses that are offered online from Costa Rica Dive and Surf Scuba Diving shop. By taking the study portion online before your trip to Costa Rica is scheduled and gaining the knowledge, as soon as you get there all you will need to do is to successfully demonstrate an understanding of the information and pass the test.
What three phases must you demonstrate in order to be certified as a Rescue Diver?
You first show that you have mastered the knowledge in the classroom. The second you must complete 10 predetermined in water exercises in front of a PADI certified instructor. The last thing you must complete at least two rescue scenarios set up by the instructor in order to qualify for your Rescue Diver certification.
Divemaster PADI Certification
How old does a person need to be before they can be a Divemaster?
A person has to be at least 18 years old before they can be a certified Divemaster
Do you need to have other diving certifications before you can take the courses for Divemaster?
Yes, there are a number of prerequisites that you must complete before you can even start taking any courses for Divemaster.
To even start the course you must:
Be a PADI certified Open Water Diver (or equivalent from another diving organization)
Be a PADI certified Rescue Diver (or equivalent from another Diving organization)
Possess an Emergency First Response Primary and Secondary Care certification
Have a minimum of 40 logged dives at the time you start the course.
What are parts of the Divemaster course that you have to complete in order to get a PADI Divemaster certification?
There are a total of 12 topics of study in this course. You must demonstrate proficiency in to be able to move on to the live diving part of the training.
Don't you have enough time to complete all of the study course work while you are in Costa Rica? You can take advantage of the eLearning option and do the course work before you even get there.
See also: PADI Divemaster Course
Once there you will be given the opportunity to demonstrate your proficiency to a PADI certified instructor and then move on to the second phase, live dives.
You must complete 20 live dives that are all designed to test your knowledge and leadership skills.
Once you satisfy the instructor you will become a certified Divemaster.
Learn more about the PADI certifications in Costa Rica
You probably have many other questions. On the Costa Rica Dive and Surf page we have a section for each of the certifications. You will find the requirements and details of each of the courses are explained.
All the practices of padi certifications are carried out in Isla del Caño. One of the most beautiful diving destinations on the continent.
See also: 3 Reasons why Caño Island is a great Costa Rica diving destination
If you are interested in taking one of these certifications with us, please contact us. You can send us a message or contact us through WhatsApp for more information. We will be very happy to guide you.